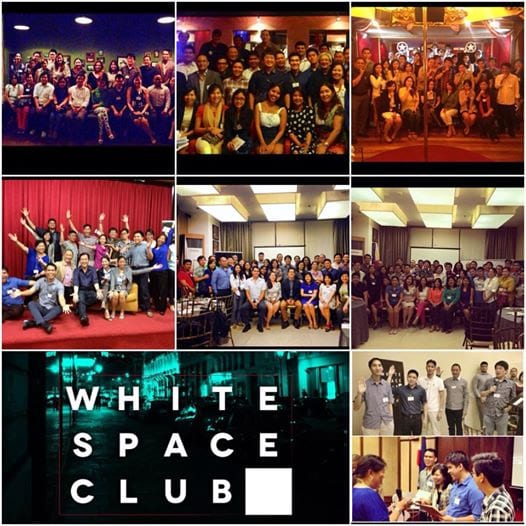 It started when I decided to work from home one weekday in 2013. Before the end of the day, I posted a Facebook message that I looked forward to have some quiet time once a week to read, exchange ideas, have coffee with friends and maybe meet new ones from different fields.   Jeffrey Manhilot of Reckitt was the first to sign up for coffee, followed then by nearly a hundred of my Facebook friends who volunteered in succession.  I was both flattered and overwhelmed.  I didn't know how to prioritize the sequence. I reflected for months with my wife Chiqui.
Then an idea was born.  We figured each of those who signed up might have similar needs such as mine. What if instead of having coffee one-on-one, we invite them to a larger "coffee-time" set-up, or a dinner no less? What if instead of just us meeting, they get together with other people as well, a networking gathering of people from different industries, different backgrounds?  What if instead of just two people exchanging ideas, we collectively brainstorm using the power of diversity to solve and share solutions? Eureka, the result was White Space Club.
With help from our friends such as Cherry Caluya and Jonathan Joson, we tested the concept on November 14, 2013. Islands Souvenirs Founder Jay Aldeguer put up with our experiment as speaker on his intended Islands Taxi.  We have since then adjusted the format, and became ready to roll it out with a "fixed" format in January 2014. Before the end of our first year, we launched two venues – Makati on Oct. 2 and the original Ortigas on Oct. 9, 2014 as more and more people became curious and attended.
White Space Club is different in many aspects
1. Instead of a homogenous group (like all men, or all young people, or all marketers), we embraced diversity, welcoming people of all ages (we have people in their 20's to 70's), all functions (marketing, HR, accounting, IT, etc.), all industries (resto, consulting, import, publications, etc.), believing that perspective can be completed better and faster from varied profiles. Many of the initial attendees were our friends and clients from Mansmith and Fielders Inc. and Day 8 Business Academy for SMEs, but they have also invited their own friends to attend the club's meetings to allow an even wider range.
2. Instead of benchmarking and learning from a single industry, we invited experts for different topics like transport, environment, tax, personal effectiveness, relationship, geomancy, alternative health, ecommerce, etc.
3. Instead of the speaker dominating the stage, the speaker gets to speak for only 10 minutes, then from the question posed by the speaker, the attendees collectively solve and generously share their recommended solutions, thus the White Space Club's 3S's meeting format – Speak, Solve, Share.
4. Instead of the organization responsible for the individual learning, the individual is responsible for his or her own learning, getting "triggers" from the discussion and sharing.
5. Instead of formal or business attire, it is an informal, short sleeve, dress-down, come-to-relax attire.
White Space Club plans to expand locally and internationally and for each club to create a charter club every year.  PCCI VP Jose Ng wrote of his interest to set up White Space Club – Cebu. Outside of the Philippines, we would like to launch the club in Asia then to the world. Co-founder and Vice Chair External Jonathan Joson is now Hong Kong-based and his job brings him to 9 countries. I have a company in Jakarta as President-Commissioner of PT Noah Health Indonesia, hence, we hope to launch a Jakarta chapter in 2015.
November's networking + ideation + dinner meeting will be on Nov. 6 in Makati Sports Club (am flying back from Northwestern's Kellogg in time for this) and Nov. 13 in BSA Tower A, 52nd floor, just across Megamall A, the latter is the venue where our first anniversary will be celebrated and I will speak on Ideation. Meeting starts promptly at 7pm and usually ends about 9pm or so. The 3S's format has facilitated interaction among attendees and the enthusiasm of people wanting to network more can be seen with most people staying behind after the meeting for more conversation. Dinner is just P500. Come join us. Reserve via Genie Melendrez of Makati via 09178794972 and Mark Rodriquez of Ortigas via 09173055487.
As we say it in White Space Club – bring a problem and bring a solution!  Have something to share?  See you in the next ideas meeting!
(Thanks to BusinessWorld for featuring this article)