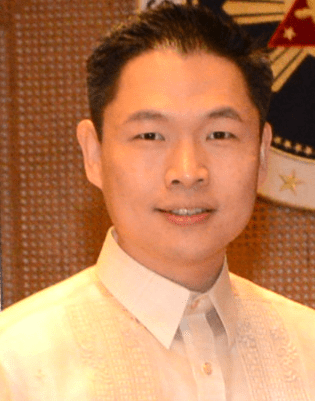 Q1. How did you get started in marketing?
I've always been a numbers guy, and I was initially inclined to pursue a career either as a financial analyst or an economist. It was probably fate that led me to my Management professors, specifically you and Emmanuel Fernandez, who inspired me to consider Marketing as a career. I eventually joined P&G as a brand assistant upon graduating in 1992, and have been a marketer ever since.
Q2. You were marketing director for P&G, Diageo & Fonterra respectively before joining Jollibee. You have been a marketing expat in Malaysia, Singapore and Taiwan. You have been involved in various product categories. What are some of your proudest marketing achievements and why?
I really enjoyed working on new brands and new categories. These can be really challenging, but also very fulfilling especially when you get it right. A lot of collaborative work across functions goes into understanding the consumer and coming up with the right product at the right price. I feel proud to have been part of the teams that developed and/or launched Downy Fabric Conditioner and Head & Shoulders shampoo in the Philippines, Febreze fabric refresher in Malaysia, SK-II cosmetics in Singapore, and The Singleton of Glen Ord single malt in Taiwan.
Looking back at my career, however, what gave me the biggest fulfilment was the opportunity to lead and work with great young talents from across the region. Some are Marketing Directors now, while some have moved on to start their own businesses. I am very proud of their achievements and grateful that I was a part of their career growth.
Q3. In your two decades of building a marketing career, can you share what were some of the most difficult decisions you had to make and why?
The most difficult period for me was when one of my previous employers had to downsize as part of a global corporate restructuring program. The process of selecting who to let go and informing the affected individuals was such a heart-wrenching exercise. But I am thankful for the way it was managed well. Those who left exited with a generous package and with their dignity intact.
Among the toughest business decisions I had to face was pulling out support for a project or discontinuing a brand. Especially when it involved brands or projects that have been part of the company's heritage and history. I've also had to cancel developmental projects that many individuals have spent years working on. It is never easy, especially with all the emotions involved. You don't want to be the person that pulls the plug too early, nor would you want to wait too long and just pass on the problem to your successor.
But the toughest decisions were the ones that involved people. I've had to make calls on other people's careers, which involved tough conversations with those who were not performing to expectations or who were at a cross-roads in their career. I believe everyone deserves to know where they stand in the company, even if that means losing them to another company where they can have a fresh start or have a better opportunity to shine.
Q4. What are the challenges and opportunities facing Jollibee, and how would you compare these to the previous brands you've handled?
Jollibee is so different from all the previous brands I've handled. The brand has become an integral part of our customers' lives and family history. It is that happy place for first birthdays and the venue for special family occasions. And that's why our customers are so passionate about Jollibee. We don't really own the brand — Jollibee belongs to the Filipino public, and we are merely its custodians.
The challenge is to ensure we continue to protect and uphold the brand — its heritage and what it represents to our customers who have supported us over the past 36 years.  At the same time, we want to keep moving forward and ensure the brand remains relevant to the younger generation of customers. Just repeating what made us successful in the past is not enough. We must keep innovating and improving in everything we do — from our products, our stores, our services, down to our marketing campaigns.
Q5.  In August 2014, Jollibee Foods Corporation announced the temporary closure of 72 company-owned stores due to a supply problem brought about by a glitch in the shift of the IT system. What are your key learnings on this? It must have been difficult for a marketer to be caught in between IT, supply chain and the consumers!
It was a difficult and humbling learning experience for the whole company. Despite the good efforts of many individuals, we were unable to prevent the glitches that occurred during our systems migration. We sincerely apologize to all our customers for this inconvenience.
From a marketing standpoint, we could have communicated faster with our external stakeholders on the root cause of the problem and reassured them sooner on when we expected the situation to normalize. Perhaps by doing so, we could have prevented the spread of all the baseless (and sometimes malicious) misinformation in social media.
Q6. How do you view the rise of convenience stores offering a variety of snacks and fast food?
As market leader, it is our responsibility to continuously provide our consumers with the best in terms of food taste, quality and value. We therefore welcome new competition, including convenience stores, as an opportunity to learn and a challenge to stay ahead. Ultimately, this will be good for our consumers.
Q7. Diageo is into whisky and macho men while Jollibee is a wholesome brand for the family — brands that belong to opposite ends of the spectrum. Other than your current and past brands, what are brands that you personally feel are excellent opportunities for any marketer to take on?
With the growing economy, there are many brands in the local market that are aggressively expanding. This is an exciting period to be a marketer.
While I can't single out any particular brand or company, my advice, especially to those just starting out in their marketing career, is to choose a company that is consumer-centric and truly believes in the strategic importance of brand-building.
Equally important for our budding marketers is to choose a brand (and company) whose values they can personally identify with.  It is difficult to sustainably push a product or service that you do not personally believe in.
I also encourage our marketers to adopt a "world class" mindset. They should aspire to be the best brand builders not just locally, but also in the global stage. To achieve this, they must invest in building up their functional knowledge and capabilities. Fortunately, there are now a lot of resources and literature available for our local marketers. Anyone can easily read up on best-in-class advertising campaigns and marketing programs, some of which are readily accessible in the Internet. But it takes a lot of discipline to set aside time for continuous learning.
Local marketers should also welcome opportunities to expand their horizon and learn from other markets. Working in another country or leading a regional project are great learning experiences. Learning how to work and manage people of diverse cultures and talents will benefit your career in the long run.