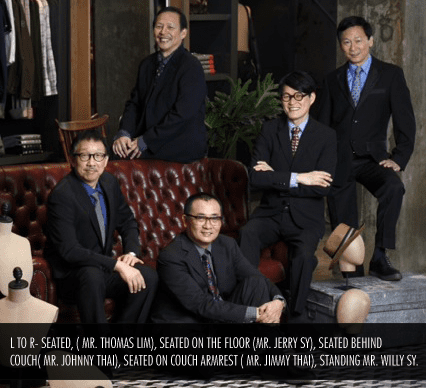 Q1. Your company is owned and managed by a group comprising of five friends (including a brother). How has this worked out for all of you — in terms of business relationships and in terms of personal bond. Have you worked together in a previous organization or association before incorporating?
Jimmy Thai: Johnny and I informally worked together in a family business, a hardware and plumbing store in Chinatown.
Jerry Sy: Jimmy and I had 5 decades of friendship and partnership dating from kindergarten days.
Thomas Lim: I met my partners through Johnny Thai who is my friend and schoolmate in UST. We were classmates for 3 years at the College of Mechanical Engineering.
Johnny Thai: (brother of Jimmy Thai.) We started in our family-owned hardware store as delivery checkers when we were as young as 9- 10 years old.
In relation to working together at a very young age, Johnny and I would buy school supplies in Chinatown and sell it in school to our classmates in Grace Christian School in Quezon City.
( Quick history of how the rest were acquainted)
Johnny Thai, Willy Sy and Thomas Lim – We're all acquainted and became friends back in the days at UST as college students, not classmates though. We were in the same age group being born in the 1950's.
Willy Sy: I have then a garment factory and an RTW store.
Johnny Thai: Willy was my boss then in his garment factory.
Q2. How was working together like in the beginning? Can you share some challenges of working with friends/family and how did you solve this?
Jimmy Thai: The mood is almost always relaxed. Being friends and family we are free to speak our mind. There is no pressure and the atmosphere we built encourages everyone to speak. This has been our practice from the start.
Of course it becomes inevitable that we discuss at home problems that we encounter in the business. There is no separation from home and work. Rightfully or wrongfully, you can express your opinion.
Well since we are family and friends, patience must always be extended.
Thomas Lim: It has always been very casual and in a very friendly and welcoming environment.
Q3. You are now a diversified group in retail, fashion and tourism not just in Philippines but internationally. How are responsibilities determined and assigned among the five partners?
Jimmy Thai: Each of the partners fulfills both operational role and executive role. I am more of a business strategist, setting directions and foresight while my brother Johnny Thai, is the main man in brand acquisition and building relationship with our principals; Jerry Sy has been heading importation and logistics from the beginning; Willy Sy is heading our printing businesses division and as the only techie among us, he has been very much involved in the IT department. Thomas Lim is our Chairman and is a people person and he is heavily involved in HR and other personnel welfare affairs of the company.
In other words
Jimmy Thai: Strategy and setting direction. Business concept and vision.
Johnny Thai: Securing and eyeing new brands
Jerry Sy: Importation and logistics; the trouble shooter of the group.
Willy Sy: Ink and Printing division. The techie in the group.
Thomas Lim: Oversees Admin and HR. The people person.
Q4. How are conflicts resolved? Has there been an instance when there was a stalemate?
Jimmy Thai : As 5 equal shareholders we don't experience a stalemate when deliberating or voting. And our formula for decision-making and conflict resolution is a simple democratic principle of " majority rules" however it can only be a sound decision if applied with genuine respect to each other's opinions and idea while supporting the overall decision of the group. Even if we end at the losing end, we don't beget ill or hard feelings to the rest of the partners. We just support each other. We fully embrace the decision of the majority.
Thomas Lim: There has been no major conflict in the group. We rarely or don't argue seriously at all. And even if there is a cause for an argument, no one points finger and we don't blame each other. We respect the decision of the majority.
Q5. Are each partner allowed to invest in other ventures or do you always invest as a group? Why or why not?
Jimmy Thai: We are governed by the Primer partnership constitution which was crafted by the founders. All business proposals are tabled to the members and there is a provision or by-law that we follow surrounding this issue.
Let's say a partner wants to enter into a new business outside the current business, he must still go to the rest of the partners.
Q6. You also work with your spouse, what are some do's and don'ts on working with one's spouse effectively?
Jimmy Thai:
We both carry our work to bed; we even work on our holidays. Of course there are Pros and Cons.
Pros- as a couple we resolve issues faster and when were on a holiday, we can both spot an opportunity at the same time
Q7. Who is the highest ranked non-partner in your company? Do you see an instance where professionals will run the Primer group one day? What would make this happen?
Jimmy Thai: We have several other partners outside of the 5 founders. They are involved in their respective business units. We have professional managers in various positions covering both local and regional (overseas) operation.
There are also some family members (second generation) that are educated and trained professional managers already. But yes, any organization expanding into the scale that Primer is heading to now, would require the next level of management in several field of specialization and with the tenacity of doing business in an international scale.
It is already being realized, we have been reinforcing the organization with professional managers to fulfill the need of the organization in our phase of growth.
Diversified in terms of business; different culture in terms of territory; expanding in territory – talent pool is wider; foreign executives.
Q8. For the benefit of the young start-up reading this, how would you change the partnership structure of your group if you had a chance to do things over? Or what do you think would be the key ingredient in the existing structure that have enabled the Primer Group to grow and succeed?
We always attribute our success and our strategy for future success from our core values. We call it EPITS or Entrepreneurial Spirit – a spirit that should remain no matter how big or corporate the organization become, the PHD- Passsion, Hunger and Drive of an Entrepreneur is a key evolutionary trait of a business person that allowed them to survive and succeed amidst challenges. Passion for Excellence – our organization have started from scratch, the organization is evolving and changing everyday to achieve excellence in different phase and level of the organization and competition, this will not end. Integrity – is a key attribute that my partner and I value and expect most from each other and from our Primer colleagues. Teamwork – is best exemplified in our growth thru the years, a lot of relationship fails in business even the bond between blood relatives can be broken by business and money matters. Teamwork should be consciously pursued and nurtured in all level of the organization to ensure sustainability thru shared success and accountability. And lastly, Self-Discipline – it's a time-tested value of pursuing greatness and efficiency by means of self-restraint and self-motivation. It all starts from one's self. Self-Discipline is fueled by the early 4 CORE values and will be put to act and tested in many temptation and challenges along the way. Doing business and running an organization is not driving on a smooth road, it will always entail hurdles and pot holes, and if one lack self discipline, it will cease to progress and will not be able to contribute to the team.
New business and partners: core values
Jerry Sy: Passion in the business so you don't feel like working.
Jimmy Thai: don't work for the money, work for a cause.
Thomas Lim: I always remember my late father's advice to me, have Integrity and Morality. Even if you don't have money, if you are known for your Integrity, then life won't be so hard for you. It is through my father that we learned the value of Integrity. When we were starting, we got our first bank loan approved even if we were a start-up company because of the help of my father. His reputation in the Chinese business community helped us.
Johnny Thai: Our time-tested core values – Hardwork and Integrity.
Catch Jimmy Thai LIVE (rare appearance, rare insight sharing) at the 11th Mansmith Market Masters Conference, happening on March 18, 2020 at Resorts World Manila. Register early (pay in January 2020). Visit www.marketmastersconference.com.