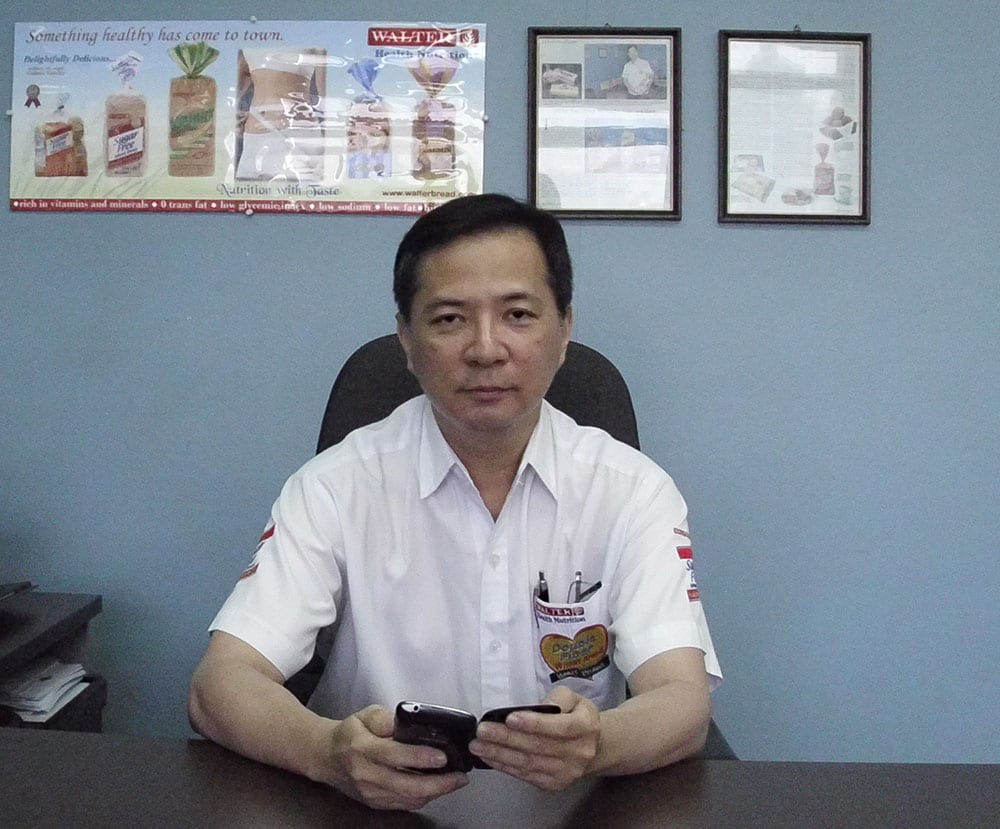 Q1: You ventured into manufacturing bread immediately after college in the 1980's. After two decades, you launched the first two of a series of innovations, namely the Walter Sugar Free Bread in 2005 and the Double Fiber (wheat plus apple) Bread in 2006. What was the turning point for the sudden change of direction?
The market was getting crowded with competition so I had to scan the horizon for new spaces and opportunities. There was a gap in the healthy bread category: no delicious healthy breads catered to those who wanted to live a healthy lifestyle and stay fit.The only breads considered to be healthy in the market before were whole wheat bread and multi-grain bread which usually taste like cardboard, smell like feeds (darak) and were either bland or salty. These were not very encouraging for those who are into wellness. Eating healthy was not enjoyable at all. So, we started researching on ingredients that can make healthy and delicious bread. Just being healthy won't do. That was our mission and it was a not an easy one.
We started to research on the functions and benefits of various fibers and ingredients in 2003. By the 2nd quarter of 2004, we were test baking and analyzing the breads through FDA-accredited laboratories for nutrition facts. It took us 8 trials that lasted almost a year before we were satisfied with the outcome. Thus, in 2005, we introduced Walter Sugar Free Wheat Bread with zero sugar, cholesterol, and transfat, with less salt, but with more fibers and vitamins. It is also 98% fat free, and it was the first bread to be tested as transfat free. In fact, ten years ago, there were no laboratories in the Philippines that could analyze transfat. Transfat was unheard of here and it was not even an issue, but we wanted to stay ahead of the curve. We sent our bread sample to Singapore to have it tested and it was very expensive.
Walter Sugar Free Wheat Bread is positioned for diabetics and weight watchers. It was a runaway hit. It caught the competition by surprise. Mothers were very happy that for the first time, their kids really enjoyed eating wheat bread. It's soft and moist, having a delectable taste and pleasant aroma. It's delightfully delicious even without the sugar.
With the success of Walter Sugar Free Wheat Bread, we followed it up with another product innovation in 2006. We launched the Walter Double Fiber Wheat Bread, the bread with 2 natural fibers, having both soluble and insoluble fibers. Soluble fiber from apple helps regulate cholesterol and insulin levels, enables the body to absorb minerals better, and aids in intestinal health while insoluble fiber helps maintain bowel regularity.
Q2: Until the entry of a multinational competition in 1998, bread was an unexciting category. Today, they have various bread products, TV ads, rented shelves and national distribution. How have you responded to these changes?
With the entry of a multinational bakery in 1998, the whole retail landscape changed. They were getting prime shelf space because they rented the spaces, backed up it with big advertising, promotion and merchandising budgets, Other than that, they were willing to lose money for several years just to gain market share. Suddenly, all the bakeries were facing a Goliath in the industry. We were also forced to hire merchandisers to push our items and refill the shelves with our breads.
Each bakery reacted differently in the face of tough competition. Many responded by going for price competitiveness and advantage while Walter Bread opted for product innovation and superiority. We believe in the law of the first. So, we were the first to come out with Walter Sugar Free Wheat Bread and Walter Sugar Free Wheat Pan de Sal. We also launched an improved version of a normal wheat bread — Walter Double Fiber Wheat Bread. It is a slice over the ordinary wheat bread in the market, so to speak/ We added apple fiber from Germany. One can enjoy the benefits of eating two natural fibers in our wheat bread: fiber from apple and fiber from wheat. The apple fiber imparts the subtle sweetness and adds extra moistness to the bread.
With new products, we were able to get a good shelf space, for one, because they were selling well. Secondly, it's a different category that required a different shelf display apart from the white bread. We covered more areas and territories to serve the growing demands of our healthy breads.
Q3: When you launched your Walter sugar free bread, competition countered with sugar free 8-grain bread, then no sugar added sandwich bread, and then a sugar free white bread flanker brand. They are all no longer on the shelves. What made Walter sugar free bread narrow the big market shares dominance of the multinational leader in the healthy bread category?
First and foremost, it's the integrity of the product. The product has to deliver what it claims. When we claim that it's sugar free, it is really zero in sugar content based on a serving size of 2 slices, and not based on just 1 slice. When people eat our Walter Sugar Free Wheat Bread, their blood sugar level is under control because there's no sudden spike in insulin release. The product has to live up to the expectations of the consumers. Weight conscious people were able to maintain or achieve their target weights. The benefits have to be there but more importantly, it has to be good tasting. In fact, it's so delectable that even kids love it — to the joy of parents.
We advocate healthy living and that's why our focus is more on the healthy breads. It is our company's passion and a mission to help people live healthy lifestyles. Inevitably, there will be copycats from competition. However, coming out with me-too breads just to get a slice of the market won't cut it. The product has to deliver what it promises, otherwise, there's no continued patronage. With 10 years of being the bestselling and leading brand for Sugar Free bread, it proves that the product lives up to consumers' expectation and satisfaction. Our tagline is: "Healthy is now delicious!"
Q4: Your focus has been on product innovation the last decade as you envision to lead in the healthy bread category. Why do you limit your distribution to just Metro Manila? There are many upscale families in the provinces who would like 'healthier' bread as well right?
Yes, but logistics is a big issue. We have expanded our coverage to Tarlac and Zambales up north and to Quezon and Batangas down south. We have seen people from Visayas and Mindanao buying our healthy breads in bulk to bring back to their family and relatives in the provinces whenever they are in Manila. In fact, many Balikbayans also brought with them our healthy breads back overseas because they didn't have wheat breads as soft and moist as Walter Health Nutrition Breads. We know that there is still a great opportunity out there for growth.
Q5: Logistics in the bread industry is really tough. Deliveries are being made and near expiring products are pulled out almost daily. Sales returns are nearly 20%. Why hasn't anyone been able to create a better demand forecasting in the industry?
We have been in the industry for more than 30 years, yet forecasting remains a daunting task. With the advent of so many retail formats and stores, it's difficult to predict where one will go to shop and buy. Long holidays and vacations make forecasting even more difficult, simply because, you don't know whether people will be traveling. If ever, where and when will they buy the breads.
We can only go by historical records of each store. But every year, there are new stores sprouting up beside the existing stores chewing away the consumer base of the current stores. With breads being a perishable product, forecasting is critical. We are able to trim the percentage of returns to 15%-16%.
Q6: You have your share of failures as well. Your premium priced calcium bread for kids and bread for women have not succeeded. What have you learned from these failures?
The seed of failure is planted in times of success. Due to the 3 hits — Walter Sugar Free Wheat Bread, Walter Sugar Free Pan de Sal and Walter Double Fiber Wheat Bread, we were able to capture a substantial share of the market that competitors took notice and came out with a slew of their own versions to regain market share. We were on the roll, so to speak, and became less careful in critical analysis.
At that time, it seemed to be a good idea to have a bread rich in calcium, vitamins and minerals for the kids and a bread dedicated to women since women have a different nutritional need. However, upon hindsight, families usually buy a maximum of 2 loaves on each purchase — a wheat bread and a white bread. There's no room for a third type of bread (be it for kids or for women).
Q7: Uncle Tetsu cheese cake is a low sugar, low calorie cake you franchised from Japan. But it has only 1 item in the store. Who are you targeting? How does this provide synergy to your Walter Bread company?
Uncle Tetsu Cheese Cake is a Japanese franchise that makes freshly-baked cheesecake everyday. It is low in calories with about 140 to 150 calories per slice. It is low in sugar and sodium, high in protein, and rich in vitamins and minerals. It's an ideal product for those "who want to have a cake and eat it too". Now, one does not have to be deprived of having sweets, even on a diet. It all fits into our health advocacy.
It is a premium product since it is made of premium cheese and butter, farm fresh milk and eggs with no preservatives added. Each cake is freshly prepared and baked in-store. We do not sell overnight cakes. It is targeted to the A, B and broad C markets with ages ranging from 25-45. The price is quite reasonable at P299 per cake and it can be shared by the family and among friends. The price of the cake is similar to the cost of single serve bowl of ramen.
We feel that Filipinos should be able to enjoy this wonderfully fluffy, yummy, soft, and cotton-like cheesecake. Currently, it is enjoying so much popularity in Taiwan, China, Singapore, Thailand, Malaysia, Cambodia, USA, Canada, and soon in Brazil, Australia and Indonesia.
We will be adding more products, just like what they have in other countries. With its popularity, we expect competition to come and we are getting our organization, products and marketing tools ready.