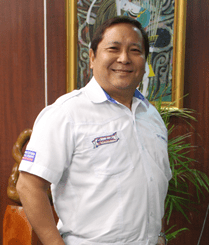 Q1: You have been with Gardenia since its launch. What was your launch strategy and if you were to change something in the launch, what would that be and why?
When Gardenia started in the Philippines in 1998, it marketed Cowhead milk and Gardenia loaves with its sales force selling more milk than bread. The company refocused its strategy in 1999 and concentrated on its core business of baking bread. Its marketing efforts initially centered on using a direct distribution strategy of delivering fresh bread to major supermarkets and convenience store chains supported by in-store promotions and publicity campaigns that were armed with the message of premium product quality with the superior taste profile that is "so good, you can even eat it on its own" (masarap, kahit walang palaman).
Gardenia was able to achieve market leadership despite its premium price. Continual product innovation through constant introduction of new variants in the health flavored and snack categories allowed it to expand its market penetration.  It innovated bread marketing by presenting loaves on store shelves in an upright manner compared with other brands that were displayed in a "lying-down" position. It also innovated product labeling by using colorful packaging with more consumer information printed on the pack. This enabled the product to have a stronger brand presence on the shelves.  The company introduced the G-lock closure on the bread, which had 7 colors, each color representing the day when the bread is baked (tan for Monday, orange for Tues, yellow for Wednesday, blue for Thursday, green for Friday, red for Saturday and white for Sunday).The G-lock color, which assured consumers they were getting the freshest delivery, also became a device that provided convenience when opening and resealing the pack.
Q2: Gardenia is dominating the shelves of supermarkets, but since your products have a short shelf life, how do you ensure good quality and create a good supply chain to balance not going out of stock as well as managing unsold products?
Gardenia uses company-owned trucks to deliver fresh bread daily to retailers, pulling out unsold breads every day of delivery.  Supported with a proprietary sales-order system, the company issues the right stock level per product variant to retailers to avoid product shortages and high returns.
Gardenia guarantees the freshness of all bread sold. Every time Gardenia truck personnel delivers bread, all unsold bread are replaced with fresh stocks.
Its promodizers in supermarkets ensure that products are prominently displayed on the shelves following a set merchandising planogram. They also promote at the point of sale and ensure that only fresh bread is displayed at all times. Unsold bread pulled out from stores is converted to fish-meal for commercial fishponds.
Q3: How does Gardenia intend to win versus the local bakery chains that have lower price?
Gardenia maintains the policy of marketing best quality bread made from the finest ingredients. Baking is done with its automated ISO quality and HACCP food safety certified bread manufacturing facility. The high ingredient costs and automated "untouched by hand" baking make the product higher priced.
However, Gardenia quality offering is differentiated in taste, softness, aroma, freshness and nutritive value that make more consumers loyal to the brand even at a premium price. This superior quality and higher perceived value focus complemented with innovative marketing allow the brand to compete successfully against local bakeries' low prices. Its strategically integrated marketing communications programs encourage consumers to give more value to the Gardenia brand resulting to consistent sales growth and continuous market share improvement.