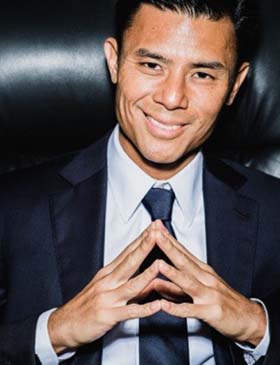 Q1: You put up the first hypermarket in the Philippines, Shopwise, and while most supermarkets just provided express lanes for those buying a few pieces, Shopwise created the exclusive Elite lane designed to save time as well as reward volume buyers with free snacks. You also have price checkers in skateboard. I really like these ideas, can you share with our readers the thought process behind these ideas?
We were the first retailer to introduce a mass-based loyalty program in the country known as the WiseCard.  We found inspiration in many successful loyalty programs in the world, most notably Tesco's.   We learned that the value of any loyalty program is in the wealth of information you can get on customer buying behavior.    We quickly developed our own loyalty data-mining tool, and pretty soon we were able to know our most valued customers, our Elite Customers.
Once we knew our top customers by name, profile, and shopping behavior, it became imperative to develop a customized marketing program targeted exclusively for them.   It helped that we had on our team one of the marketing geniuses in the country (Frances Yu), who put together consumer research, customer feedback and international best practices to develop the plethora of rewards and marketing campaign for our so called VIP members.
We found that most of our customers were time starved so we wanted to make shopping faster and more convenient for them, hence an exclusive checkout lane for Elite members.  The idea was to make them feel like they're boarding first class in our stores much like they would when they fly.    Sales associates on rollerblades were used for speedy service and to also foster a fun shopping atmosphere in our stores (rollerbladers service all customers, not just Elite members).
Another insight that we discovered was that our elite members respond very well to recognition (soft rewards) so we introduced an Elite pushcart exclusively for them.  A distinctive pushcart helped our sales associates recognize an elite customer when they see one, thereby further enhancing customer service.   We went one step further by giving them free snacks on every visit (no purchase required) and giving them gifts during special occasions (e.g. roses on Mother's Day, Chocolates or Easter Sunday, Shaving Razor on Father's Day, Cupcakes on Valentine's Day, etc.).   We had many other marketing programs with them (e.g. exclusive sale, dinner invitations, special discount and perks, etc. and all these were designed to foster a long-term relationship with them.
Q2: You had venture capitalists in Shopwise, how was it like working with VCs when a new format takes quite awhile to be profitable? Would you have taken a different form of financing given another chance?
I believe working with Venture Capitalists was a very strategic move for Rustan Supercenters, Inc (RSCI).   Although we were affiliated with the Rustan Group, we were a separately managed entity, and in 1997-1998, we were but a David trying to enter into a ring with Goliaths like SM and Robinsons.  Within the Rustan Group, we were the first company to ever take on outside investors.   This moved proved to be very rewarding as it gave us the financial muscle to build more stores, hire more people, introduce more retail innovations, etc.   As you know, retail is a scale business and is very capital intensive.   Without the benefit of funding from Venture Capitalists, we would not have been able to expand to a chain and put ourselves in a more equal footing against most established retailers.
We were very fortunate that the VCs we worked with (ICCP, AIG, Spinnaker) have all been very supportive of our company.   They sat in our boards but mostly left management control to us.  These financial investors also enforced a financial discipline, helping us to manage our costs wisely to produce good returns for them.     I will not deny that working with financial investors also put immense financial pressure on us to produce immediate profit.
Even with the credit record of Rustan's, I think alternative funding (e.g. bank loan) would have been very difficult at that time.   When RSCI was established in 1998, we were just coming from the 1997 Asian financial crisis that hit Royal Duty Free Stores (our mother company).    We also did not have the benefit of assets that we could use as collateral for loans.  Given a choice, a strategic retail partner is the better alternative, as strategic partners will not only give you access to financial capital, but the retail tools, technology and knowledge as well.
Q3: Your wife Crickette was working with you on the marketing side, can you share with us some do's and don'ts in order to work successfully with one's spouse?
The time when Crickette was still working with us in RSCI was probably one of the best times in my work life.   I love having her around at work; she is my advisor, confidante and biggest critique. She helps me keep my feet on the ground.   I run by my thoughts and ideas with Crickette, and she either dishes them, or builds on and executes them.
One important rule which worked well for us what that we respected each other's spheres, strengths and unique contributions. Crickette has great market instincts; she is creative, intuitive and extremely attuned to not just needs, but the psyche and emotional struggles and aspirations of our customers. She reads the market well; gets insights and converts these insights into new products, services and experiences that have never been done before in the country. I totally respect her market skills and business instincts. Of course, for good order's sake, I also do my own due diligence and validation of her ideas. We both have to work together but also do our own independent thinking just to make sure we've looked at an opportunity or a problem from different angles.
Don't take things personally especially when you disagree about something fundamental at work. This is easier said than done; but it is possible over time with lots and lots of perseverance and practice. It's really important to try and be aware when its mainly your ego that is causing you to behave in a certain way. It's so easy to justify what you are doing wrong with logic; even if the real cause is ego or some other negative emotion.
Give each other latitude. Sometimes this means allowing each other not just to stretch themselves but also to make our own mistakes. And when that mistake happens, try not to say "I told you so." Or bring it up in the future in some below the belt kind of punch. I think its also important to choose your battles; and make sure you challenge each other on the larger rather than petty issues. Respect and support each other's differences; differences in management, leadership and solving problems. Have some level of faith that in the end we will get the same desired result. Always focus on what is in the best interest of the company; and be completely honest about that. Don't do anything to make lusot or do anything behind each other's back. That wrecks trust.
Have a common vision, and a set of values. Be totally committed to this: mentally, physically, and emotionally. It has to be real for both husband and wife working together.
Q4: Your full name is Bienvenido Tantoco III, namesake of your legendary grandfather and father, known to have successfully built a luxury brand Rustan's in the Philippines, as well as businesses abroad, can you share how can successful entrepreneurs train their next generations to be successful and grow beyond the original business?
I can only tell you how my elders "infected" us and hope that this can also apply to other families. They were very passionate about their craft. Rustan's was not just a business to them; it was their masterpiece, life's work or their personal contribution not only to their family but also in some way to society. I guess in the end, you should just live and lead by your example. Expose them on as voluntary a way as possible to your business. I worked for the company as a teenager in the supermarket, department store and even our buying office in New York. Try not to apply pressure; just make it part of trying to discover what they want to do and also make some extra money in addition to their allowance. You should not force your children however to work for the business; you should let your children chase after their own dreams.
If they get "infected" by you; support them totally without imposing your will and your ideas. I think its best if they try to find a job outside the family first. After graduating from business school I tried to find a job in 1993 under pretty tough economic conditions. Despite my best efforts, I got rejected many times. Luckily in the end I was given 3 job offers. In a family business, you get your job automatically. It makes you appreciate whatever job you have if you had to work very hard to get it and keep it. The key is not to make your child feel entitled. If and when they work for you, guide them while giving them latitude. If possible, don't make them report to you directly. Give them a real boss and encourage them to have a mentor. Have a regular lunch or dinner with him or her (i.e once a month); and let the conversation be completely their agenda. Listen to them carefully; Give them solutions; but do not give them unsolicited advise.
Q5: When receiving gifts, consumers prefer unwrapping from a Rustan's gift wrapper than other leading retail brands in the Philippines, what is a brand to you?
A brand is not different than DNA. It is the soul and spirit of a company. It is the promise that a company makes to its customers and stakeholders; and it is the consistent demonstration and fulfillment of that promise in not just the product, packaging or store design which are all hardware elements; but also the software such as our people and how they interact with each other and our customers, community and suppliers; the experience we offer, and the relationships we build.
Q6: When one of the business units of Rustan's group, Rustan's supermarket, was not doing well, you were assigned to lead in turning around the company. Share with us what was the financial situation then, what did you do to turnaround the company, and what were the lessons you learned?
Lesson number one is to never be intimidated or be fearful of seemingly large problems and impossible missions. Rustan's Supermarket had 4.5 billion in sales that was trending down, deteriorating assets, and 2.2 billion in loans the bulk of which had to be paid for in the first 18 months. Shopwise was a moderately profitable 8 billion peso 6 store chain. We certainly were not making enough excess cash flow to service Rustan Supermarkets debt and carry its losses. Rustan's Supermarket was attached to the department store; so if it defaulted on its loans it would bring down along with it our mother company, RCC. It was a suicide mission but because of what was at stake (and also because we were young and a little naïve) we decided to take it on. The first few months were to say the least – a living hell. We as a leadership team, decided to support each other and remain strong and as positive as possible while confronting probably the most gigantic problems we have ever seen. We very soberly and systematically broke down the larger problems into smaller parts. We were not sure if it would be enough to save the company; but we always did what we could. We focused on something and we did something positive to address that. We also built on what previous management had done well: the 22 stores were in solid locations, we had a customer base that although it was eroding was still the most sought after customer base in the country, and most importantly, we had a very strong brand: RUSTAN's.
The second thing I learned is to ASK FOR HELP. The first people we approached is our suppliers. We were very honest about our problems which we felt was temporary. So we asked for temporary support in exchange for eventually honoring 100% of the debts of Rustan's Supermarket to the suppliers. Once one helped us, the rest followed.
The third thing I learned is to focus yourself and the organization on a purpose that is bigger than just making money. It has to be something bigger than yourself and very worthy. It has to be something that people including the rank and file can mentally understand and emotionally commit to. They have to see it and say "I want to contribute to that. I am willing to devote myself to that." In our case it was simple, our purpose to create and preserve jobs. Sounds bland but I can tell you that internally this meant everything to us especially during the hardest and darkest periods of our company's life. We did not want to even lose our janitors; we literally felt that they were better off in our company where everyone is treated with respect. Even if we were financially challenged, our janitor is better off in our company than out there where his or her morale would not as be as high and he or she might even be treated with less respect than he or she deserved.
I am sure many of us felt like giving up. What for? I can end all this severe stress and suffering just by doing something else. I can even get paid better to do something else. We stuck together.
The 4th thing is to have faith. All we told ourselves when things were bleak and seemed hopeless is to "just put one foot in front of the other foot and in front of the other foot". Of course we planned, organized and executed what looking back were thankfully the right business moves like distinguishing the customers served, brand image and value proposition of Rustans and Shopwise. We were also forced to be very very efficient in the way we managed expenses, inventory and other resources. At the end of the day, however, it was our faith in each other, in our vision, and in God that allowed us to keep moving forward against the strongest head winds any of us have ever seen. In the end all those steps brought us to level and result that in some ways surprised even us. We paid the debt in full and on time. We made Rustan's Supermarket profitable and re-established it as the clear leader in the upscale supermarket segment.
Q7: At hindsight, what would you have done differently while you were rehabilitating Rustan's supermarket?
In hindsight, we would have done many things differently. At a more strategic level, I think we should have recognized much earlier the huge opportunity of neighborhood supermarkets that cater to the working class. We had inherited as a result of the integration, a chain of well located neighborhood stores called Rustan's Express Lane. Previous management had given to us on silver platter a format that no large retailer was doing in the Philippines that was driving / revolutionizing the modernization of retail in neighboring countries like Indonesia, Malaysia, Singapore, etc. From 2006 and to 2012, we treated Express Lane like a stepchild. I wish we did not waste all of those years to learn and master what is a very formidable bit also difficult format. Oh well, now all the large retailers have jumped on the learning curve. It's a race right now to see who masters this format first and rolls it out in a large scale profitably for the benefit of Filipino families in neighborhoods across the country.
Q8: The Dairy group bought a major stake in the Rustan's group, this means they saw value in the company, can you share with us the dynamics of collaborating with new partners , for example, in the area of following their systems and operational methods.
The partnership is now 2-years old and has been mostly positive. It has exceeded my expectations in terms of the bringing in volume purchasing power, providing our managers with the most amazing training system I have ever seen firsthand and in depth for supermarkets, building within two years the best IT, H.R., Financial reporting and Supply Chain infrastructure we have ever had, and greatly clarifying and not just our overall but also our strategy by format. They have made us much more results driven and action oriented.
We hesitated at first and then decided to fully support what is perhaps the most prudent, most overly conservative accounting and risk management policies of any company or retailer that I have seen. Jardine is a 300 year old company and they have longevity partly because of this approach to financial management. Our people will hence learn to produce an economic profit under the hardest approaches to recognizing expenses, gross profit, etc etc. Over time, with such an accounting system, we will have the best P+L managers in the country.
We are trying to strike a balance between a family owned business and a multinational company. In the end, however, because of the need for scale (and the speed with which scale needs to be built) the balance will out of necessity tip towards being more like a multi-national company. Amongst all multinationals that I have talked to over the past 2 decades, Dairy Farm has the most similarity with our values, and is also the most people oriented.