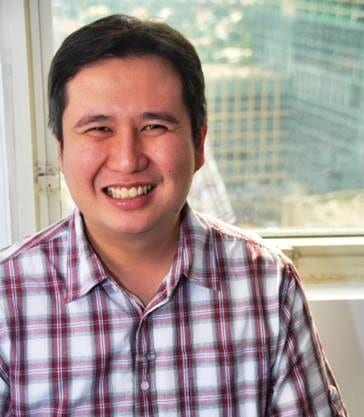 Q1: Your competitors have attacked your makeup and skincare categories. How are these products doing now and what did you do then to defend your turf?
A: Being the world's number one beauty company gives us two huge competitive advantages in "defending our turf." The first one involves product innovation. Given our huge investment in our Research & Innovation division (L'Oreal consistently ranks as one of the top companies in the world that allocates the most resources to research), we have thousands of winning products available globally that we can easily bring in. The second one involves "big ideas." Given our commanding presence in multiple beauty categories across countries, there is a wealth of market winning beauty ideas that we can easily bring in as well. Combine these two advantages and that really puts us in a position of strength when it comes to "defending our turf."
Q2: In 2013, you won the Mansmith Young Market Masters Award (YMMA) not just because you have defended and recovered market shares of Safeguard vs. Vaseline's 'germs out, nutrients in' campaign, but also because you have innovated, combining both Safeguard and Olay soaps for counter-attack. This expanded the market as well, right? Can you share the insights about this defense? What was the critical factor that made your defense a success?

A: The critical factor that made the defense a success was the team's decision to treat this as opportunity to attack via portfolio innovation and not just treat it as a defensive action. Given that the soap category's penetration rate was almost 100%, the only source of growth was getting competitive users to switch to our business or to get our current consumers to expand their basket. And to get that growth, the team saw that using just one brand – Safeguard – was not enough. So the team decided to defend using Safeguard and to attack using the beauty bar business, forcing competition to choose which business it wanted to defend. We accelerated the product innovation timings to hit competition where it hurt the most – it's yet-to-be-established equity – and overwhelmed it with so many new launches its equity didn't take hold.
Q3: You are a student of military warfare and your favorites are Desert Shield and Desert Storm. Desert Storm used the principle of the "Speartip", a fast lightning thrust straight to the weakest point of the enemy to take it down quickly. How were you able to use this in your defensive marketing? What specific lessons from these events were you able to apply in your various defensive strategies?

A: I favor the principle of the Speartip not just in defensive marketing but even in product launches because of two reasons. The first one is that this approach works whether you have a huge budget or not – since you're focusing most of your resources on one plan then the impact of that plan becomes all the more poignant vs spreading yourself too thin. The second reason is because this approach always forces you to attack, not just defend. Defending your business will, at most, help you survive. Attacking will make your business grow.
Using my previous example – in Desert Shield, the Allied forces positioned most of its strongest forces around the Saudi Arabia / Iraq border to prevent Iraq from pushing its invasion all the way to Riyadh. They basically defended with their best units with the simple objective of stopping the damage. The same principle was used – we defended using our best and strongest brand to stop the damage. In Desert Storm, the allies overwhelmed Iraq's defense by focusing all of its forces to achieve one objective – Baghdad. They single-mindedly drove all their forces to reach Baghdad and forced Iraq to choose between defending its capital or holding on to the conquered territory of Kuwait. Similarly, by attacking with the beauty brands, we forced competition to choose. That's why they failed.

Q4: How does your love for martial arts, foreign languages and video games contribute to your marketing thinking?
A: It helps me look at my brands and my business in a different way vs just in the "marketing" way. A lot of times marketing people fall into the trap of thinking that they know better than the consumer just because they've been working on the brand for a long time. It also helps me develop new approaches to my business that I would never think of if I just focused on my marketing work. Martial arts and foreign languages also opens you up to different cultures which are always a great source of new ideas.
Q5: How does L'Oreal communicate the concept of beauty during these times of more self-affirmation and self-acceptance?

A: L'Oréal believes that beauty has the power to change everyone, so our vision is to bring beauty for all. In today's world of more self-affirmation and self-acceptance, we believe that everyone deserves to be beautiful in the way they want to be. We bring brands that cater to whatever concept of beauty you hold to be true, from the trendiest runways in New York and the prestigious fashion shows in France to the most natural beauty looks coming from Nature. In whatever way you want to be beautiful, L'Oréal will help you make your beauty dreams come true.