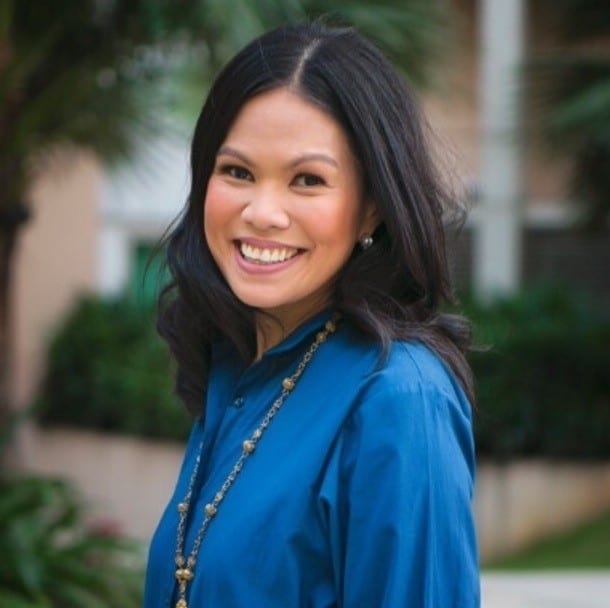 Aurora Mangubat-Suarez was Publisher of Summit Media before becoming an independent life coach and marketing consultant. A winner of the Mansmith Young Market Masters Awards (Mansmith YMMA) in 2006, she shares her insights about her journey from being a corporate executive to a life coach focusing on women achievers.
Q1: You rose from the ranks and became a magazine publisher for sixteen years before leaving the company. You worked with many women achievers and published magazines for women. What three 'secrets' should men know about women, and maybe women should know about themselves?
A: Three secrets I know about women are:
1. We are stronger than we think.
Women have such reserves of strength that they don't even know they have inside.  The rigors of childbirth alone will will make any man in awe of what a woman can do.
But even in the workplace, you will be surprised by what a woman can accomplish.  Last-minute deadlines, a demanding client who wants even more than what you had already delivered, a PR nightmare that needs to be handled—I have seen amazing women with the grit and resilience to just step up and get things done.  These women call up amazing reserves of inner strength to not let the team down, to be a leader, to inspire others.
2. Charm and kindness will take us farther than fear.
One of my favorite editors had an amazing work ethic.  Whatever you asked her to do, she would buckle down and just do it.
But what I loved most about her though was her ability to smile, use her charm and be kind in getting the help she needed.  She would call reluctant managers and cajole them into letting their stars appear on her cover.  She would meet with advertisers and convince them to place ads in her magazine.  She would sit down with the circulation team to find out what readers are looking for.  She would do this all with charm, generosity and kindness. She knew early on that fear does not motivate and that you can get so much more done with sweetness (little gifts of chocolate didn't hurt either).  I learned so much from her.
3. Never underestimate a woman's creativity.
The articles that always seemed to resonate with readers of the magazines I used to publish were the makeover articles.  It was fascinating to see the transformations of the women from mousy to glamorous.  I could also see how powerful they felt after seeing their beauty enhanced.
But what fascinated me more was the life makeovers—how someone gave up a traditional (even high-powered) career to pursue what she loved, whether it was setting up her own home-based food business, writing a novel that was published by a big-time New York-based publisher, building an empire revolving around planners or establishing a makeup line.
A common thread that lay among these transformations was a desire to follow their heart but more importantly, the ability to figure things out, to create a business and life that was true to them—and the power that comes from living up to their potential.
Q2: You are now a life coach, what was your turning point to leave a job that is being aspired by many and you decided start all over as an independent life coach? Tell us your own transformation.
A: I was very fortunate to have worked in a magazine publishing company.  It was truly a childhood dream come true (as I remember waking up very early during sleepovers at my classmates' houses to read Vogue, Seventeen, Teen and YM since my family couldn't afford those magazines when I was a teenager).  I was given the opportunity to launch the magazines of my dreams and meet with amazing publishers around the world.  I was privileged to have worked with some of the most creative people in the country.  I started as an Associate Publisher when I was 23, hired to launch the Philippine edition of Good Housekeeping, and left at 40 as the Publisher of 21 magazines, a book publishing division and the digital arm of Summit Media.  It was an amazing run.
But after 16 years and after going through some major personal challenges, I was ready for change. I wanted to see what else was out there. I also wanted to explore becoming a life coach (after I was helped so much by a caring counselor to see me through the difficult emotions I was feeling with my life challenges).  Since leaving Summit Media, I have worked in an e-commerce start-up, started a social enterprise called Knitting Expedition, was hired as a Purchasing Director and Marketing Director for National Book Store, did marketing consulting and most importantly, got certified and established my life coaching business which has the very creative name of Aurora M. Suarez, Life Coach.
All of these exposed me to a bigger world beyond what I had known and introduced me to new ideas, people and other ways of working.  It also helped me solidify what I wanted—and didn't want—for my life.
Q3: What will women achievers lose without confronting their fears about change?
A: I will be the first to admit that it is so much easier to stay in your comfort zone.  You know what to expect and what's expected of you.  There are no difficult feelings to deal with (like fear, discomfort, sadness).
Sometimes life forces us to change or we just want to change because we know there's something else we want for our lives.  If we don't confront our fears of change, we lose out knowing, on exploring, on living a life of adventure and curiosity.  There's a question I ask in my marketing postcard:  "Imagine you're 80.  What dream would you most regret not pursuing?"  When you don't confront your fear, you lose out on living out your dreams, on living a life you don't regret, on living your best life.
Q4: Many women achievers are results-oriented; why do they need a life coach to help them become accountable to see the change they desire in their lives?
A: You're absolutely right that women achievers are results-oriented.  When you give them something to do, they get it done.  But what I'm seeing in my life coaching work now is that when it comes to something they REALLY want, when it comes to listening to their heart (and not the voices of their boss, parents, husband, or even best friends), that's when they get stuck.
Women achievers are used to being people-pleasers, to letting external markers of achievement become their barometer for living a successful life.  But for some women, there are things they still want to do for themselves, that don't align with what everyone feels they should do.  That's when they need a coach—to help them articulate what it is they REALLY want and then help them take the steps to make that happen.  I dig deep into their stories of what's holding them back and understand why what they want is important to them.  It takes practice to listen to your own voice instead of someone else's and that's what  my life coaching practice centers on—to heed your inner wisdom and follow that.
Q5: If you were to write a letter to many women achievers today, what would you tell them?
A:
Dear woman achiever,
You're amazing.
You have gone far in your career, farther than you thought was possible.  
You have gained respect, admiration, trust, success.
BUT…
You have a dream that you really, really, really want to make happen. You want to write a book, set up a business, establish a foundation, become a digital nomad or run a marathon.  You have a big idea for your life and you want your vision to become real.
Despite your achievements, you feel stuck. You're going into unknown territory, you want to move forward but for some reason, you can't go beyond feeling fear or overwhelm.
I just want to let you know that you can do it.  You are creative. You can figure it out as you have done many times in the past.
But as you have learned in your career, sometimes you need help.  I'm here as your life coach to help you get from where you are to where you want to be.  I'm here to help you tap into your inner wisdom, your strengths and your values to help you live your best life.
Let's dream, create and figure it out together.
Take care,
Aueeie
Q5: You have always been working behind the scenes. What have you discovered as your own life's mission?
A: Wow, this is a big question.  Yes, I always felt I was at my best behind the scenes.  But the recurring theme in my life has been this:  I have always worked with amazing women who inspire me and make me better.
My life's vision is aligned with that.  I want to help amazing women live an extraordinary life—to achieve their dreams and to do work that matters, that's aligned with their strengths and values.  I want them to create—and live—their own heart-crafted life.