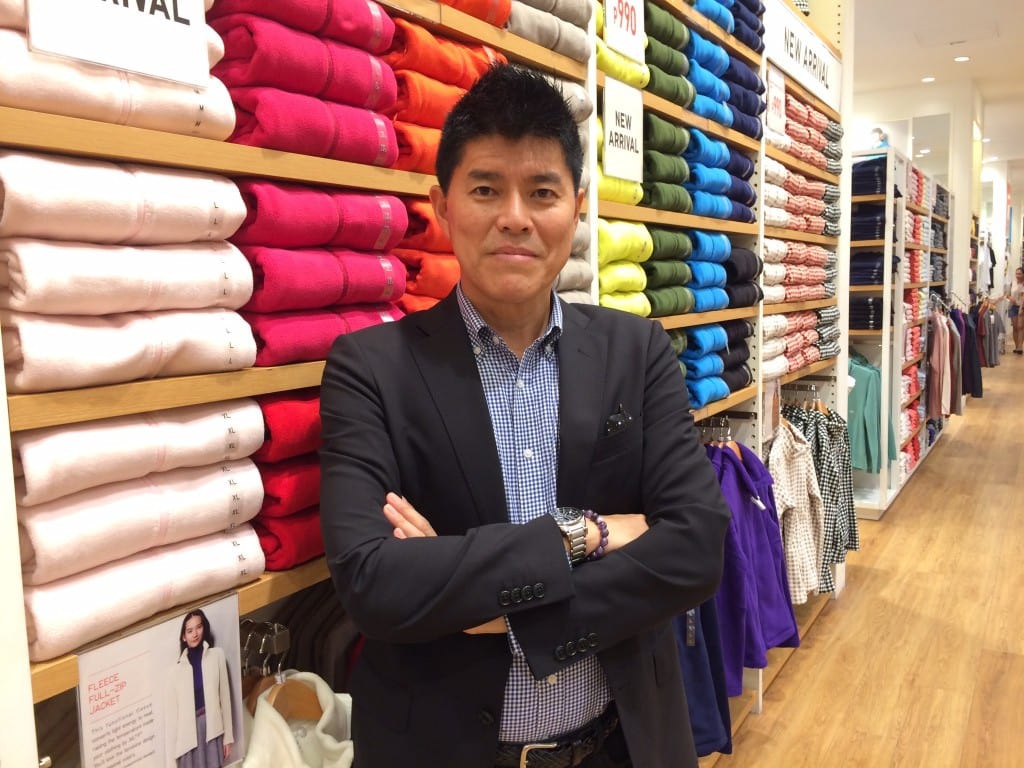 Q1: Can you describe what the Uniqlo brand is all about? Other than being of Japanese origin, how different or similar is it with say Giordano or Gap in terms of fashion or customer base?
We consider UNIQLO as LifeWear, which means UNIQLO is complete when it is worn and become a part of our customers' Life. We are not trying to differentiate from other brand, rather, we keep focusing on customers' Life, how they appreciate clothes every day.
Q2: Uniqlo is an international company, how do you maintain the standard of customer service and communicate the brand consistently worldwide, including the Philippines?
We try to offer kind and courteous service in any part of the world. Key is how to share the meaning and joy of doing so with each employee in my company. If we treat customers just like we treat our own family members, we can enjoy that from heart.
Q3: Zara is known for supply chain leadership, for the benefit of our readers, what is one thing Uniqlo is uniquely known for internationally and why?
UNIQLO is innovative and made for all. We continue offering the most innovative clothes at affordable price for everyone. Everyone can find some favorite items at UNIQLO, from baby to senior, men and women.
Q4: You were head of business development for new countries and now the COO of the Philippines. If you were to go back in business development, how different would you do your business development function after your line function in the Philippines? What would you start and stop doing?
I definitely would have come to the Philippines much earlier, based on how UNIQLO is welcomed here today. Also, I would have started on our brand communication through digital well before our arrival to this country. It takes time to understand each other, and digital communication is so democratic that we could reach every person directly.
Q5: You have been assigned to countries like Russia, China, Philippines, etc can you share with us your observation about customers from each these countries? How different or how similar are they?
Most of the differences are coming from different geography, climate and life event calendar. Now that world becoming more and more one global, what happens in New York or Tokyo have certain impact for us living in Manila. We are all connected to the world, so are "customers" Everyone living in mega cities simultaneously appreciate "truly great clothing" as a global citizen.
Q6: Before Uniqlo, you were marketing zippers in YKK, what are branding different or similar in a business-to-business context like YKK versus a retail consumer brand like Uniqlo?
They both are similar as they both offer essential for life. Also, they both evolve even ahead of time.  One difference is that I had to sell zippers to several designers, merchandisers or factory owners while I have to sell UNIQLO to 100 million Filipinos now.
Q7: You speak five languages (Japanese, English, Chinese, Spanish and Portuguese), what kind of motivation do you need to learn so many languages? I understand you majored in Portuguese while at Sophia University?
Foreign languages have opened my eyes and heart to the world. Each foreign word enables me to assimilate one step closer to different culture.  I promise I will learn Tagalog while I am in the Philippines.
Q8: Where did you get your nickname Mickey?
One day in San Francisco, my American customer twisted my first name Katsumi, and came up with Mickey. Mickey is easier to pronounce than Katsumi, and worked well to ice-break in any sales meeting.