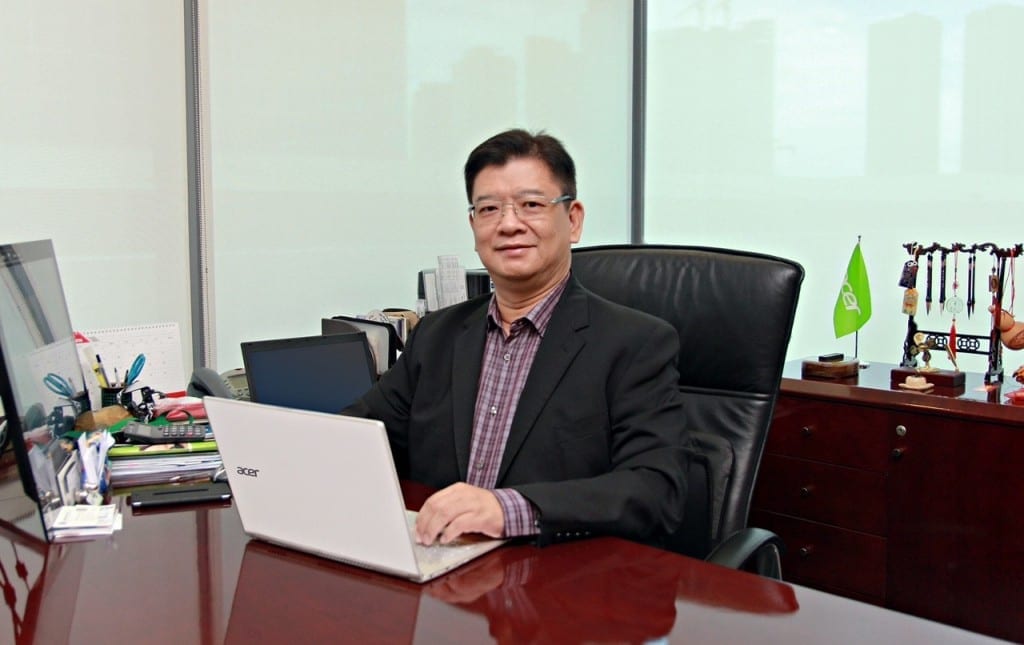 Q1: Acer is no. 1 player in the PC industry in the Philippines. How has the situation changed with smartphones getting cheaper and better, and how have you responded to slower demand to protect your PC lead?
A: Acer Philippines is grateful to have sustained its No.1 post in the PC market for several years, we owe it to our loyal Filipino customers who have trusted Acer as a reliable and durable brand. Behind every badge of success are nurtured relationships – thus we share this with our stakeholders, distributors and dealers, whom we have remained genuine partnerships with for many years.
The coming in of the Smartphones, along with the birth of software applications, has indeed made the IT industry more exciting. Technology has become more personally relevant to its users. This has opened the minds of our customers to explore innovation and be updated. Smartphones has warmed up the market again which should create a shift on their wallet share for IT products. It is now much easier to sell PCs to Smartphone owners than to the previous generations of typewriters.
So the demand on PC has not slowed down, we just need to decentralize. There is still a lot of Filipinos who do not own a laptop or a desktop. Apart from financial limitations, the IT industry, on the other hand, should learn how to be more accessible and easy. On a business development view, Acer approaches many vertical markets to adopt with the evolution of PCs. The Education sector, for example, is one key segment where Acer continues to strive to lead. Traditionally, PCs are used in schools for Computer Laboratories. Now, notebooks or 2-in-1 devices coupled with a learning management system, many schools are making bold steps to implement a 1:1 ratio with the students.
Our country presents a beautiful diversity of consumers, moreso, preferences. Let's make use of this diversity as opportunities to market. Technology is all about creating opportunities anyway.
Q2: Acer recently launched a new series of smartphones for millennials. What unmet needs are you trying to satisfy?
A: Acer Mobile came in the Philippines in 2014 when other global brands already set foothold of the Millennials market. The landscape then presents high contrast of huge global brands with local and China brands. We knew its time to fill the gap.
Acer Mobile offers the fusion of other's strengths, a globally trusted brand with competitive specifications at locally accessible pricing.
Marketing to shifters, given their vast options, is an exciting route for Acer. It inspires us to double our commitment to our customers in giving them the best deal from their hard earned money. Although Acer operates on a global scale, we strategize our product mix to fit the distinct needs of Filipinos. Today, with a healthy market share in a spectrum of brands, Acer Mobile continues to get growing market acceptance from both shifters and fresh markets.
Q3: Tablets were a big hit before. Smartphones screen has been getting bigger and bigger which has affected tablets' attractiveness as well. How do you see the future with several elements in the IT industry converging?
A: Everyone's life is going extremely mobile. Smartphones are becoming more multifunctional and not anymore relegated to as phones. It is now a personal assistant, a toy, a pet, a gaming console, a map and even a chauffer caller. Smartphones will continue to evolve, until another innovation comes. For now, customers are winning with the "battle of apps" serving their logical and whimsical needs.
On a visionary standpoint, a technology nowadays reaches a certain maturity turning innovation into a regular usage pattern – this could apply to both tablets and smartphones. However, the PC product and usage architecture is far different. Users, and the demands that consumes them, will keep looking for more productivity, easier practicality, better portability, and better performance. This perpetual paradigm will never get saturated with the evolution of PC. The future is the many surprising forms of PC. Yes, convergence is key but more than that, it is making our customers be the inspiration of innovation – customer centricity.
Q4: Technology is changing fast. There are less switching barriers and more occasions for competition to intercept a reorder. How are you creating loyal customers?
A: The essence really is not only on who has invented which first, but also on who has become more relevant to our customers. Relevance is a huge responsibility. It entails serious attention to product quality, proactive commitment to efficient product availability and objective empathy to stakeholders through excellent customer service. Moreso, relevance is felt, and what is felt becomes more memorable.
By having the largest market share in the country, each step we take towards an effective CRM requires more force or investment. We don't mind. To date, Acer Philippines has the widest network of customer service centers in the country with globally competitive turnaround time efficiency.
Because we know that in every Filipino, purchasing a PC is a milestone in their life. We ensure them that even after they have already purchased our product, we will stay with them with top-notch aftersales service. They have stayed with us too, making us market leader for generations.
Q5: Historically Acer offers better products at lower prices. Competition has been getting fiercer and prices have also been dropping given technological product life cycle. How are you still managing growth?
A: This is ultimately good for our dear customers. Despite this, we still achieve growth on both revenue and market share. Beyond product advancement, quality and pricing, Acer is a brand assuring the customers in fulfilling their diverse needs. They may be executives, aspiring professionals, students or simply everyday users – they are guaranteed by Acer. It's been basic, customer satisfaction protects us from price war. No secrets, just a commitment executed well.
Q6: What other innovative products do you expect to launch this year?
A: Acer is always optimistic that in every product we introduce, customers are as excited, usually reflected in our fast sellout. Because Acer invents on relevance, we give high regard to our customers' needs. Such as the need to have more reliable and secured files and applications, Acer has furthered its product development partnership with Microsoft to offer "Windows Hello" wherein a mainstream Acer PC will have face and fingerprint recognition. Entertainment has also become a relevant part of everyone's daily life, Acer will take it to new level with Virtual Reality optimization on both our hardware and software features. On Education, Acer is lucky to have built strong partnerships with the largest and most esteemed universities and colleges in the country. We are one with them in redefining classroom learning into a strong advocacy on digital learning on both hardware and software. Those, among other surprises.
Generally, we look into a day in a life of a Filipino. Then we leverage on our global technological facility to bring new solutions. That is innovation.