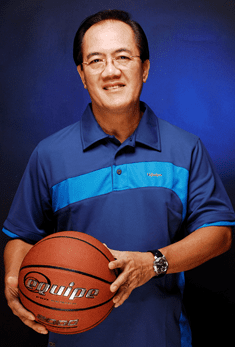 Q1: Toby's is the leader in sports retailing.  What makes Toby's successful all throughout these years?
We see to it that we are always ahead of our time, looking for new ideas, retail concepts, and new application technologies that would make us more efficient and productive. We also do our research by seeking out the best sports brands and products that would give our customers what they need for sports and recreation. As CEO, I also insist on a growth plan. I believe in dreaming big. In the beginning, I fought for opening one store a year. We did that on our first 10 years, then after that, we opened two stores each year for the next 10 years. Currently, we are at the rate of opening three stores a year. We dream big, but we also make sure that we are practical and wise as we move towards those plans.
Q2: You introduced Toby's Arena when most retailers were reducing space. You also launched RUNNR and created a new retail category. How do you manage the risk of launching new concepts?
During our first 10 years, our stores would always get crowded as we filled it up with merchandise. But the last thing we wanted was a store that would look like a storage room. Unfortunately, most sporting goods stores, not only in the Philippines, but also all over the world, will never win a "beauty" contest because of this constraint. We found that a lot of good products or brands were getting lost in the maze inside our stores.
To solve this problem – and as a strong statement of our commitment to our customers – we took our vision to the next level. We wanted to create a sleek and modern shopping destination that was at par with the best retail sports concepts in the world. In 2001, we saw our vision come to life when we launched the Toby's Sports Arena in Glorietta 2. Today, Toby's Sports Arena can be found in 7 locations throughout the Philippines. The Arena allows us to house the largest selection of sports footwear, apparel, equipment and fitness products, carrying over 100,000 sports products from 148 internationally known brands, covering 48 different sports.
Subsequently, we launched two other concept stores: RUNNR and urbanAthletics. We have managed the risks on these new concepts by taking our strongest categories within Toby's Sports and spinning them off as new retail formats altogether. New formats are forthcoming as we continue to grow our store network. Stores with interactive and full-sized sports facilities are on the drawing board.  At Toby's, we value innovation.
Q3: What are some memorable failures which helped make you a retailer par excellance today?
I would consider them more as miscalculations rather than failures. For instance, there are times when we failed to open stores in areas where we should have been and opened stores where we should not be.
Entrepreneurs shouldn't have "failure" in their vocabulary. A good businessman should already have plan B and plan C (or more) in place. And even if those don't work out, we need to see every so-called failure as an opportunity to exercise creativity. Plans are usually unfulfilled due to poor preparation or unexpected circumstances; or sometimes, we make certain assumptions that were not realized. If a businessman has other plans to fall back on, then failure is avoided or loss is minimized.Failure was never an option in my planning process. I value flexibility and creativity, and being an optimist, I always look out for other opportunities surrounding my miscalculations.