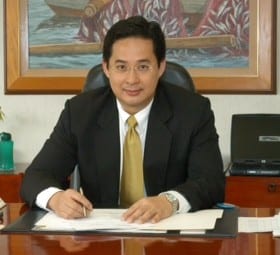 Q1: Bayad Center, as a bill payment center, was set up because you had to address unremitted collections and increasing cost of collection (hold ups of Meralco electric bill collectors, delayed remittance, etc).  How serious was this situation then or what was the tipping point that caused the creation of the Bayad centers? Have you attained your goals why Bayad Center was established in the first place?
When Meralco was experiencing problems on regular hold-ups not to mention the "staged hold-up me" incidents, the Bill Collector system's spiralling insurance premiums and related collection costs prompted Meralco to go Collectorless. Consequently, our customers had to endure long queues to pay their bills given the limited number of Meralco branches. We then came up with a Collection system that could be deployed in a lot more sites (i.e. retail outlets, rural banks, malls, etc.) thus bringing payment convenience and accessibility of our service to our customers to a lot more touchpoints.
It was successful in servicing the requirements of Meralco in the area of payment collection and this eventually gave rise to a flourishing, highly profitable business that services now close to 200 Biller companies and gov't institutions that Bayad Center collects for nationwide.
Q2: On the other hand, banks had a threatening environment to the unbanked segment, mostly DE, comprising 90% of the Philippine population who felt intimidated in such a formal setting.  Can you tell us why banks could not do the job better than Bayad Center then (and now)? How much did they miss in annual billings to Bayad Center?
The formal setting in a bank is more of a turn off to our DE unbanked segments when it comes to regular payment transactions.  This segment actually prefers the "casual, come-as-you-are" attire instead of having to dress up just to settle their monthly bills.  Back then and even to date,  our customer surveys clearly shows the marginalized segments' preference to either pay in a biller business center and endure the long queues or to pay in an alternative payment center rather than go to a bank. Incidentally, even some banks try to manage queues inside their branches by limiting the available hours for bills payment services.
Q3: Bayad Center's expansion was quite unlike the company-owned model of banks as you resorted to franchising system. Can you tell us the insight behind franchising the branches?
Bayad Center saw the great potential to grow the business given the unique model of being a "hub and spoke." And as more Biller Merchants saw the cost efficiencies and effectiveness of outsourcing payment collections and with the fast growing number of customers (the paying public) patronizing our payment sites, we needed to expand rapidly and extend our reach but without necessarily incurring capital expenditures. Thus the shift to Franchising enabled us to cope with the demand for this collection service not to mention that the move to franchise actually prompted Management to fully streamline our systems and operations before we could successfully deploy and scale up nationwide.
Q4: Your success and dominance in over a decade attracted copycats. Since your name is generic and not patentable, how are you defending against neighborhood imitators?
Aside from airing TV ads since late 2013 and a new one in early 2014 to heighten public awareness of our brand, we ran a campaign in radio and print on "hanapin ang tatak" (i.e. the Bayad  Center logo) sa pagbabayad ng mga bills.  Equally important, we met with the Top Mgt. and key officers of the various big billers & gov't institutions, informing/warning them of misrepresentations being made by these copycats (e.g. posting their biller logos at the copycats' storefronts or posing as authorized agents) and processing unauthorized transactions of their bills. The big billers (e.g. Meralco) have taken immediate action and have sent demand letters to cease and desist transacting and demanded that these copycats pull down all marketing paraphernalia displaying their biller logos.
Q5: Other than copycats, what are the challenges facing Bayad Center?
Bayad Center is the pioneer and the trailblazer when it comes to Outsourced Payment Collection Industry. Our Brand Health diagnostics show that we are very strong in NCR but the Visayas and Mindanao areas are still largely untapped or underserved.I've been a witness to how long queues and waiting times are in the various gov't offices as the public pays their gov't contributions or premium payments.  And our challenge now is to bring our services and payment convenience to the rest of the country, even in the far flung provincial areas where accessibility and security in transacting payments remains to be a challenge if not a burden to our countrymen.
Q6: How has your business model evolved through the years and eventually in the future in the light of increasing influence of malls which have started to take over bills payment?
The Bayad Center business started in 1997. Through the years, we have built a formidable network of billers and at the same time corporate collecting partners. In terms of reach and accessibility, the Bayad Center distribution network far outnumber the malls as we currently have over 3000 transacting sites and we project to reach 4000 by the end of this year. Quite recently, through our Franchising model, from a mere Payment center we are transforming into a Fulfillment Center carrying a suite of services such as airtime loading, Remittance pay-out, application acceptance for utilities and many others in pipeline. Given this marketing mix model, the consumer groups who patronize Bayad Center, as compared to mall business centers and banks, have a different Unique Buying State (UBS). As such, we become a moving target.
Q7: Pawnshop chains have shifted money remittance from banks using their branches in the grassroot levels. Do you see pawnshops evolving to add bills payment service to compete with you? Why or why not? How is Bayad Center continuing to be relevant to its market?
Remittance companies and Pawnshop chains inevitably will evolve and transform since there seems to be a natural progression in these lines of business.  Eventually, these businesses will get into bills payment as we have foreseen several years back. It makes business sense to maximize the money flowing in (thru bills payment collections) and out (thru remittance and pawning) in the strategically located storefronts that are catering basically to the same target market.  As such, the landscape in doing these types of businesses have changed.  Instead of competing, foorging strategic partnerships and alliances are key to survival and sustained profitability.  We have locked in partnerships already with some of the big players both in the remittance and pawning businesses by running their bills payment business line.  The likes of Western Union's biggest agents  namely; USSC, Petnet & Ebiz,  as well as Villarica and Palawan Pawnshops to name a few have signed up with us as accredited bills pay partners using the Bayad Center's 1-Pay System, enabling them to collect for all our 200 Biller merchants nationwide.
Q8: Meralco has many affiliate companies under it.  How is synergy being practiced among these companies now, including Bayad Center?
The One Meralco Group boasts of affiliate companies in diverse businesses. Proudly, we have been successful in creating synergies amongst us thus creating and maximizing value separately for each Subsidiary and also as a Group. For instance, our Insurance Company covers our collections and bond requirements.  Our Subsidiary involved in Telecoms provides our telecommunications and internet service.  Bayad Center's IT and System requirements are serviced by our IT Solutions Affiliate. Being the only retail business in the Group, its 'win-win' for all of us as Bayad Center expands its footprints nationwide, bringing payment convenience and excellent service closer to the paying public!