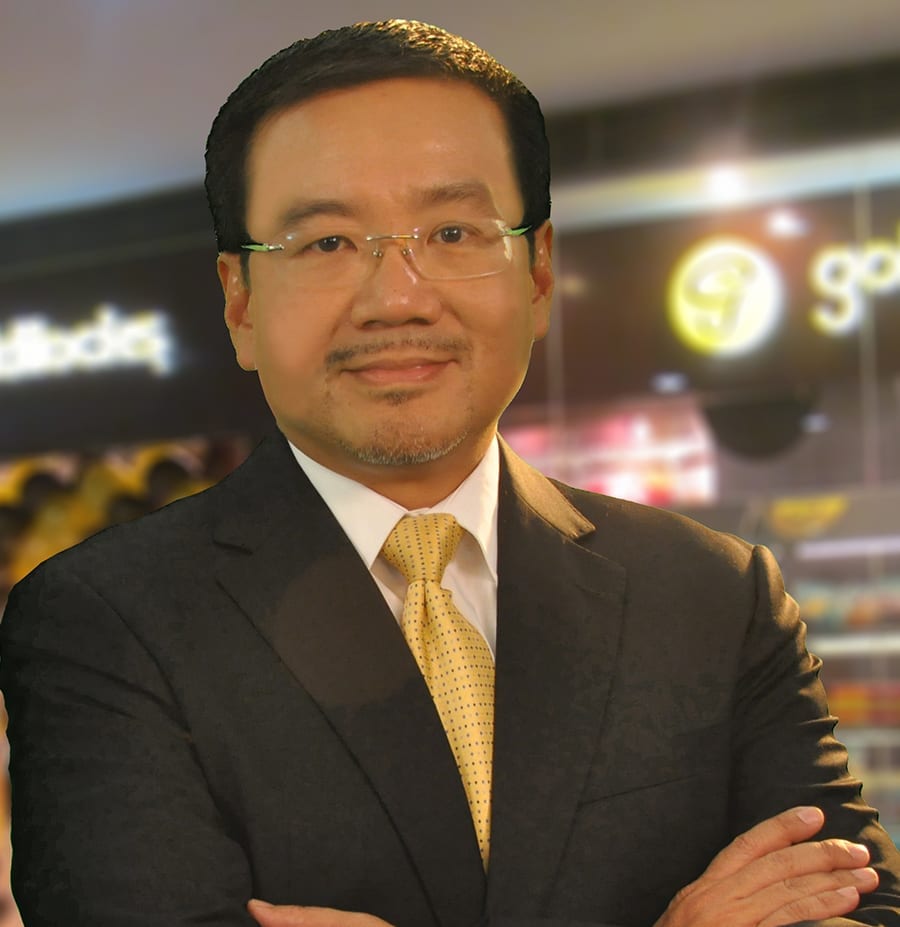 Goldilocks is celebrating its 50th anniversary this 2016. Founded by sisters, Milagros Leelin Yee and Clarita Leelin Go, and their sister-in-law Doris Wilson Leelin, they were baking delicacies in their Makati City apartment to serve doctors, nurses and, eventually, hospital patients. The business grew and led to the opening of the first Goldilocks store, on a humble 70 square meter space at the ground floor of a three-story building along Pasong Tamo Street in Makati. Today, Goldilocks has close to 500 stores with over a dozen more stores in North America while 40% of local stores are franchisee-owned. Goldilocks president Richard Yee, a spokesman second-generation owner, shares his insight about Goldilocks' past, present, and future.
Q1: You have taken charge of different functional areas of Goldilocks (operations, finance, marketing, etc.). Which did you enjoy the most before you became president?
A: I spent the longest time as Goldilocks Vice President and Finance Director, a position I held before I became president, so the natural assumption would be to choose that position as my favorite. In truth, however, I enjoyed all of my previous posts for their own unique reasons. When I was Marketing and Sales Director, it allowed me to learn the business from the eyes of our customer, and to understand their minds, hearts, and lives. Being a Plant Manager for two years gave me the opportunity to learn the technical aspects of our production, and to appreciate and uphold our commitment to total quality management throughout every step of our manufacturing process. As Finance Director, I applied the concept of optimum efficiency on a daily basis, doing things in the best possible way, in the most cost-efficient manner.
All these positions had their own set of challenges to overcome, and I found great satisfaction in finding innovative and out-of-box solutions for each of them. More importantly, they gave me a well-rounded understanding of the over-all business landscape of Goldilocks, which has been invaluable in my current role as company president.
Q2: The first 25 years of Goldilocks was very conservative accounting for less than 5% of your existing stores, with most stores opened in just the last 25 years. What was the mandate given to you as president from the original owners, one of whom is your mother?
A: It's really amazing when you think about it: Goldilocks is now celebrating it's 50th Year as the country's number one bakeshop, having opened its first store on May 15, 1966. Nevertheless, despite having been around for 24 years in 1990, we only had ten branches. From 1990 to the present, we increased that number to close to 500 stores nationwide.
We realized that to fulfill our strategic growth plans and to transition to the next generation, we had to partner with highly motivated entrepreneurs who shared the principles and values of Goldilocks. Accordingly, we launched our Franchising Program in 1991, and the remarkable expansion that we have achieved since then is a testament to the strong partnership and positive relationship we have with our franchisees. In a manner of speaking, therefore, we made sure that our family business would grow by "adopting" more members through franchising.
The founding ladies were definitely supportive of this move, and provided invaluable guidance and advice throughout the expansion process. One of the things my mother would always remind me of during that time was to "focus on doing things right, rather than doing things quickly". It is a lesson I took to heart, and even now Goldilocks continues to progress at a deliberate rate of calculated growth. I believe that sustained business growth is predicated on endurance, and not speed.
Q3: What are some innovations launched in the last 3 years that Goldilocks would like to be known for, and why?
A: Goldilocks will always be primarily associated with cakes, so I'm quite proud of the fact that we have managed to create new bestsellers, despite our extensive line-up of existing variants. Some of these include the Choco Velvet Cake with Oreo, the Royal Fudge Cake with Toblerone, and the Rainbow Cake.
I also love the fact that we created an entirely new roll category by reinventing some of these bestselling cakes. Products such as our black forest roll, chocolate mousse roll, and chocolate overload roll were groundbreaking when they first came out, and although other bakeshops have since copied them, Goldilocks will always have first-to-market and top-of-mind awareness advantage. Furthermore, even though these products are already success stories on their own, we still continue to improve them to better serve the changing customer tastes and needs.
We have since applied this innovation formula to our other signature products, the latest example of which is our Polvoron Mallows. Once again, we did not merely come up with a new flavor variant for an existing product – we created an entirely new one by adding layers of marshmallow to our pinipig polvoron, and coated it with chocolate.
With carry-on convenience and handy consumption being strong purchase drivers in today's fast-paced world, we have responded enthusiastically. We turned our polvoron into an on-the-go snack through our polvoron bites, and likewise with our cinnamon bites, brownie crisps, and buttercreme bites. Even our bestselling snacks have convenient carry-on products such as our meat-filled pies in handy packaging.Nowadays, therefore, you can not only sit down to enjoy Goldilocks goodness, you can just as easily take it with you.
Speaking of our Foodshop, I am quite proud of the fact that we took our strong equity with Filipino food favorites and added a health and nutrition component to it. By way of background, the Philippine Food and Nutrition Institute (FNRI) collaborated with the World Health Organization, the Department of Health, and the National Nutrition Council to develop Pinggang Pinoy, a plate-based food guide that shows the right food proportions to provide the optimal amount of nutrients required by the average Filipino.
In support of the initiative, we launched our own Sarap Pinggang Pinoy Meal, which conforms to the nutritional guidelines set by the FNRI, while at the same time incorporates timeless Pinoy favorites.
Goldilocks also has a growing line of Pinoy Deli Products with our popular viands in pouches, Bagoong and Condiments, as well.
Q4: Goldilocks is strong in the middle mass market but motif cakes attracted a number of entrants which are doing quite well. Cakes have always been the star in any celebration in the Philippines. What is Goldilocks doing to defend this segment and attract more upscale consumers?
A: Because Goldilocks is so embedded in the psyche of Filipinos when it comes to premium cakes and celebration cakes, our motif cakes often fly under the radar. In truth, however, our motif cakes can compete with the best of the world in terms of design, intricacy, detailed execution, and overall quality. Goldilocks has always been admired for the way we design and decorate our cakes. Whenever we put our motif cakes on public display, nearly everyone who sees them is quite literally awestruck.
The way we maintain our leadership in this category revolves around three things: unrivaled expertise, pioneering techniques and technology, and an extraordinary ability to understand what our customer is looking for, and to customize according to their specifications. Our cake decorating team is composed of some of the most talented individuals in the industry, and we make sure to acquire the best talent from all over the country. Furthermore, they undergo comprehensive and continuous training, making sure that they are at the forefront of the latest developments in their craft. For that reason, we have also invested in the latest equipment to allow them to translate their visions into reality.
The head of our Cake Design and Decorations department put it best when she said, "for as long as it is structurally possible, Goldilocks can make whatever cake you can imagine." Can you picture how elated our customers feel when they realize that Goldilocks has now made cake design as limitless as their imagination?