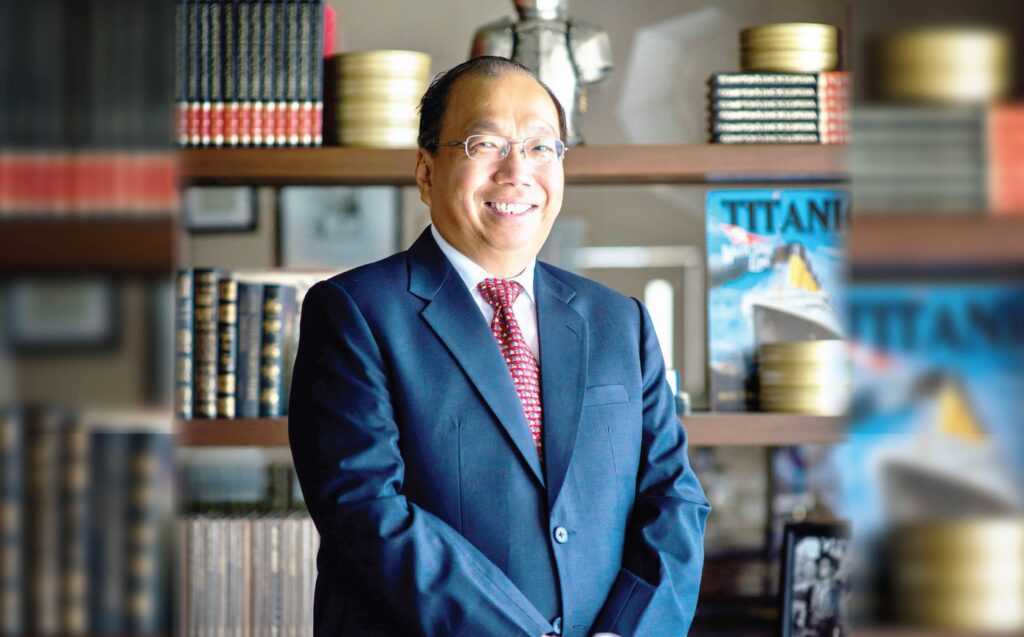 Edward Lee is the Founder and Chairman of COL Financial, the pioneering force behind online stock trading in the Philippines. With an unparalleled presence, COL Financial commands the industry with an impressive clientele exceeding half a million and net investments surpassing P100 billion. A master innovator recipient of the 3rd Mansmith Innovation Awards, he graciously imparts his profound insights on transformative innovations within the financial market.
Q1: Can you tell us about the motivation behind launching an online stock market platform in 1999, something very much ahead of its time?
A1: COL Financial was built on the foundation that "every Filipino deserves to be rich." We are driven by the vision of empowering individuals to build wealth and achieve their financial goals. By providing access to investment opportunities, education, and resources, we aim to break down barriers and make wealth creation more accessible, not complicated, and simplified to all.
Our commitment to democratizing wealth and fostering financial inclusivity forms the core of our mission. The motivation behind launching an online stock market platform was driven by my vision of helping to build the capital market and making it more accessible to the everyday Filipino investor. At that time, the traditional brokerage model was dominated by large institutional investors, leaving retail investors with limited options for investing in the stock market.
We recognized the power of technology to break down barriers and level the playing field for retail investors and saw an opportunity to leverage the internet to create a platform that would enable ordinary Filipinos to invest in stocks online and access market research and insights at their fingertips.
Launching an online stock market platform back then was indeed ahead of its time, but it allowed us to establish ourselves as the leading online stockbroker in the Philippines and build a loyal customer base that has grown to over half a million clients today.
The motivation behind our launch remains the same today as it was in 1999: to empower individual investors with the tools and resources they need to make informed investment decisions and achieve their financial goals. We remain committed to innovating and delivering exceptional value to our clients as we continue to grow and evolve with the industry.
Q2: You have a diverse group of clients ranging from new investors to private investors. How do you prioritize their needs?
A2: COL empowers clients, whether they're individual investors or institutional, across various net worth levels, investing experiences, and life stages. Our comprehensive tools and guidance enable informed investment decisions. With user-friendly online platforms and services, COL has significantly increased market accessibility for countless Filipinos. We prioritize our client's needs by offering a range of services tailored to their individual needs.
We provide timely educational resources and content to ALL our clients in a systematic and equitable dynamics to help everyone make informed investing decisions.
COL provides comprehensive and professional equity advisory services through various channels. Our tailored approach and extensive expertise ensure strategic and informed management of clients' equity investments, with the ultimate aim of achieving their financial objectives.
Our goal is to provide exceptional customer service to all our clients, regardless of their level of experience.
Q3: Besides offering do-it-yourself trading and democratizing stock market research, what other benefits does COL provide its clients?
A3: At COL Financial, we are committed to empowering our clients to make sound investment decisions and achieve their financial goals. In addition to our core services of online trading and market research, we also provide a range of value-added benefits to our clients. These include:
Investor education and training programs to help clients enhance their financial literacy and develop their investment skills. Those regular webinars and seminars educate our clients and keep them up-to-date on market trends and investment strategies.
Regular market updates and insights to keep clients informed and up-to-date on market trends and developments. COL leverages multiple online platforms to effectively communicate and disseminate information to both clients and the general public. Through educational videos, articles, and announcements, we ensure widespread access to these valuable resources. An example of which is the COL Conversations where attendees can hear about how different businesses are performing and what their strategies and outlook are. They can ask questions directly to senior management officials of the Philippines' largest companies and the country's top mutual fund houses.
As an online broker, COL acknowledges the importance of physical locations to offer direct client support and localized assistance. In addition to our head office Business Center in Pasig, we have Investor Centers in the cities of Cebu and Davao. These facilities provide a conducive environment for personal and face- to-face interaction with both existing and potential clients.
A dedicated customer support team that provides valued assistance and guidance to our clients. COL prioritizes customer accessibility by offering multiple channels for customer support, including email, customer portals, and messaging platforms. Whether it's inquiries about the stock market or technical and account concerns, our dedicated Customer Support teams are available to assist. These efforts enhance and expedite customer support response times. Additionally, COL has optimized its customer support portal, social media, and email communications to ensure the timely delivery of announcements to clients.
We are constantly striving to innovate and improve our services to better serve our clients. At COL, we embrace our core values as the foundation of our operations. With a passionate drive for outstanding results, unwavering integrity to always do what is right, and a steadfast commitment to take positive action, we continually strive for excellence. Through teamwork and collaboration, we work together to achieve our common goals, placing the collective success above individual interests.
Q4: How did you differentiate the design of your value chain from that of traditional stockbrokerage?
A4: At COL Financial, we have always been focused on creating a value chain that is efficient, transparent, and customer-centric. Unlike traditional stock brokerage firms that often have high fees and cumbersome processes, we have designed our value chain to be streamlined and user-friendly, with a focus on delivering exceptional value to our clients. Some of the key ways in which we differentiate our value chain include:
Offering a low-cost fee structure that makes investing more affordable and accessible for everyone
COL benefits from the leadership and strategic direction of experienced management, comprising seasoned stock market veterans with extensive industry expertise. Their wealth of knowledge and experience ensures effective management and guides the company toward success.
Providing a user-friendly online platform that allows clients to easily manage their investments and make informed decisions
Overall, our goal is to provide a seamless and hassle-free investing experience that puts our clients first, and we are constantly looking for ways to improve and differentiate our value chain to better serve their needs.
Q5: With an increasing number of stock brokerages providing online capabilities, how has COL maintained its position as the top provider in the industry?
A5: Having garnered the trust of nearly 520,000 clients by the end of 2022, COL stands as a testament to its credibility and reputation in the market. The significant number of investors relying on our products and services highlights the trust that clients have placed in us, solidifying our position as a trusted and reputable institution.
COL prioritizes client education by investing in valuable resources, research, and expert advice, which are readily accessible through our website and other online channels. This unwavering commitment to client education empowers individuals, both clients and the general public, by equipping them with the necessary knowledge and guidance to make informed decisions on their investment journey.
With a robust online presence and strategically located investor centers in key cities, COL ensures extensive touchpoints with its clients, delivering excellent service and support. Moreover, our financial literacy advocacy initiatives have a wide reach, introducing the concept of investing to a broader audience of Filipinos, thereby promoting financial education and empowerment.
COL's fund distribution platform also provides a diverse range of pre-selected global and local mutual funds and UITFs from the country's leading fund providers.
At COL Financial, we are constantly looking for ways to innovate and improve our services to better serve our clients' needs. Equipped with experienced management, a customer-centric approach, trusted client relationships, a strong commitment to client education, wide market reach, and a robust fund
distribution platform, COL possesses the necessary tools to effectively compete and sustain its leadership position in the market.
Q6: Could you share some examples of other industry-first initiatives that COL has launched?
A6: At COL Financial, we are always looking for ways to innovate and bring new initiatives to market that benefit our clients. Here are some examples of industry-first initiatives that we have launched:
We launched the COL Easy Investment Program, which allows clients to invest in a diversified portfolio of stocks and mutual funds with just a few clicks, making investing more accessible and convenient for everyone.
We were also the first in the industry to offer a true online account opening process, which allows clients to open and fund their accounts without having to physically visit our offices.
Our funding and withdrawal system provided a lot of options to our clients and facilitated their trading and investing experience. We are the first to set initial funding to Php1,000, making it accessible to a lot of Filipinos.
As an industry-first initiative, COL conducts financial literacy campaigns to empower its customers with the knowledge and skills needed for informed investment decisions. Through a variety of educational resources, including videos, articles, and seminars, customers gain a better understanding of investing concepts and strategies. This commitment to investor education enhances their confidence and ability to make sound investment choices.
COL is dedicated to providing its customers with a convenient, affordable, and hassle-free investing experience. To achieve this, we streamline processes, improve back-end support, and enhance infrastructure. Our customer-centric initiatives prioritize delivering the best possible experience to each customer. Additionally, we maintain strict operating discipline, continuously seeking ways to enhance processes, back-end support, and infrastructure to drive operational efficiency and maximize long-term shareholder value.
With these industry-first initiatives, COL is uniquely positioned to achieve its long-term growth strategy by employing a customer-focused approach, prioritizing education and research, emphasizing customer value, ensuring convenience, and maintaining strong operating discipline. With a relentless commitment to customer satisfaction and driving shareholder value, we aim to deliver sustainable success while consistently meeting the evolving needs of our valued customers.
Q7: How do you stay innovative and ensure that COL continues to provide value to its clients in a rapidly evolving industry?
A7: At COL Financial, we recognize that the financial industry is constantly evolving, and we are committed to staying at the forefront of these changes to ensure that we continue to provide exceptional value to our clients. Here are some of the ways we stay innovative:
Listening to our clients: We have a strong culture of customer feedback and actively solicit input from our clients to ensure that our platform and services meet their needs. Actively seeking out feedback from our clients to better understand their pain points and areas where we can improve our services
Encouraging collaboration and experimentation across different teams and departments within the company, to foster a culture of innovation and creativity.
We are encouraging new ideas and initiatives among our team to enhance our offerings. Our commitment to continue seeking ways to optimize efficiency, strong operating discipline, and a focus on long-term growth further contribute to our ability to deliver ongoing value to our clients in this dynamic industry.
By combining these approaches, we are able to stay at the forefront of the industry and provide our clients with the best possible investment experience. We believe that innovation is not just a goal, but an ongoing process, as we consistently deliver value to our clients in an ever-changing industry.
***
Josiah Go is the Chair and Chief Innovation Strategist at Mansmith and Fielders Inc. Join us at the 3rd Mansmith Innovation Awards ceremony in the afternoon of November 17, 2023, at the Podium Hall. Kindly register at www.mansmithinnovation.com.
See more articles on Innovation.