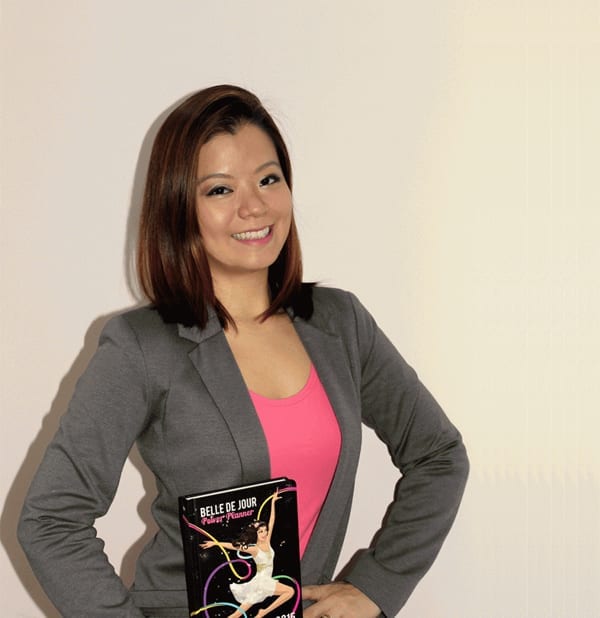 Q1: You created a new category – the first planner for women. What inspired you to launch the Belle de Jour planner in 2006?
A: When we introduced the first Belle de Jour Power Planner in November 2006 (2007 BDJ Planner), my motivation was as simple as – there was no planner in the market that I felt could really help me manage my career and my life. I was always a planner person ever since high school. In my last year in high school, my dad got me a Palm Pilot — so I am actually pretty advanced, technology-wise. But after two years, I really just went back to paper. I find paper planners more tactile, more meaningful, more real.
As for targeting women in particular, I did my backyard market research and realized that women are more particular with their planners rather than men — so why not just focus on the needs of women. It was scary, to be honest, as one friend said — "you're cutting the market to half". But I believed, even if we don't have the "mass" in terms of circulation (since we're focusing on a niche), I want our product, Belle de Jour Power Planner, to be a planner that is personal to the users, that it really means something to them.
Q2: You have expanded into printing customized planners for different retailers. What made you add a BTB market to your consumer market?
A: The truth is, we actually made customized planners as early as the first year of the Belle de Jour Power Planner. My first clients were Karimadon and Levi's. We produced over 20,000 planners for both companies in our first year alone. When I was pitching for placements for the coupons for the BDJ Planner, these brands asked me to make a customized one for them. It was just a natural progression. I was fortunate enough that even without any famous name/company backing me, my clients believed in me enough to trust me to make one for them. They loved the BDJ Concept so much that they wanted us to make something for them. Since then, we have designed planners for Watsons, CBTL, Coca-Cola, Johnson and Johnson, Canon and many more. We are proud to say we now have 9 years worth of experience in making customized publications, from specialized magazines to planners for our clients.
Q3: You also added other types of planners. Tell us the insight behind each one.
A: Our vision as a company is to be able to help Filipinos live life to the fullest through goal setting and planning. We hope to make a difference one planner at a time. Using any of our products help encourage a certain mindset which we believe makes a difference with how one lives and its impact to the Philippine community.
Since there are many different types of people, and sometimes you have the type who don't actually want to have the same kind of planner as everyone else, we introduced different kinds of planners — through our clients (B2B) and also our own brands, starting with Belle de Jour Power Planner.
Belle de Jour Power Planner is the planner for the modern "renaissance" woman. Nowadays we juggle so many roles and stereotypes as women. BDJ Planner aims to help you focus on what dreams you have that you want to achieve despite these many roles. We hope to provide perspective (the big picture), and at the same time to help the Bellas on a day to day basis with the help of the daily time management principles implemented inside our pages. At the same time, as we acknowledge that we are humans, not robots, we would need "Me" time. This can be very individual (alone time) or even creating memories with loved ones and friends. This is where the BDJ coupons come in, to help with balancing work with play. It is what we currently call #PerksofaBella.
Navi Your Life Navigator is the second planner we introduced. This was released because we got requests by guys (who would buy BDJ planners for their girlfriends). They were asking: "What about me?". At the same time, we would get requests by Bellas – who would prefer something a bit understated (not as colourful) and more space for journal writing. Thus, we made Navi. Navi is inspired by wanderlust. It's to satisfy our desire to travel and explore. But realistically, not all of us can travel, or at least not as often. What if you lived a day in your life — like you were in the country? What sights, sounds, and smells would you notice? Would you be able to be really live in the moment? It challenges us, that though we are inspired to travel, what if we believed we were in a different city every month — wouldn't' life be a bit richer?
Everything is Possible, our third baby, was also released due to requests. The request was "I loved the inspiration and time management layout of Belle de Jour Power Planner, but I prefer something less girly." We decided it was about time we released a planner that can serve as your roadmap to the legacy you want to leave behind. Yes, we mean legacy. We want them to think of the biggest possible dream you can have, then how do you break it down to parts? How do you even start to visualize it? What are you strengths, your weaknesses? What drives you? It's not a planner for the faint-hearted, as there are worksheets to help you figure all these things out. We have tips to help you visualize your big dream, translate it into to action points, and then essentially live out — that "Everything is Possible".
We're releasing a new planner concept this coming October – as we celebrate our 10th Edition release of BDJ, do watch out for it.
Q4: Why do you think that despite many digital devices that can record appointments, some consumers are still using printed planners? How long do you think this will go on?
A: Over 50% of our users still use planners exclusively for appointments and schedules. I believe consumers are using printed planners because with all the technology — life can feel so fast-paced, sometimes faster than we can bear, that being able to write things down, slows things a bit. Slow in this case means, being able to be in the moment, reflect and think about things. It's a moment you actually discern: are the many things you are rushing to do, spending the most of your time with — things or concerns that are making you more fulfilled? Or are these just things to keep you busy? There are many studies that would say, when "writing" things down your brain is more "engaged". This means your brain captures things deeper, it's not focused on being efficient, but rather the value and meaning of what you are writing. I think because of this inherent effect of writing — people will always write. As for printed planners, I believe the layout may evolve, may change through time, but the basic principle of writing things down will still remain.
(Love beauty? Do check out BDJ's Beauty Bootcamp this Jun 7, details at ilovebdj.com)