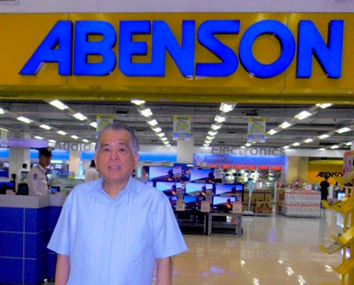 Q1: You have founded many successful companies like Abenson, Walter Mart, Electroworld and many distribution companies. Where and how do you get ideas for your businesses?
Through the years, I have realized that the market evolves relentlessly. With the technological advancements, consumers are now better informed and more connected. The key to success is the ability to continuously identify and address the evolving needs of our consumers.
All of our business ideas seek to serve our consumers better, and win them to become customers for life.
Abenson started out as an appliance store and through the years, we have seen the evolution of the digital age, hence the establishment of Avant and Electroworld to address the consumers' growing need for the newest gadgets at great value.
I have also come to realize that the ideas for any business come from events, and many of the new ventures we have launched were opportunities identified during a time of crisis.
Walter Mart was established to provide customers a new shopping experience, providing convenience and a complete assortment closer to home. Walter Mart was launched in the 1990's, at the time of the economic crisis when the major players were not expanding aggressively. We saw that there was an opportunity to expand in developing communities and uplift their standards of living by providing gainful employment to the locals and improving their shopping experience.
Successful business ideas are complimentary ventures that provide a one-stop-shopping experience to our consumers. Abenson ventured into the furniture business by launching Home Plus Furniture to compliment our main line as our customers were looking for new product offerings.  We have expanded into the aircon installation business named Global Air and After-Sales service of appliances called Aserco to provide convenience to our existing Abenson customers. All our successful investments compliment and support our main business as we understand the evolving needs of our consumers and find ways to address them.
Q2: How do you know if the new venture or new project you are entering has a good fighting chance to succeed?
Any successful business venture would require an extensive knowledge of the industry, competent people to run the business, resources for investment, and I cannot emphasize enough, the need for hard work to make things happen. If all these elements are present, it improves the success rate of the new venture.
Being an entrepreneur has trained me to be patient. Any new venture would require a gestation period to be profitable. In some of our new ventures, we experienced losses initially yet we continue to be flexible and innovative to make the business succeed.
We place the right people to manage the business. We continue to invest in our people thru training and development. We also provide them continuous opportunities to grow in the development.
Even with our various business units, we do not assume that succeeding in one business will ensure our success in other fields. We need the humility to know that there are still so many things to learn and improve. We continue to make mistakes but we continue to learn. We never assume that we know it all.
Q3: Marketing is so important for start-up companies, what advise can you give aspiring or new entrepreneurs to avoid some of the marketing traps you wish you had avoided?
One of our marketing strategies, which we have implemented, was to be the first to market in new communities. Walter Mart Community Center expanded in Calabarzon years before the major players entered the market. Our first-to-market strategy worked well for us, and we make sure we continue to innovate, so even as the big players entered the market, Walter Mart is able to continue to grow.
My advise to entrepreneurs is never to sit on one's laurels. Even if you are the first to innovate, there will be new players who will come up with better products and services. Continuous improvement and excellence are necessary to remain competitive.
At the end of the day, we follow a set of guiding principles that we call the Benison Way and this is comprised of the following components:
A Mind that Creates.
A Will that Excels.
A Heart that Cares.
A Team that Wins.
An Institution that Lasts.
Our guiding principles remind us to work as teams as we focus in serving our customers for generations to come.