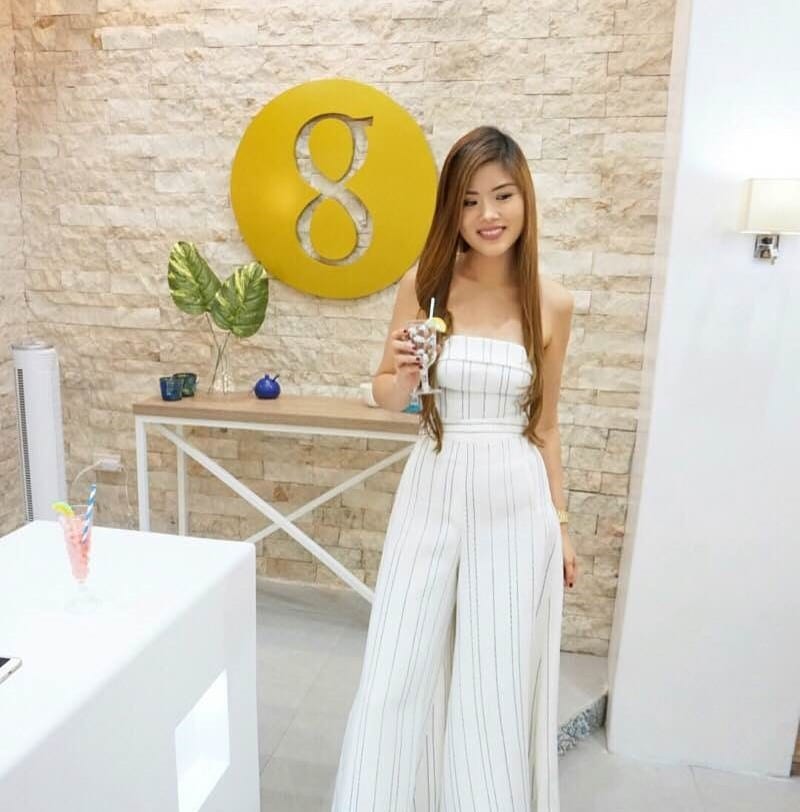 Q1: There are many crowded industries like food and fashion. What made you enter the retail fashion industry in 2005 when you were fresh from school?
A: One of the reasons why I entered the fashion industry is that apart from my own love for dressing up, I wanted to help women boost their confidence. I wanted to give them a feel good, personal touch to garments. Likewise, the same good feeling I get when I dress up, I wanted to share that same exact feeling – how it feels to wear something nice and be able to show it to the world.
Q2: How did you get the name Apartment 8 when you are a fashion and not a real estate brand? What is the essence behind the brand?
A: I wanted to deliver a shopping experience just like being at home, I wanted my customers to feel welcomed and comfortable at the shops and in our clothes. Apartment 8 is a direct reflection of our customers (known as "roommates") so no matter how old, how different their personalities and characteristics are, the brand is the perfect place to "feel good while looking good". That's also our tagline.
Q3: Can you describe your typical target market? Why do they buy from Apartment 8?
A: We target two kinds of buyers — the "on trend" ones and the ones with need for clothes for special events. For our "on trend" buyers, we cater to their needs in a way that whatever the current trend or style is, we've got that for them. As for our special event buyers, they buy because they have an event to go. It's also all about affordability and good quality and those are key factors that attract new customers and keep our existing customers coming back.
Q4: What are the challenges in the fashion industry today?
A: There are so many challenges in today's fashion industry because it is a fast paced and ever-changing industry. If you're not competitive or pro-active with what's trending then you will be left behind. It is important to always be updated and be on the lookout for what could be the next big trend. With ready to wear, if that's what people want, then you add your own twists here and there to make it more unique. Of course, being in fashion, you can't get away from the "gaya gayas" (the people who copy your design and sell it cheaper). We just make sure our pieces are always of best quality and made really well.
Q5: You have another business, a bespoke brand called Haute Lifestyle. Why did you put it up when there are so many RTW fashion brands?
A: Amidst the pool of RTW brands, I put up Haute Lifestyle to cater to customers who don't quite fit the standard sizing of small, medium and large. Some people are lucky enough to perfectly fit ready to wear sizes but for others, only a custom fit will do. And made to order is great because not only will they have their own perfect fit but they can also customize their preference in fabric, color and extra detailing.
Q6: The rise of social media has brought about the 'zero moment-of-truth' (ZMOT) where consumers not just learn but form opinions about brands before even visiting the store. What has been your experience on the influence of social media in ZMOT in fashion marketing?
A: The influence of social media with regards to the Apartment 8 brand has been a great and most effective fashion marketing tool by far. Social media these days is a necessity for a growing brand as its reach can go far and wide. Take our Instagram account for example. Our customers already know what they want to buy because they see it in our Instagram page and they already have ideas how to wear a piece based on what they've seen. In fashion, marketing and social media is all about communicating visuals in the most effective way.
Q7: What have been some of your key learnings in what has worked and what has not worked in fashion marketing? Can you cite some cases?
A: It's all trial and error and the learning process in fashion never stops. So when applied to marketing you have to try out a lot of things – new things that will hopefully push sales more positively and create stronger brand awareness. You have to do what you have to do to keep up with the competition. Bottom line, it's important that our garments are always worth the buy.