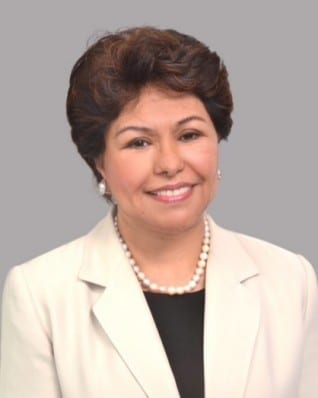 Q1: You were the first non-Japanese woman to be President/CEO of two significant–sized, publicly traded companies in Japan for two very visible iconic brands – Levi's and Starbucks. What advise would you give young people who would like to follow your path?
These were the toughest assignments in my career but also the most rewarding. How does one prepare for these kind of roles? There are no shortcuts. I suggest you build a deep and multi-country portfolio of business experiences across multiple disciplines. Start from the bottom and build your way up. My career progressed from supervising warehouses to leading billion dollar businesses. I zigzagged through various functional areas. Some of these assignments were just lateral moves but they helped round up my business literacy and leadership skills.
Don't get stuck in functional roles. Raise your hands for assignments that will give you P&L responsibility.
My MBA was a big help in that it provided the tools for systematic, analytical thinking but I learned mostly by doing. My General Management experiences started with small business units then moved on to bigger countries and regions with more complex operations. Most of these were turnaround assignments with very little resources to work with but they proved to be the best learning experiences.
I led businesses through economic cycles and got real world experiences dealing with hyper-inflation, major devaluations, stagflation, recession, revolution, and various natural calamities. I worked with different nationalities and navigated different cultures. I had my share of successes and failures. I learned most from my biggest mistakes. They were humbling and they taught me how to become a better leader. By the time the Japan assignment came up I knew I was ready for the challenge.
Q2: And your readiness showed in the results. Levi Strauss Japan, the biggest international subsidiary, was in a downward spiral when you took over and in less than two years you took the brand from No.4 to No.1 position and achieved unprecedented profitability. What did you do to turn it around so fast?
I did not do it alone. I assembled an A team – creative, passionate, hard working individuals, determined to achieve our vision to restore the brand's leadership position. We enlisted the support of ad agencies, fabric suppliers, retailers, opinion leaders who believed strongly in the brand's unrealized potential.
Speed and the element of surprise was probably our biggest advantage. I suspect most of our competitors thought it would take at least a year for a new leader (and a woman!) to figure out the business challenges and galvanize the organization to action. No one expected that we would move very fast or that we would adopt strategies that were counter-intuitive to market trends. Sometimes, it is good to be underestimated.
My team and I worked sixteen hours a day to put our house in order and get our act together. Our offensive commenced nine months after I took the job, just in time for the holidays – new and exciting retail format, cool, differentiated products at super premium price points, a low budget brand campaign that was so novel it created tremendous buzz, a reinvigorated workforce. We followed this up with wave after wave of products and programs innovation. The results in less than two years beat all expectations.
Q3: You did the same for Starbucks Coffee Japan. You grew the business by 75% to a billion US dollars in only 3-1/2 years and the brand became No. 1 in Japan. What was the direction you took to make this happen?
My predecessor who was the founder of Starbucks Coffee Japan did a great job laying down a solid foundation for the business. He was my mentor in the intricacies of the coffee shop business.
My task was to take SBJ to the next level of growth. The first thing I did was to challenge the whole organization to make Starbucks Coffee Japan the most admired company in the country in terms of the following metrics – sustained and profitable growth, service excellence, consumer loyalty, undisputed brand leadership, and partner satisfaction. The goal was to achieve it in 5 years.
We began to work on some of the structural and strategic issues – brand equity, pricing, product mix, store design, org structure, people development, go-to-market processes. I coached, facilitated brain storming and innovation sessions but the rest of the success story is about empowerment, trust and inclusive leadership. Cross-functional teams figured out most of the 'how's. To build business literacy throughout the organization and tap the collective brainpower I invited junior employees to participate in these sessions. I gave them permission to sometimes 'break' or 'rewrite' the rules but made sure the execution was flawless and that they stayed focus on the goal.
Q4: You have led businesses in many countries. At Starbucks, you became President of Asia Pacific (Japan, South Korea, SEA, ANZ) while in Levi's, you were once Regional Vice President – North Asia (Japan, S. Korea, Greater China), General Manager of South America (Brazil and Argentina) and Managing Director of Singapore, Malaysia and Indonesia. How did you adjust to the different cultures?
Before moving to a new assignment, my family and I did as much research as we could to learn about the country. We deliberately avoided living in exclusive, expatriate communities. We lived with the locals, ate local food, shopped in neighborhood stores, went to local festivities, traveled by land to big cities as well as small villages and not just tourist spots, tried to learn speaking their language, cheered for their local football teams. We tried to absorb as much as we can about each culture, never judging or comparing them to others and showed respect for their belief system. Many of our closest friends today are from other countries.
Q5: In 2008, you were voted 'Business Stateswoman of the Year' by the Harvard Business School Club of Japan, the first non-Japanese woman to win the award and the second non-Japanese of any gender after Carlos Ghosn. What are desirable traits of a business leader?
I can only talk about what worked for me and I boil them down to five: Humility, intellectual curiosity, integrity, courage and a sense of a higher purpose.
Humility is awareness of who you are, what you are good at, and what your limitations are. In a foreign environment this is critical. it allows you to seek and accept help and be grateful to those who do, listen for inputs, put yourself in the shoes of others, accept your contribution to problems and recognize others' contribution to your success. Arrogance is your worst enemy.
Intellectual curiosity makes you a perpetual learner, never assuming that you know everything. It keeps you informed and alert, allows you to connect seemingly unrelated events, trains you mentally to zoom in to see the details and zoom out to see the big picture,  and helps you deal with ambiguity and develop intuitive responses to issues and opportunities.
Integrity is walking the talk, delivering what you promise, treating everyone fairly, speaking your truth, living a life consistent with your values. Without integrity you cannot build trust among your stakeholders. I told my team that we needed to watch our expenses so I took the same class of travel and hotel as everyone else who traveled with me – economy. I promised that they will share in the success of the company. I always made good on that promise by providing competitive pay, bonuses, and benefits, improved working conditions, more opportunities for training and development.
Courage is to take courses of action even when the odds may seem stacked against you. If you practice the first three above, you can take on the biggest challenges. Your listening skills, openness to influence and empathy will serve you well. If you have earned people's trust, you know you will get the support you need. The answers may not all be clear but the sum of your knowledge and experience intuits that you have a good chance of pulling it off.
A sense of higher purpose kept me going even in the toughest times. As a Filipino woman, I wanted to show the world that we are capable of achieving bigger things. I want Filipinos, men or women to be treated with respect wherever and whatever they may be in the world.