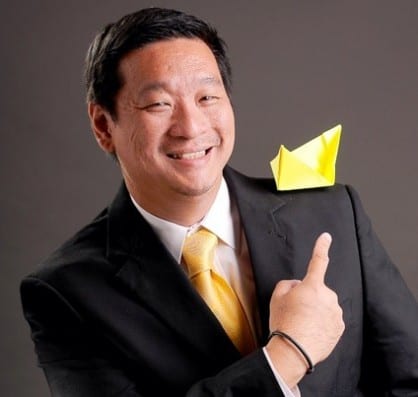 Q1: Congratulations on your leading Yellow Boat of Hope Foundation (YBHF), which started as the Zamboanga Fund for Little Kids, can you share a brief history how this boat advocacy was born?
This boat advocacy started when Juljimar Gonzales shared the story of how he saw a group of kids at Layag Layag with one hand holding a plastic bag and another hand swimming towards the "DUNGGUAN" As his boat gets nearer the kids, he noticed that plastic bag contained uniforms and school supplies. At that time he recalled he did not know if he will laugh or cry. He related this story to Jay Jaboneta who was in Zamboanga at that time upon the invitation a group of bloggers for the Mindanao Bloggers Summit. Jay related the story to me and I was clueless and I remembered telling him, I have not heard about kids having to swim to get to school.. It bothered Jay Jaboneta that he posted it in his Facebook status. Marketing Guru Josiah Go commented on the thread "What are we going to do about it?" and the mini fund raising snowballed that in 1 week they were able to raise P70,000.00. I remembered Jay Jaboneta calling me telling me he has P70,000.00 for the Layag Layag kids and asking me to call Uncle Josiah Go about it. I called him and as the coordinator of Tzu Chi Foundation, I involved the volunteers of Tzu Chi Zamboanga and the rest as they say is history. Zamboanga Funds for Little Kids was born with Tzu Chi Zamboanga as the lead implementor of the project in Zamboanga City by default.
Q2: YBHF started by providing boats so kids didn't have to swim to schools during high tide. You then expanded to supporting communities in different areas. What inspired you to expand your focus?
We met a lot of challenges during the implementation of the projects. My training as coordinator of Tzu Chi Foundation was put to good use and the cooperation and selflessness of the Tzu Chi volunteers in seeing the project through in Layag Layag made it possible.
When Jay Jaboneta came back to Zamboanga City to join Tzu Chi in the Yellow Boat turnover in Layag Layag. He saw for himself the community. We immersed ourselves in the community. On that day, Tzu Chi volunteers distributed blankets, slippers, school bags and school supplies to the community, seeing how dirty the surrounding was, we enjoined the community to clean up their surroundings. We ended up collecting a mountain of trash. Tzu Chi challenged them to keep their surroundings clean and if they do we will come back and help the more.
On our way back, Jay and Iooked at each other and said we cannot stop at 1 boat. If we want to help the kids we have to engaged the whole community. Tzu Chi as the lead implementor went back to conduct medical mission, livelihood training while Jay Jaboneta established Zamboanga Funds for Little Kids FB group page that chronicled ours efforts in helping the community. We posted everything that is happening in the community involving everyone on the process. From there, it attracted attention from the media and partnerships are forged.
While we were up to our neck with work, a friend Dr. Ofelia Samar Sy called me up and related to me the story she heard about the the Mababoy Kids who swim from islet to islet to get to school. I gave her the phone number of Jay Jaboneta. I remembered Jay and I agonizing over it! But our passion in helping another group of swimming kids won over our fears. Jay called his media friends and before we knew it, the Masbate Funds for Little Kids was born. Using the same successful formula, we looked for a local lead implementor to roll out the project. Then came Zamboanga Del Sur Funds for Little kids and it just grew and grew! We named ourselves as Philippine Funds for Little Kids reflecting our national in scope. As we continue to get corporate partnership and support, the need for a legal entity was established. Thus the birth of the Yellow Boat of Hope Foundation, Inc.
Q3: How many boats have YBHF provided so far? What about in the related services you provided? What are your future plans?
We have built over 400 yellow school boats nationwide. And after Typhoon Pablo hit Davao Oriental. Tzu Chi Zamboanga went to Kinablangan and met a bunch of passionate changemakers. Seeing the topography of the place, I asked our partner Marley Gallo and Leah Valle to actively look for families whose kids used boats to go to school. They found 5 families. We fundraised 5 yellow boats for them. During the turnover, our lead implementor relayed to us the complain of the other fishermen asking for boats for livelihood to replace those they lost during the typhoon. They queried why they were not given boats. Our partner relayed to them that our mission was to ensure kids will have the boats to ride to go to school and not for livelihood. The fishermen reasoned out:" if we don't have a boat, we will be forced to stop our kids from going to school to help us in securing our family. With a boat, we can go back to fishing and earn enough to send our kids to school! As our mission is to ensure no kids is left behind through education, their reasoning made sense! That day ADOPT- A-FISHERMAN program was born. To date over 168 yellow boats have been turned over to fisherman on different areas in Davao Oriental. When super Yolanda struck Visayas, we immediately went to work and we are close to building our 1000th yellow boats in over 26 Yolanda hit areas.
Learning from the first community on Layag Layag, we knew that the Yellow Boat of Hope Foundation is not about giving yellow boats but empowering yellow boat communities. From giving school boats, to building YELLOW SCHOOLS OF HOPE to YELLOW DORMS OF HOPE to providing training and means of livelihood, to medical missions, to inspiring kids by providing school bags and supplies or day care centers; we realized that to fulfill our mission to ensure no kid is left behind we need a wholistic approach to empower communities with the goal of making ourselves useless to the yellow boat communities we established.
Q4: Where do you source your funding? How do you ensure a sustainable revenue model in the future?
The beauty about Yellow Boat of Hope Foundation is that from the very first boat up to our 1000th boats to our 4th Yellow Schools of Hope, it is a product of 'bayanihan' spirit. It is about the story of ordinary people doing extraordinary things in their life by being part of something bigger than them! It's about pooling little funds into hope to ensure no kid is left behind in far flung communities.
Establishing a foundation and forming partnership with corporations will ensure steady stream of funds in the short and medium term. Using the goodwill generated by yellow boat selling of merchandise and go-branding to raise funds is in place. Medium term plans of establishing social boat building enterprise to serve itself and other organizations is in the works.
Q5: Tell us in your experience not just in YBHF but also in Tzu Chi, what are the key factors for success in having a successful foundation?
Nothing can replace passion. Having passionate volunteers united towards a common goal will make the impossible possible. Transparency and integrity in dealing with donors will guarantee continue flow of funds. If your donors will see that their donations are going to where it is intended to go, repeat donations is assured. Word of mouth referrals from satisfied donors is also assured.
It is important also that you continue to grow and innovate as an NGO. To get stuck in one product will guarantee extinction. We should continue connecting the dots as we move forward.
Most importantly, know your identity, your DNA, your mission, your goals and stick to it. Don't mind taking the side or back street to reach your destination. Lastly, don't get tired of telling or retelling your story. Give me an audience of one and It'll be excited to share with you the yellow boat story of hope, of how Jay's single post gave birth to a movement, of how one boat in the mangrove community of Layag Layag gave birth to a thousand boats, of how the inspiring story of kids swimming to get an education changed, empowered and enriched humanity including mine. I've gotten more meaning in life more than the hours I put into building yellow boats for in the end it's not about you, it's about you being willing instrument of God's infinite love and grace!