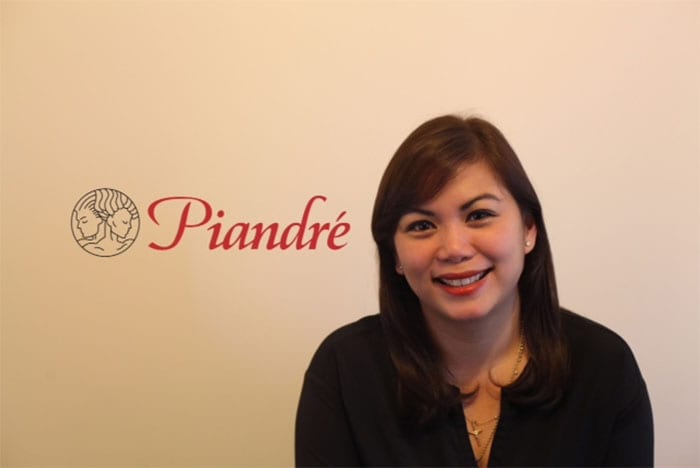 Q1: Congratulations! Piandre is celebrating its 28th anniversary this year. What made Piandre last this long?
A: My mom, Linda Francisco, founder of Piandre Salons, has many secrets to success – one of which is her idea of a Total Development Program which involves training in skills, character building and most importantly Spiritual Development. I think Piandre is one of the few companies that offers annual retreats, recollections and include values formation in its regular staff meetings. Essentially, we believe that if we take better care of our staff, hopefully they will take better care of our customers.
Q2: As a 28 year old salon, I am sure that you have many loyal customers who have been with you from the start. What new directions have you done since becoming general manager?
A: For Piandre Salon, a few years ago we installed a system that tracks all our clients' services – so we can find out who did your manicure the last time, or who shampooed your hair as well as what kind of treatment did you buy a few months ago. It all works for a better client experience.
With the business, a few years ago we took on distribution business for Keratin Complex and Macadamia Natural Oil and with the help of my brother Jaton, we were able to add other lines such as Lakme Hair Care and Color and O'Right Natural Hair Care that transformed our place in the beauty industry.
Currently the distribution business supplies about 150 salons in the Philippines.
We also try to stay relevant and connect with the younger people by upping our presence online – we're active on social media and our site at piandre.com gets a lot of hits because we accept online bookings, we also started a retail store (stylistschoice.ph) and a distributors store at (salonstore.ph).
Q3: Being related to the owner has both advantages and disadvantages. What are some of the challenges that you have encountered as a child of owner (COO)?
A: I think growing up in the business we had big shoes to fill. My mom is not only a great leader with amazing business sense but she is also a person who is fair, with high moral integrity and very grounded spiritually. It is difficult to be compared as I feel I will need a lifetime to learn her ways. I think in any business, succession is an issue moreso in family businesses but hopefully our staff know that our hearts are in the right place.
There are so many advantages learning from a mentor who happens to be a parent and spending large amounts of quality time with them. Some people don't see their parents for months but if I don't see my mom for two days she sends me a message saying, "Hi Stranger!"
Our board meetings are intespersed with stories about our lives as well as business updates. It's also because of the business that I'm very close to my siblings and that we've learned to work together and share responsibilities. It's like being on a team where you know everyone has your back all the time.
Q4: What advice can you give other children of owners on how to work with parents effectively?
A: Learn to love your parents' business – it's so difficult to start new businesses nowadays, and when you have a successful formula in your fingertips, take the opportunity and learn to love it! I love the experience of seeing lives transform because of the business – I am able to see fortunes grow and families fluorish in one lifetime. When dealing with your parents, love and respect goes a long, long way.
Q5: What is your vision for the next 28 years of the Piandre Salon chain?
A: We are expanding to Cebu this year, a first outside of Metro Manila. We hope to bring the Piandre brand to the Visayans and maybe as more cities in the Philippines develop, we hope to open more salons as well.
In essence, the vision that my siblings and I share is to continue the legacy that my mom started – for the staff it is the values formation, the spiritual development, the salon cooperative – and for our clients – to provide quality, consistent and joyful service.