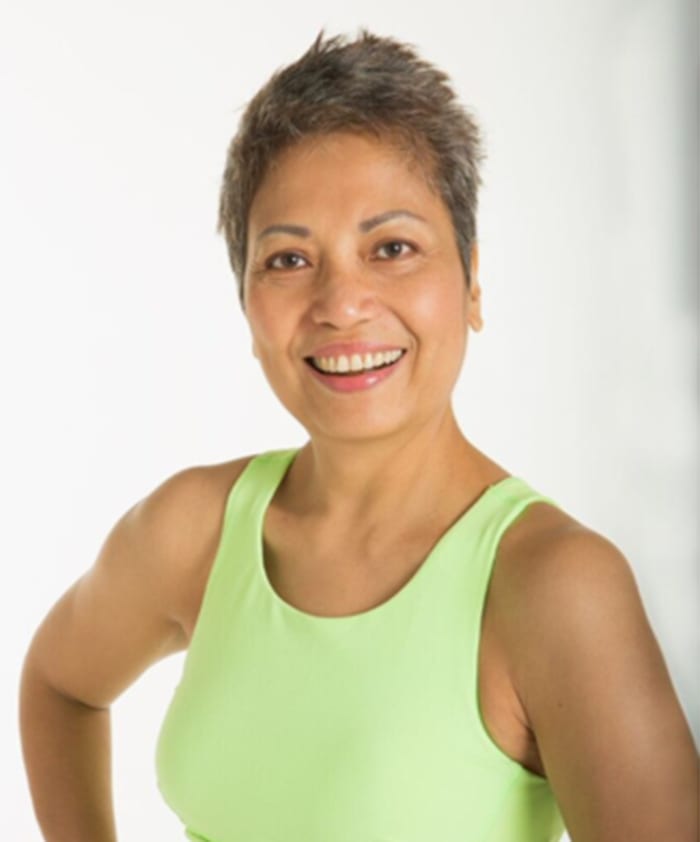 Q1: You were an IT executive before. What made you shift to becoming a yoga instructor and entrepreneur?
A: I tried yoga as a form of fitness activity in 2005 when a yoga studio opened one floor below my office. Prior to that, I was a regular gym-goer. I did group classes and did once a week private session for weight training. I also played badminton.
I thought I was strong with all the weight training that I was doing but in my first yoga class, I couldn't even stay in a squatting pose without my muscles shaking. My shoulders ached from lifting my arms up and I wasn't even lifting any weights. That challenged me to continue doing yoga classes at least 3x a week. After about a month, I gave up my gym membership and decided to just do yoga. I loved the practice so much that I would do classes daily. I found the physical high that I would get from exercise as well as the mental relaxation that I needed to balance my stressful job.
As my yoga practice became more regular, people started to notice changes in my body (weight loss, better skin) and my personality (more patient, less emotional outbursts, etc.). These were things that came as a result of the regular yoga practice. Whenever I would make a sales call, I would find myself talking more about yoga than my company's products and services. My customers were interested and I was only too willing to share what was then starting to become my passion.
I also found myself paying more attention to the finer details of the practice – alignment, modifications, etc. and started sharing the same to my classmates. After practicing regularly for 5 years, I decided to become a yoga teacher. I knew then that if I became a teacher, I would like to have my own studio. Some yoga friends said they would like to partner with me if I ever put up a studio and that's how Yogaplus, Inc. was born.
I took a 200-hour Hot Yoga training with Absolute Yoga Academy in Koh Samui, Thailand on Oct. 2010 and a 100-hour Yin Yoga training in Singapore in December 2013. While I was doing my first training, we were already preparing the design for our first studio. We incorporated in November 2010 and opened the first studio in BGC in February 2011. We have since opened branches in Ortigas and Makati under the same brand. In December 2014, we opened yoga+express inside DLSU Taft campus. This is a different brand catering to a different market segment.
Q2: What is it with yoga that you can't get in other activities?
A: Most people still think of yoga as a physical activity or exercise. While we work on our bodies a lot while practicing yoga, there is also emphasis on the breath and keeping focus (drishti) on one point. This brings the connection of the mind and the body into the practice. This is what makes yoga effective in relieving stress. The mind is trained to focus on the breath and attention is directed to the practice instead of having to worry about finances, work-related issues, relationship issues, etc. Studies have shown that yoga is effective in reducing cortisol levels. Cortisol is the stress hormone. Elevated levels of cortisol lead to slower metabolism, fat storage and weight gain.
From an anatomical perspective, most physical activities (gym, cross-fit, running, sports) focus on working on the muscles to build strength. In addition to building muscle strength, yoga practice also works on the other tissues in the body like tendons, ligaments, cartilage and fascia. Yoga postures also work on compressing the internal organs to stimulate and detoxify them. Focusing on breathing in and out through the nose also helps to trigger the body's parasympathetic nervous system, which activates the relaxation mode.
Q3: How big is the market for yoga in the Philippines?
A: Right now, yoga is concentrated mostly in key citites in Metro Manila. Yoga studios are starting to sprout in other cities like Cebu, Bacolod, Davao, Cagayan de Oro, Baguio. Yoga classes are also offered in big gyms like Fitness First and Golds.
Since yoga classes tend to be more expensive than gym membership, there is a bigger market that is unserved.
I would say that yoga is an industry that is on the uptrend with a lot of potential for growth.
Q4: What are the typical barriers for people to enter yoga?
A: For the men, the biggest barrier is the concept that yoga is only for women and it is a "girly" activity. Most people think that yoga is only for the flexible people. At yoga+, our tagline is "For Everybody. Every Body." We welcome people regardless of age, gender, physical fitness level. Yoga is about breath and movement. If you can breathe and you can move, then you can do yoga. We have students that are already in their 70s.
Cost is another barrier. The people who probably need yoga most cannot afford it at this point.
Time is another factor. Since you need an instructor to practice yoga (at least initially until you learn how to do the poses on your own), you are dependent on the schedule. For some people (like those who work in call centers), the schedule of yoga classes may not be convenient for them.
For some people it is also the notion that yoga is a religion that runs counter to their Catholic or Christian faith.
Q5: How do you prevent your students from getting injured?
A: New students are given an orientation before their first class. This is to set their expectations and to make sure that they know what to watch out for. We ask for their medical conditions and if they have any injuries. Normally, first-timers or beginners do not get injured. That is because they are cautious and also cannot go deeper into the poses because of muscle/joint tightness or range of motion limitation. In addition, teachers provide them with modifications and props to allow them to come into the pose safely. We also use special yoga flooring that has traction to prevent slips and cushioning in case someone falls.
Q5: How do you balance the need for small group effectiveness and large group economics?
A: Our teachers establish more personalized connection with students before and after class, particularly for first-timers and beginners. During the orientation, the teacher can already establish rapport with the students. Post-class feedback sessions are also important to get the students to talk about their experience and respond to any questions. Teachers are encouraged to connect with their students and they are able to do this before, during and after class. Interaction can also happen when teachers also become students when they take class with another teacher. We also use technology a lot. We have the usual social media channels, our own mobile app, website and e-newsletter.
Q6: How do you keep students from dropping out or switching to competition?
A: Like any service industry, I believe the only way to keep the customer is to give them what they deserve and to make their interactions with yoga+ as effortless as possible. Admittedly, there is still a lot of room for improvement and this is an area where we will devote resources on in the coming year.
Q7: What can people get in Yoga + that they can't get elsewhere?
A: Most of our students say that they consider yoga+ as their second home. We have certified and experienced teachers as well as excellent facilities. We offer services that provide value for money. But at the end of the day, I believe what distinguishes our studio is the connection that we build with our students and how we make them feel.