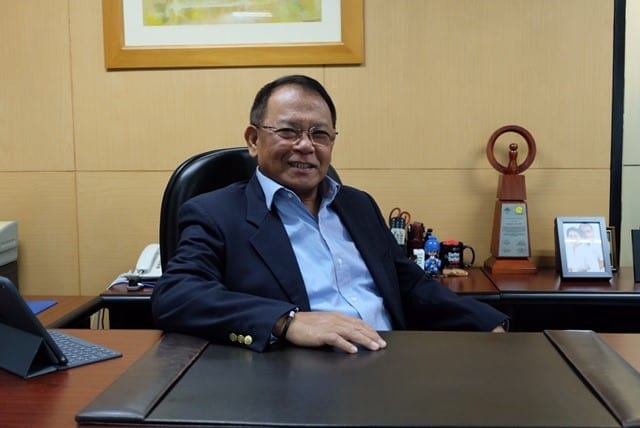 Nic Lim is a seasoned People Manager. He was formerly VP of San Miguel Corporation and Director for HR of Kraft before joining URC and becoming SVP for Corporate Resources of its holding group, JG Summit. Nic was People Manager of the Year in 2007 given by the People Management Association of the Philippines. He shares his insight about how to help people execute business plans.
Q1: What is your typical day like as SVP for Corporate Resources? What is the most important part?
A: How do you squeeze in an almost 10-hour workday a role that juggles 3 direct functions: Corporate HR, Corporate Outsourcing, Corporate Security and Safety while overseeing functionally the people doing these functions in the different Business Units in the Philippines, ASEAN, China & HK and Oceania? Key is having Action Registers for all the groups – to ensure alignment and proper monitoring. I call on bi-monthly meetings to thresh out contents of these Action Registers.
A typical day for me: as I have always been a morning person, am at the office early before 8 am. Most of my day is spent on scheduled meetings (jam-packed schedules) and walk-in meetings for urgent / emergency matters. I am always called for meetings / always on the phone with my bosses and the other members of the Excom for business discussions / decision-points.
The most important part is alignment with my bosses and my people's alignment with me.
Q2: There is a belief that HR should be the 2nd CEO or Chief Execution Officer– building capabilities and organizing people to execute business plans excellently. What can you say about this vs. the state of HR today?
A: Indeed, HR Leaders are the 2nd CEOs or Chief Execution Officers. For the past 39 years, these are my top 3 mantras:
1. Human Resources is at the center of organizational transformation.
2. Behind every business issue is a people issue.
3. As we grow the business, we grow the people.
With these said, the most pivotal role of HR Leaders is to be Leader Builders. Leaders are the primary embedders, reinforcers & transmitters of culture. They are as well the primary movers and shakers of an organization's bottom-line. Therefore, HR should help build / develop them on these primary mechanisms:
– what they pay attention to
– how they measure & control business movements
– how they react to critical incidents & crises
– how they role model, teach & coach
– how they allocate rewards & how they recognize
– their criteria for recruiting, selecting, promoting, and separating people
HR is transforming – it is undergoing continuous evolution to be more than excellent in HR delivery but also as reliable strategic business partners.
Q3: JG Summit is a holdings company with international businesses in food and beverage, retail, airlines, hotels, real estate, petrochemical, among others. How can you describe as JG Summit's organizational structure and how do you know it is the right one?
A: JG Summit's current corporate governance consists of the following:
a. An Executive Committee (Excom) which provides Business Unit (BU) / Corporate Center Unit (CCU) oversight and focus on growth opportunities.
b. Decentralized and empowered Business Unit Heads.
c. Lean but high-powered Corporate Center Units.
d. Clearly defined authority limits to ensure appropriate checks and balances
e. Comprehensive audit system allowing focus on significant variances
f. Watertight operational procedures
g. Systematic and standard planning process that will generate strategies and produce firm targets. BU / CCU champion strategies / plans, Excom challenges and approves.
This has been in existence since 2002 with the help of McKinsey Consulting. This year, starting January, we are reinforcing further the decentralization and empowerment of the Business Unit Heads as the CEO role is transitioned in 3 years from JLG (James Go) to LYG (Lance Gokongwei) with the appointment of Presidents and CEOs / COOs and CFOs in the core BUs and the further rationalization of the Corporate Centers.
This governance structure has been working well for the conglomerate since we are able to continuously hit our growth targets while we ensure alignment across.
Q4: Companies like JG Summit has implemented restructuring and reorganization a couple of times. When would you recommend a company to restructure or reorganize? What should essentially change after restructuring or reorganization?
A: You only restructure and reorganize if a business strategy has significantly changed. In JG Summit, the red flags for restructuring and / or reorganization are our 4 growth and business strategies:
a. Establish and maintain leadership across all of our businesses
– Strengthen JG Summit's strategic positions in the businesses it is engaged in
– Capitalize on its entrepreneurial culture, successful track record in introducing innovative products and services, and building strong brands
– Continue to provide value to customers and consumers of its products and services
b. Maintain the strength and diversity of our business portfolio
– Continue to explore opportunities in businesses that serve large and growing markets with high returns, and where JG Summit has or can acquire, a sustainable competitive advantage
– Look for opportunities to drive synergies between JG Summit's different businesses, and invest in new businesses that can complement or augment the strength of our current businesses
c. Continue to invest for sustainable growth
– Grow the existing businesses organically by expanding current operations, maximizing asset utilization and increasing international footprint, while looking for strategic acquisitions
d. Pursue disciplined growth into selected international markets
– Retain focus on the Philippines as its base market while looking for opportunities to diversify its current business interests in the ASEAN region,China and Oceania
What should essentially change after restructuring and reorganization are the other 5S's in the McKinsey framework on top of Strategy and Structure, starting first and foremost with Shared Values – mindsets / perspectives especially of leaders should change to support the Strategy / Structure. The other S's should be reviewed and revisited to support the change: Systems, Style, Skills, Staff.
Q5: What do you have to watch out for in managing reorganization to ensure you get it right?
1. Do not organize around people / personalities.
2. Communication to necessary stakeholders is a must. Reorganization will work when each person makes a decision to support and implement the change.
3. Reorganization is a major change. Change is uncomfortable. Resistance is a given. There is a need for a well-thought out plan to minimize and deal with resistance.
4. Measurement / metrics / monitoring processes are key to successful & sustainable reorganization.
(Josiah Go is chairman of marketing training and advocacy firm Mansmith and Fielders Inc. For full transcript as well as his interviews with other thought leaders, please visit www.josiahgo.com. Please also visit www.mansmith.net for information related to Josiah Go's marketing seminar schedules and www.day8.org for his entrepreneurship seminars)