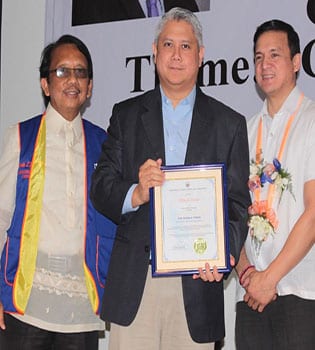 Q1: Manila Times was the leading newspaper from 1945 to 1972 before it was shut down during Martial Law. Manila Times scheduled its relaunch after President Cory Aquino was installed as President after the Edsa Revolution in 1986. By the year 2000, your family was already its 4th owner and the newspaper industry has been taken over by newer players like Inquirer and Star. What is it about news publishing that is attractive to investors or certain stakeholders?
First, let me address the trivia. Our family is the 4th owner of The Manila Times after People Power in 1986. There have been many owners of The Times since it was founded by Thomas Gowan in 1898. Even Manuel Quezon had owned The Times — before he became president apparently. But it was the Roces family that made the paper great after World War II.
Now to address your question, there are several reasons why people enter a mature business like newspaper publishing. Some go into it because they believe that it is a good investment, and some publishers do make lots of profit despite the challenges. Others see publishing as complimentary to their other ventures or endeavors.
For our family, the decision suited our skills set and professional preferences. My dad started his career on radio and later discovered that he can write well. It seems natural that he would gravitate to publishing when he saved up enough money to be an entrepreneur. Also, he exposed us, his children, to the business early. I practically grew up in the newsroom and played around in the printing press. I was often in the company of journalists, and I came to admire writers, including my dad. As a kid, I sold newspapers and magazines around our village to earn extra money. In high school and college, I was a campus journalist. Early on, I realized that this was going to be my field because that was my environment.
Q2: Manila Times appears to be a niche newspaper. What is your focus? Which areas are you good at? What is one word you want to own in the newspaper industry?
Like in other industries, newspaper publishers practice market segmentation. Gone are the days when you have a newspaper for all readers. In this market, you see that the Inquirer is proud of its "sensational" reporting, and the market rewards it for that. The Star leads in lifestyle and entertainment content. And those looking for a job, think of buying the Bulletin first over other papers.
The Manila Times, too, caters to a particular audience. We have worked hard and spared no expense in assembling our team of opinion writers. Modesty aside, I believe that we have the best opinion writers today. And so our strength is in putting the news into context. We cater not only to those who want to follow what's happening, but more so to those who want to know why things are happening. It's hard to put that in one word, but if there is one, perhaps "opinionated" comes close.
Q3: Your family ran Kabayan broadsheet three years before buying Manila Times. It was very idealistic and different as it did not show any naked or half-naked women that was common among tabloids that time. Can you update us about Kabayan?
Kabayan was a nationally distributed Filipino broadsheet. What set it apart from the other papers in the vernacular was that it was a decent publication — no smut. Kabayan was borne out of my dad's vision to have a serious, hard-hitting paper in our national language, and he did not accept that Filipino was good only for the tabloids. He also observed that every developed country had papers in their native language, and he believed that those publications contribute in no small measure to national development.
When we acquired The Times in 2001, however, our limited family resources did not allow us to publish two national broadsheets at the same time. We eventually sold Kabayan and decided to keep The Times because of its strong brand equity and rich legacy. Plus, there were sentimental reasons for my dad. He had an uncle who worked for La Vanguardia, the Spanish paper of the Roces clan. My father has fond memories of visiting that uncle of his, especially when his poor family needed help.
Q4: Manila Times launched a Journalism School. There must be a lot of synergies for a publication to operate a school. Are you not afraid the graduates may end up with your competition? How are things changing (curriculum, faculty, use of medium) especially with the advent of digital?
Many of our graduates are now with our competitors, not only in other newspapers but also in television and radio. We are proud of them. The fact that they're sought after by our competitors is a validation of our program.
The Manila Times College (formerly The Manila Times School of Journalism) was created to fill a need. We needed to hire fresh graduates who were also competent journalists, but for obvious reasons, the better ones preferred the bigger publishers. We also noticed something missing in the skills set of new graduates, and that was practical experience in reporting and composing stories. We have evolved to be a teaching newspaper, the only one in the country and perhaps in Southeast Asia. And so at our school, we provide students with the academic preparation along with the practical experience in working with a national daily from Day One.
Of course, we incorporate new media in our program. We are already living in the Digital Age. We cannot escape from it, and so we adapt or perish. We — or at least, I am — comforted by thought that principles will remain the same even as the means of delivery of the news continues to change. News will still be news. Facts will be facts, whether a person reads it in the paper, or watches it on TV or somewhere on the Internet.
Q5: There was an attempt for Manila Times to be closer to the Filipino-Chinese community. This you have done in 2002 when Rizal Award  was launched as an annual search for outstanding Tsinoys. After 8 batches, you pulled the plug. Was there any particular reason for doing so? Do you plan to revive it? What would you have done differently from the beginning?
We wanted society to realize and appreciate the wide-ranging contributions of Chinese-Filipinos or Tsinoys. The stereotype is that Tsinoys are good only business, as exemplified by the taipans. But Tsinoys excel in many other fields, like you in marketing and education. Our inspiration was Dr. Jose Rizal, a Tsinoy who was also a writer, a physician, and, of course, our National Hero.
We had a good run. But after a while, we thought that giving the award to the truly deserving was more important than keeping to a schedule. Besides, it's not easy work. But we might still revive it one of these days.