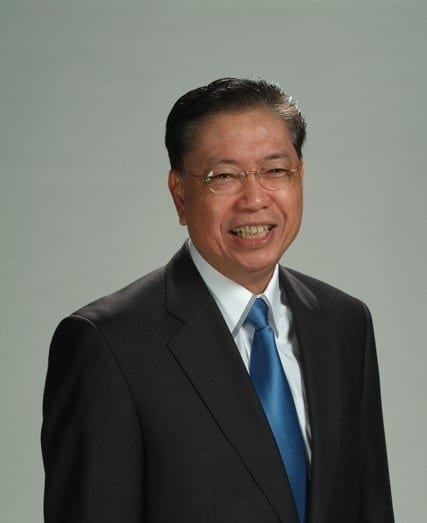 Q1: You have been president or managing director of San Miguel Brewery, Kraft, URC and many other companies, then you shifted to the government as president of Philippine International Trading Corporation (PITC) – Pharma.   I understand you were able to turnaround PITC, ("a consistently profit-challenged" government company) within your 14-month stay. What issues plagued PITC and how did you turnaround PITC?
A: PITC Pharma, or PPI is the only government owned pharmaceutical company which formerly owned Botika ng Bayan (BNB), which spearheaded the drive to promote and encourage the use of generic pharmaceutical products at low prices. Unfortunately with the entry of more pharmacies that focused primarily on generics, like the Generics Pharmacy, Generika, even Watsons; with their advertising budgets (PPI had none), consumers went to these competitors instead. Additionally PPI was logistically challenged – cash flow was an issue; suppliers weren't being paid thus stocks in the BNBs were becoming depleted, causing customer dissatisfaction. The objective of offering low priced generics through low end boticas was good but given the pressures of competition and poor fiscal management, BNB died a natural death, closing down its last branch in 2013.
PPI however had another ace which it could use – as a procurement arm for any government agency that needed to buy medicines. And government agencies are only allowed to buy generics. Thus when an agency like the DOH needs to procure medicines for their projects, they have two options – buy it themselves or buy the medicines thru PPI. But what value add would PPI have when PPI would tack on a service fee for the service and sometimes even come in at prices higher than when these agencies bought themselves? In reality PPI took the hassles of procurement away from the procuring agency since that was the only thing PPI did. But PPI had to have a compelling argument for the government agency to buy through PPI.
So we did our market research and determined what were the most common generics bought by government agencies (including LGUs, Hospitals etc). We figured that if PPI, as the only government GOCC that could buy medicines could pool all these requirements together, then suppliers could give us volume discounts which could be passed on to any government agency that needed medicines.
Major pharmaceutical companies had to be approached and convinced that PPI was going to be paying them. I went to see all the major players, like Sanofi, GSK, Pfizer, Unilab and utilized my reputation of 22 years in the pharma industry and promised them they would be paid, asked them to just give PPI a chance to get back on its feet. I presented PPI's core competencies, and that through pooled procurement these pharma companies would only deal with PPI, not hundreds of different agencies with their peculiar procurement policies.
After getting a sense of how much medicines were being bought, PPI got from the pharma companies what their lowest prices were, based on pooled requirements. PPI put up its price list of around 130 commonly bought SKUs on its website and with this the PPI salesmen went calling on the big government agencies. All that we needed from the government agency was a firm PO and a Certificate of Funds Availability to ensure collection. Regarding the service fee which PPI needed to take care of its overhead costs, we got this from the suppliers, not the procurers via discounts offered by the supplier.
The first acid test was for flu and pneumonia vaccines. The last purchase of the DOH in 2012 for a million doses was worth around P400 million, or P400 per dose. However, when we aggregated the vaccine requirements of other agencies, like the PCSO, the volume discount provided by the pharma companies ended up in savings of around P70 million to the DOH. Other LGUs and even private companies and foundations enjoyed savings of as much as 50% from their price a year ago.
Another issue blocking more usage of PPI's services were government agencies (and hospitals) which continued to buy branded medicines. PPI went to the COA to issue a directive to its field officers that no government agency could buy branded drugs and that all agencies should use the PPI price list as reference and in no instance should they buy above these prices. For communications I went around and made presentations to national conferences of all provincial governors; sent mailers to as many LGUs we could. We promised delivery of these medicines in 30 days to Luzon based and 45 days in Visayas and Mindanao.
PPI also looked at the private sector. Coming off the disasters regularly visiting the country, where would companies go to buy its medicine donations or even put them together in medicine kits for easy distribution? PPI put ups its commercial division and assigned salesmen to go and visit the big corporates who had big CSR budgets.
PPI had never made money in its history. In fact cumulative net losses of PPI in its 7 years of existence amounted to P325 million. In 2013, it made its first ever profit with around P17 million.
What made the difference? Every business needs a sustainable competitive advantage, use the strengths and assets it has and start communicating. After I had turned around PPI I asked to go back to private life!
Q2: While in the private sector, you also had several successes in turning around brands.  Can you share with us these cases?
A: Clusivol of Wyeth comes to mind. It was a dormant brand in the 90's, and the vitamin and minerals market was dominated by Enervon and Revicon. There was nothing distinctive about Clusivol's formulation or for that matter, all the brands in the category; so what the brand needed was a big idea and to communicate this idea. Enervon and Revicon had outrageous claims – drink this and you will be able to play many sets of tennis etc. Their TV ads had people jumping off airplanes; hang-gliding and skydiving. Once again we did market research – what exactly did consumers want out of their vitamin and mineral brand? Surprisingly all they wanted was to get more out of life. That the vitamin pill would give them not just quantity but also quality time.
The big idea therefore, as embodied in the ad campaign was: Clusivol, for a little more quality time. The message was simple and truthful – "for a little more quality time" all one needed was a healthy diet, rest, exercise and a daily capsule of Clusivol. In a year Clusivol became the third largest brand behind Enervon and Revicon. Today's hook with the late Dr. Flavier's help, is 'bawal magkasakit', and I believe is right up battling among the leaders of this category. All this despite Clusivol's price disadvantage of 20% over Enervon and price parity with Revicon.
Promil also from Wyeth is a big story. In 1989 Promil's ad campaign broke with 'The Gifted Child'. From less than P50 million in sales when the campaign broke, sales reached P1.2 billion after three years, and was the largest selling infant formula in the market. Before the Philippine launch, there wasn't any serious 'follow-on' milk category anywhere in the world. Follow-on milk is a marketing invention, like many innovations out there. Promil therefore was born out of a need – after using Wyeth's initial milk formula for newborns, like S-26 or Bonna; at the age of 6 months mothers switched their babies to regular cow's milk like Carnation or Alaska. And the question was why do we lose this market? So the big idea was: why not 'invent' a milk for older children as their dietary requirements are greater and more complex? The key tweak was this was the first time a product was both detailed to physicians and advertised to consumers. Usually when a product goes OTC all detailing stops. All or nothing as doctors hate OTC products. But you see the doctor had to be in the middle of it as when the mother saw the commercial the first person she would ask is her family doctor or pediatrician. So we detailed the doctor so he would know everything about Promil.
Market research revealed what the come on was: 'the gifted child'. The proposition was: give your child the chance to be a gifted child by giving her the right dietary requirements, more than what ordinary cow's milk could give. Which mother doesn't want a gifted child?
Not all brands can be turned around – sometimes the brand carries too many negatives and is beyond cure. Sometime the cost of entry or rehabilitation is too expensive. All these have to be taken into consideration. But above all, market research will always carry the day – the brand person has to have the deepest possible understanding of his product, his market and his consumer.
Q3: What patterns do you see on why brands or companies become unprofitable?
A: A sales drop in the first year is a red flag, two years on and a drop means the brand is in trouble. Brand men press for better execution when they need a better strategy. Or they craft a new strategy when they really need to improve execution. Strategy and Execution are inextricably linked and the bar should be raised for both simultaneously. In my experience brands and companies become unprofitable because corrective actions are taken too late – the handwriting on the wall is ignored; and that's when decisive leadership is needed.
Leaders should use the Pareto principle more often as it has so much power as a problem-solving rule of thumb. Like, how do we boost our profits? The next question should is ' where do our profits come from?' Where do we cut costs? 'Where do our major costs come from?'. It's all about leadership, decisive leadership.
Q4: What are challenges or barriers that may block a turnaround? How do you untangle them for progress?
A: This is a tough question as behind any corner is a barrier. But generally, the leader should get rid of silos, dysfunctional departments. He should build teams as the complexity of some problems makes it impossible for one person to solve them. Someone once said: Many hands don't just make work light, they make for a better result. Every company needs innovation; which comes from innovative behaviors; and these behaviors are driven by what senior leaders do and not by what they say.
Q5: What are critical success factors for a turnaround?
A: Again a tough question but I believe a company is destined for greatness if it has the right people, who set correct strategies, make brave and calculated decisions and deal first and foremost with its consumers and customers. I believe that what makes a company succeed is by the way it is led. The tone at the top sets all of it in motion. Therefore buy in at the top, understanding that turnaround takes time and providing all the resources needed to turn things around are critical for the turnaround.
Q6: In Kraft, you reduced the price of Tang by over 20% to effectively compete with then new market leader Eight O'Clock. You again dropped the price of beer while you were still with San Miguel as part of the 'Affordaboys' campaign.  When should major brands consider dropping price? What should management aim for when they drop price? 
A: Talking about Tang, in 1982 Tang owned the market with an 80% share. In 1992 Tang share was down to 20% because Eight O Clock had a price that was half that of Tang. In 2002 Tang was back as market leader as it was able to compete vs EOC's price. How? In order to come down in price it moved its manufacturing location to Thailand, where sugar and labor are 40% lower. Also, Kraft innovated with the 'Litro' pack, which too off with gin drinkers as they blended Tang flavors to avoid taste satiation. Innovations also were the 'mangga' flavor which was always out of stock.
In the San Miguel beer case, management was seeing volumes decline as beer drinkers moved to gins, brandies and rums. Market research showed that the consumers felt that beer, while their drink of choice had become too expensive and was only reserved for special occasions. Market research, through price-wise studies, told us what price level pale pilsen beer should be to get back its consumer. In the end it is not about what the gross margins are, but absolute profit. The price rollback gained back market share and volumes and absolute profit more than made up for the lower margins.
Significantly this was the first ever roll-back of beer prices for San Miguel in its over 100 years of history. A compelling case had to be presented to the board for this to happen, and when market research was showed, there was no other choice but go ahead with this draconian strategy.
Price drops are risky because the brand image may suffer, and it is always harder to raise prices. Some try it through price promotions and sugar-coat the rollback through bundling etc. But in my experience a price roll back, and the heavy dose of communications that go with it are most effective.
Q7: In 1994, when you were with Kraft, countries in South and Southeast Asia were assigned under your supervision.  How do marketers in each country you handled, rank in terms of strategic thinking, creativity and execution?
A: The first thing I noticed is that the Not Invented Here syndrome is alive and well in most countries, where skills and expertise flown in are irrelevant to the local guys. In South Asia, marketers are more vertical thinkers, where math and sciences played major roles, with quantitative data seeming to override creative thinkers. In Southeast Asia they are more horizontal thinkers, more creative and qualitative data was more important than the quantitative information.
Cutting across all geographies however is the need to understand the culture of the country, the culture of the company (surprisingly even if they are all Kraft affiliates, each had its own culture) and to understand the context of the problems and situations as strategic decisions and tactics depend heavily on context. Changing organizations and processes were also a function of the readiness level of the local organization as each was different in maturity and complexity.
Countries differed in the advertising space, the media complexities as well as strengths and weaknesses of the advertising agencies we were allied with. It was a real challenge to manage all of them and I would only go to countries that were squeaking and needed the oil. In the end what was needed was the focused mindset of the affiliate to place the customer at the center of all they did, and put marketing and selling at the center of the strategy. Everything else was secondary.
Q8: To executives from the private sector who intend to join and serve the government, what pieces of advice can you offer them?
A: First, expect an 80% cut in pay! Expect good people who will surprise you with their passion and zeal. Expect politics too, with all of its bureaucracies. Expect a group willing to learn and that is where you can make the biggest difference – training them and getting the most out of them.