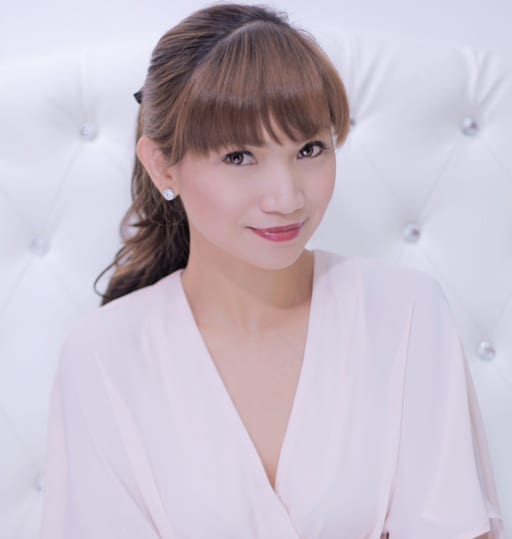 Q1: How did you get into the hair extensions business?
A: It all started when I was granted a fashion design scholarship by the Japanese government in 2009 and I studied in Tokyo for 3 years. It is there where I got immersed into a culture wherein fashion is literally a head to toe expression. I saw how for Japanese ladies, hair styles are seen as fashion accessories, just like bags, shoes, or jewelry, that they change on almost a daily basis. I found myself being so curious as to how they could drastically change their hairstyles from short to long to curly to with bangs on a day to day basis, and I found out that their secret lay in hair extensions. I found this very interesting and I wanted to introduce this type of "conveniently change your hairstyle everyday" lifestyle to Filipinas. That's when I decided I wanted create a brand, create a category, and market hair extensions in the Philippines.
In Tokyo, hair extensions are very prevalent and are readily available in side-street stalls, very similar to our local "Tiangges" here. I knew that if I wanted to educate the Filipino market on hair extensions I needed to create a more credible sales channel. And while hair extensions are used by women from all walks of life in Tokyo, for the Philippines I made the conscious decision in my mind to focus on the fashionable Filipinas who would be more open to try something new while at the same time easily have the spending capacity to do so. Thus the idea for the first ever premium hair extensions studio in the Philippines, Tokyo Posh, was born. Everything would be executed in a premium way and customized for the Filipina. I first searched for the hair extensions suppliers of Japan, contacted them and made special arrangements with them that allowed me to design hair extension styles that I thought would be perfect for Filipinas (who are a bit more conservative in terms of hair styles). I then went about ensuring that everything from store location to packaging to the in-store experience would be premium and fashionable.
Q2: Why the name TOKYO POSH?
I decided on the name TOKYO POSH because I really wanted the brand name to reflect my journey and the city where I discovered hair extensions. I also thought that TOKYO connoted fashion, high quality and being avant-garde, which are traits I also wanted the brand to have as its foundation. POSH on the other hand, while being another key descriptor of the brand, actually started out as an acronym I coined for all types of hair pieces, P.O.S.H. stood for Put On Styled Hair, given that our extensions are already styled pieces which when worn, instantly change ones look and disposition (no need for any blow dry, iron, or curl!).
Q3: What's the psychology behind putting on hair extensions? What's the need users are trying to satisfy?
As women, we have been called a great many things, but rarely are we seen as decisive, committed, and firm – especially when it comes to fashion, hair and make-up, and sometimes even men! Fickle and footloose, we like to play around with our looks and hunt for the latest trends. While it is easy enough to switch from trend to trend on a daily basis with fashion, it is much harder to change one's hairstyle on a daily, or even seasonal basis. That's where TOKYO POSH comes in. Hair extensions give instant gratification and long-lasting satisfaction without the commitment of going to a hair stylist or actually cutting your hair. Unlike facials/peels or liposuctions or losing weight programs, hair extensions are instant, have no down or recovery time, yet the same uplifting and confidence building effect is the same for women. All we women want is an instant pick-me-up change every so often to brighten our disposition and empower us and that's what we get from hair extensions.
They also say hair is a woman's crowning glory. It's true. If a woman's hair is beautiful, even if she has no makeup or she's not dressed so well, she feels beautiful, and you see it in her confidence when she walks inside a room. I have personally witnessed first hand how celebrities, beauty queens and society mavens regarded as the most beautiful women in the Philippines have fallen in love, if not have become addicted to TOKYO POSH. It truly is the most fulfilling feeling when clients come up to me or when they email, telling me how through TOKYO POSH and having beautiful hair, they were able to get that all important uplifting feeling and extra confidence that helped them get through a divorce, meet the man of their dreams or even land a movie role they've been aiming for.
Q4: What are the challenges in the hair extensions business? Wasn't there a negative connotation for wigs?
To be honest, especially in the beginning, it was very hard to introduce this new product category to the Philippines. The prevailing image of hair pieces is that they are for people who have hair loss problems due to sickness/age, or for women who are joining beauty pageants. The primary challenge was how to market and distribute extensions a way that would overcome this stigma. I basically had to find a way to change consumer mindset to one that saw hair pieces as fashion accessories that every woman should have, and not as last resort solutions for those with no hair. The very first step was to veer away from using the term "wig" and instead highlight the term "extensions" which was in general a relatively new term. It has since taken a lot of category educational marketing efforts, PR campaigns and a whole lot of word of mouth to have gotten to this point wherein there is now a lot more awareness about hair extensions and how they are now accepted and used by celebrities, beauty queens and everyday women and housewives. This quest to change and educate the consumer mindset is an ongoing one that we are continuously working hard on everyday and which we will continue to drive as we move forward.
When I started in 2009, another challenge was setting up shop. I really wanted to have a legitimate store where women could try on the extensions comfortably. Because it was a completely new category / brand, I had no one to benchmark it against, I had no pegs, I had to decide and dictate everything, from the look to the packaging to the pricing, all on my own. It was also a great challenge to convince skeptical shopping mall management teams to grant me a space in their establishments. I had to convince them of the potential of the category and sell them a vision of how the brand would be executed.
It is the same with getting endorsers. Who would want to endorse something that may be misconstrued as wigs? It is a bit embarrassing to admit but when we opened our first store in SM Hypermart beside Tiendesitas I had to use myself as the model for our collaterals. It was tough for an introvert like me, but as an entrepreneur you learn quickly that to succeed you have to willing to get your hands dirty and do a little bit of everything. It took some time for me to show proof of concept and product quality, but after a year of operation, in 2010 when we opened our Rockwell Powerplant store we were able to get our first celebrity endorser, Cheska Garcia-Kramer, who did a product video and collateral shoot for us. Since then we have had several high profile celebrities and beauty queens endorse and promote us, with the likes of Anne Curtis, Jessy Mendiola, Bela Padilla all highlighting Tokyo Posh in our official campaigns as well as in their personal social media accounts.
Q5: You studied fashion design in Japan. What lessons were you able to apply in your business?
Fashion for the Japanese is serious business, they take into consideration each and every stitch and detail and try to be perfect in its execution – that is something that I try to apply to my business. I make sure all our hair extension styles are of the best quality and I see to it that Tokyo Posh gives women what they want, exactly when they want it.
Another lesson I learned studying fashion in Tokyo is to not be afraid to be the innovator. Tokyo is at the forefront of almost everything fashion and pop culture, and I make sure Tokyo Posh is at the forefront when it comes to hair-related fashion. This has meant constant R&D and immersion in the world of fashion and pop culture, but this has in turn, allowed me to ensure that Tokyo Posh is always ahead when it comes to trends and styles. While Tokyo Posh is the pioneer in the Philippines when it comes to hair extensions, there are already some other brands that have started to pop up to copy us, this is why we are not content to be the category pioneer, I fully intend for Tokyo Posh to be the undisputed innovator of the category. While competition will always be a challenge, imitation is flattery and I like actually it because it has validated a lot of the hard work I have put into building the category and the brand. Tokyo Posh is now considered a legitimate aspirational brand when it comes to hair that other brands now try to imitate. But I'll be fine as long as I apply what I learned in Fashion School – I won't be afraid to innovate – because I know that the rest will just follow.
Q6: What is your vision for Tokyo Posh? What's your growth and expansion going to be like and where are you now?
My vision for Tokyo Posh is for it to be present nationwide. This dream while probably still a long way out, will only happen if market awareness and education on hair extensions is successfully spread. And it is that cause which I try to help further everyday. We currently have 2 stores (Rockwell Powerplant, SM Mega Fashion Hall) in different key Metro Manila areas (we are also currently relocating our Eastwood Mall store which was in the same area as SM Mega Fashion Hall). We are also constantly on the lookout for the more locations in Northern Manila and South of Manila where we have several product orders and franchise inquiries. We have gotten offers from several malls to open shop there but we are very selective as to where we want to be as I want this to reflect the brand's premium identity.
I have literally grown up together with this business. And while this business (and myself) have grown so much in the past 7 years from its humble beginnings, I believe that the best is yet to come.