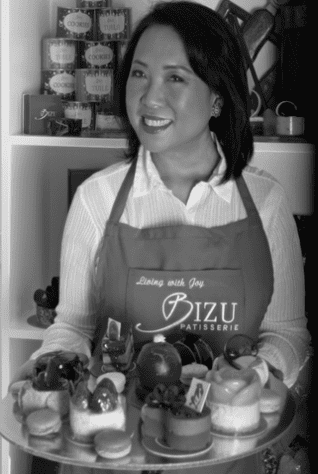 Q1: Bizu is a premium brand of cakes and restaurants. How did you decide that this is the way to go?
The first thing that I did when I set out to create Bizu was to search my soul. I have always dreamt of running a patisserie similar to the ones found in France and wondered why we didn't have anything like that here. I loved their lavish interiors and the delectable desserts that catch your eye and beg to be bought. So in putting up Bizu I hoped that other people would share my vision of a French patisserie here in Manila. In some respects I didn't decide if my business should be a premium brand, it was a coincidence that people appreciated that I brought the Parisian patisserie experience here. My love for cakes and pastries made me want to bring something new to the dessert market in the Philippines, which was perceived as premium due to it its unique look and feel. Whenever I ever make something I want it to be the best. I wanted sincere quality products that are not only delicious, but beautiful to look at as well.
Q2: For new stores, can you share with us the process of how you determine your business goals?
My last 10 years in the industry has taught me many things. I have made many mistakes in choosing the right location for my stores, the kind of people I hire and the type of food that I have served. All these things have shaped my decision making when choosing to put up a new branch.
Q3: What about for existing stores, does foot traffic count?
Definitely foot traffic counts, but it also depends whose foot you want in your store. For example if you go to Baclaran there is a lot of foot traffic, but are these people going to buy from you? Do they have the right attitude and do they have the right mindset? Foot traffic is important, but whose foot do you want in your store?
Q4: How do you know if your marketing goals are attainable?
Through experience, you cannot be too idealistic. You marketing goal can be that you want to make a certain profit, but you have to limit your expectations to something attainable so you do not get frustrated. Then, do a process flow on how to get there.
Q5: What do you do if the marketing goals are not attained?
If the marketing goals are not attained, first you have to go back and see what mistakes you did, find out what you didn't see and see what things you have to look out for. One experience I would like to share was when we put up a branch in a big mall. The mall promised me that it would be a very high-end mall and that my products would do very well there, but it didn't, I found out the hard way that Bizu will not work in just any mall.