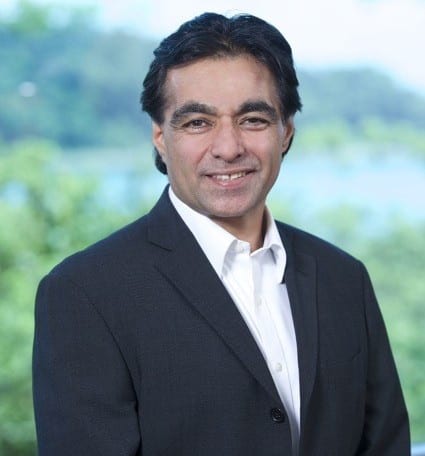 Q1: I met you close to 25 years ago when you were country manager of Pioneer Hybrid Corn in the Philippines. Now you are Asia Pacific Corn Marketing Head for Syngenta, a merger of the agro division of Novartis and Zeneca. As a veteran in this field, can you share the highlights and developments that has changed the way business is done in your industry?
What has really changed is the awareness and understanding that one of the biggest dilemmas facing the world today: how to feed a growing population while safeguarding the only planet we have.
Farmers today are focused on increasing the productivity of their crop while effectively managing limited available resources, all while managing farming risk. They also face new opportunities and challenges. The opportunities include better market access, better availability of agronomic and market information, as well as the ability to use new products and agricultural inputs. However, the challenges include increasingly unpredictable weather patterns, a growing shortage of rural labor, and having to adapt from farming as a way of life, to farming as a business.
At Syngenta, our modern agricultural solutions – combined with education, extension and training, supporting infrastructure, access to markets, information and financial resources – enable growers to increase productivity and improve farm profitability and at the same time have a beneficial impact on water and land resources as well as biodiversity. Such sustainable production systems help farmers earn better incomes, live better lives, and be efficient stewards of the land.
Q2: Since the integration of the seed and chemical division of Syngenta in 2011, what innovations or synergies in the value chain have been launched?
Through our integration, we have put the grower at the centre of everything we do. Our strategy calls for us to think like a grower and understand that he thinks about his land and his crop in a holistic, integrated way.
We offer growers information on our complete portfolio of products as well as on how to improve their agricultural or agronomic practice. Growers do not just want to know how a particular herbicide controls weeds or how an insecticide controls a pest – they want to know how to combine the use of agri-inputs with better farming practices to increase yield sustainably, and improve their return on their investment – now and in the future.
A practical example of how we approach this is "Start Right" for small corn growers in APAC. We realized that growers are investing in hybrid seed which have a yield potential of 8-10 MT per hectare. However, most growers are only getting 6 MT per hectare. This yield still provides a good return on investment, but is short of the hybrid's potential and below the productivity of farmers, for example, in Europe or USA.
We developed Start Right to help the small growers raise their productivity. The corn solution is composed of 4 key points. First is Plan Right. Here we mean – set a target, list the inputs and activities and develop a sound farm plan to better use resources. The second is choose the right seed for their farm. Third is to manage the weeds to feed the crop and not the weeds, particularly in the early stages of the corn growth. Lastly, protect the plant to boost yield by using the appropriate fungicide or insecticide based on the pressure they face.
We undertook the proof of concept in our research stations where we saw a 10-30% yield increase. We piloted it with our lead growers across ASEAN. It was their positive experience which led us to launch Start Right this year.
We are now working on expanding the Start Right solution to our millions of corn growers. We will work with our channel partners to promote the solution, in addition to conducting field demonstrations at our Syngenta Learning Centers, so that farmers can experience firsthand the Start Right solution in their locality. This combined with our agronomists, lead farmers and point of sales information at the retailers help growers make better decisions.
Q3: What has been a more effective approach in generating growth – selling seed and chemicals separately or integrated in one salesforce?  What are the challenges posed in either approach?
The breadth of our portfolio in crop protection, seeds and seed care make us uniquely placed to not only provide the grower with integrated offers today but also transformative technologies in the future.
We're also innovating beyond the single chemical or biological product paradigm. We are innovating by crop and aiming to do so at scale. Our integrated offers and continuous innovation are helping to accelerate technology adoption in emerging markets, where we've achieved annual double-digit growth since the launch of our integrated strategy in 2011. Sales have also continued to grow in developed countries, where we enable growers to deal with problems such as weed and insect resistance as well as an increasingly demanding value chain.
Q4: In Asia Pacific, Syngenta is strongest in Vietnam but has been a challenger elsewhere.  What factors shaped your market leadership in Vietnam?  What is different with other countries?
We do not report on individual country sales, however, emerging markets continue to perform well for us in the Asia-Pacific region. Across the region, including Vietnam, we offer growers a competitive portfolio of products and offers, have strong channel partners and a well-trained and knowledgeable field force. We also have leading brands such as our fungicide Amistar® and our NK corn seed hybrids.
Q5: China has the biggest agricultural land area in Asia Pacific. How is the state of the corn industry there and how is Syngenta doing in China?
China corn area has grown from 21 M ha to over 31 M hectares over the last 15 years. It is now second to the USA in size and value. Corn demand is being primarily driven by China's increasing domestic demand for protein and animal feed.
The corn seed market in China is 100% hybrid and farmers are adopting high yield and high quality hybrids. They are also adopting the use of good chemicals to control weeds and pests. As such, the total corn ag-input market is increasing in value and open to the adoption of new technologies.
For Syngenta, we have a joint venture in China, called Hebei Sanbei Seed Co. We are present in northern China in the spring corn market and also in the south in tropical corn. Our tropical corn offer in China enables us to leverage our hybrids from our ASEAN breeding program. Lastly, we have also launched our Start Right solution in China, which is being very well received.
Q6: How do you differentiate Syngenta when industry players are all catching up on yields and Syngenta has to do the same?
At the core of the long-term success of our strategy is innovation, particularly in research and development. Our solutions help the grower to meet the increasingly complex challenges of today and tomorrow.
But yield alone is no longer enough. The products of the future will need to produce extra yield, but they will also need to have a positive impact on the land and the people who live on the land.
We have the ability to differentiate by offering to target segments an integrated offer or products and services. For example, we have Start Right in corn, GROMORE™ in rice and MaxVeg for vegetables, among others.
Having high yielding hybrids that are adapted to the target market is also key to ensuring Syngenta's portfolio is competitive and attractive to the grower. In addition to our technologies and offers, we also have a motivated field force along with strong channel partners to bring these new technologies into the hands of the growers.
Q7: As a challenger, how do approach farmers' loyalty when there are major farmer segments who only use products proven by the pioneers, are deal oriented or dependent on financiers?
For small growers, it is indeed true that seeing is believing!  That is one of the reasons why we developed an integrated field force that works to demonstrate the solutions to growers whilst promoting the crop solution through our channel partners.
There is no short term fix. We remain committed to our growers, season after season. We also believe in building and maintaining strong partnerships with our channel partners and our network of experienced field agronomists working with lead growers to bring technologies into the hands of their neighbor growers.
Q8: How will you be affected with climate change in the light that some of your products (like NK8840 ) are highly dependent on seasons and location?
With unpredictable weather threatening growers' yields, we're enabling crops to better withstand environmental stresses. We have developed a range of hybrids that are suitable for different locations and seasons and we are also developing hybrids that provide high yields in good growing conditions while preserving yields in drought conditions.
Q9: Farming in Asia is not looked up to as a desirable career because it is tough work, not glamorous and unlike mechanized farmers, not as profitable. How do you nurture more farmers to ensure sustainability of your future?
Farming is challenging wherever one is in the world! However, for smallholder farmers in Asia Pacific and beyond, it is particularly hard as the grower has to balance productivity from their small area of land, while working off-farm to maximize the family income.
We are seeing an increase in professional farmers who are leasing land from their neighbors to gain economies of scale and investing in new equipment for land preparation, planting and crop application. Farmers are also part of cooperatives and associations to share equipment such as combine harvesters for corn in China.
Syngenta is committed to putting the best tools and technologies into farmers' hands and provide them with the knowledge and experience to improve growing practices, reduce their risk and improve their income.