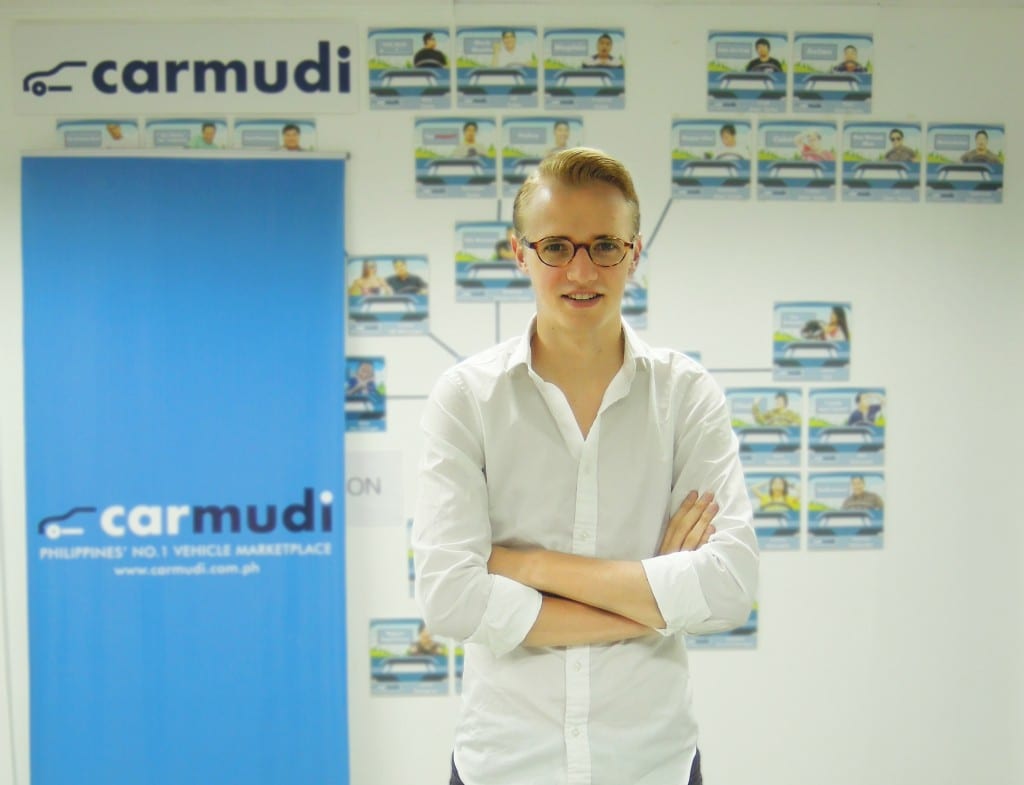 Q1: Your are part of the Rocket ecommerce group where your business model is about being a 'Fast Second' in concept but operate in emerging countries, how better or different do you tweak the original concept to suit the countries you operate? (Note to readers:  "Fast Second" is a concept that discussed those who are not the originators but who do things faster while changing something a bit, learning from mistakes of the originator.)
Rocket Internet brings the ease and convenience of e-commerce to all these emerging markets. The basic business model of our vehicle platform remains the same. We bring car classifieds online, and sellers can advertise their vehicles for buyers all over the Philippines. However, we do not take the intricacies and cultural differences of each country for granted.
We completely localize the original concept to suit the countries we operate in. Rocket Internet is known for moving very fast, but we will never succeed unless we understand the needs of the market per country. In Carmudi Philippines, we hire 90% local employees and work with them side by side to propel the company to great heights. There are endless insights that we learn from them. In the Philippines, it is really easy to work with the locals because the workforce is more than amazing! Filipinos speak better English than I do, and everyone is so ambitious and hardworking too.
The functionalities of the website are also adapted to the needs of the country. In our contact forms for the Philippines, we added a text function which requests the car seller to call back because Filipinos love SMS! We've also done a lot of marketing on Facebook because we know that the Philippines is the social media capital of the world.
Q2: Carmudi is a website that advertises cars for sale, where a free trial is offered for a few months before you start charging.  What were your key indicators that it was time to monetize?
Carmudi has been going the extra mile since we launched in January 2014. We went to the sellers personally, took photos of their cars, took all the details down and placed the vehicles online. We also have an after-sales service wherein we contact them, give them insights on how they can sell their cars faster and ask for feedback in order to improve our services to satisfy eery customer. We verify these sellers personally because we want to emphasize that we value trustworthy listings for the buyers who go on our website. When we started hearing a lot of positive feedback from our vehicle sellers, we knew we were giving a lot of value to them by bringing infinitely more buyers than they had at their dealership. Then they were more than willing to pay at the end of their free trial, especially because online classifieds are way cheaper than offline classifieds, and we also have much higher reach.
Q3: One of the concerns of used car buyers is they don't end up buying junk.  How exactly do you ensure quality cars are being sold and how do you communicate this to handle consumer doubts or negative perceptions?
We do not accept junk on our website. We ensure that quality cars are being sold by sending a team of car experts who have been in the industry for five to ten years to take down all the details of the vehicles that they personally see themselves. We communicate this by placing Carmudi stickers on vehicles that have been quality approved by us, and vehicle sellers are happy to do so because they also want to be associated with the trustworthiness and quality of our brand. We also partner with banks, which are some of the biggest car dealers in the Philippines, and their trust in us shows that shopping for vehicles on Carmudi.com.ph is very safe!
Q4: The acceptance level of Carmudi appears a bit faster in the Philippines than in other countries you operate. Why do you think this is so?
Everyone in the Philippines seems to have been born with a mobile phone in their hands. Filipinos are so tech-savvy and internet penetration is predicted to grow from 36 million to 41 million from last year! Everyone also loves Facebook and Twitter. I don't think I've ever received so many friend requests in such a short amount of time, which also goes to show how friendly you guys are. It is not surprising that the acceptance level of Carmudi was faster in the Philippines but we are really lucky to be in such an amazing and open-minded country.
Q5: Sulit.com (now OLX) has been the leader in the Philippines for online classified ads.  What are you offering that Sulit/OLX doesn't have? Your group seems to have surrounded them using different brands (Carmudi, Zalora, Lazada, etc.).
We are focusing on certain items for each platform. Zalora is a fashion marketplace, Lazada is for electronics and home appliances, and Carmudi is only for vehicles. Having that focus also allows us to put every vehicle through a highly approved quality checking system. We tailor fit each website to the needs of the consumers that purchase in that industry in order to give a safe and prime shopping experience.
Q6: A twin of growing the business, specially for a start-up like Carmudi, is building the desired culture. I understand you like to get things done fast. What is the culture you'd like to see built in Carmudi and how do you ensure this will be incorporated in the company's daily activities?
I want to see a culture where we celebrate all our successes as a company, openly communicate and constantly strive together to be number one. It's important for us to have feedback sessions in order to learn from each other and learn to develop both strengths and weaknesses. At the end of the day, we have a wrap-up session wherein everyone talks about their significant achievements while the rest of the team listens in and celebrates!
Q7: You co-founded a business called Purmeo at 21 and sold it at 23. Can you share a bit more about this?
Purmeo was an e-commerce startup offering the first tailor-fit nutritional supplements to your personal needs. It took pharmacies online offering, with a better product: The user fills out an online questionnaire about his lifestyle, diet and body, form this data nutritional experts calculated which vitamins and minerals the individual person was missing in their food, which then were custom-packed into daily portions and delivered monthly to your doorstep. Leading a team at this young age and introducing a revolutionary product into the market was a great experience. We expanded to three countries before selling the company to a bigger competitor.
Q8: You are now 24 years old and already an expat country manager.  What is your vision for Carmudi? Where are you now in terms of achieving your goals and how many years do you think you will you need to turn this vision into reality?
I envision Carmudi to be a one stop shop for vehicles. Everything you need to know about vehicles will be on our website – from maintenance videos to financing options to repair shops! We've recently just added a loan calculator function, and soon we will be the website to go to for all vehicle queries and needs.
One thing I'm sure of – Carmudi is here to stay. We take our business very seriously and we want to soon have every car in the Philippines listed on our website. We are growing very fast in terms of achieving goals – we have listed 15,000 vehicles in a matter of six months, while other players in the market have taken more than a year to get to 5,000. We've also expanded to many different provinces like Pampanga, Cavite, Laguna, Laoag and even Cebu! It will not be long until we are able to turn this vision into a reality, especially with how accepting Filipinos have been of our platform.