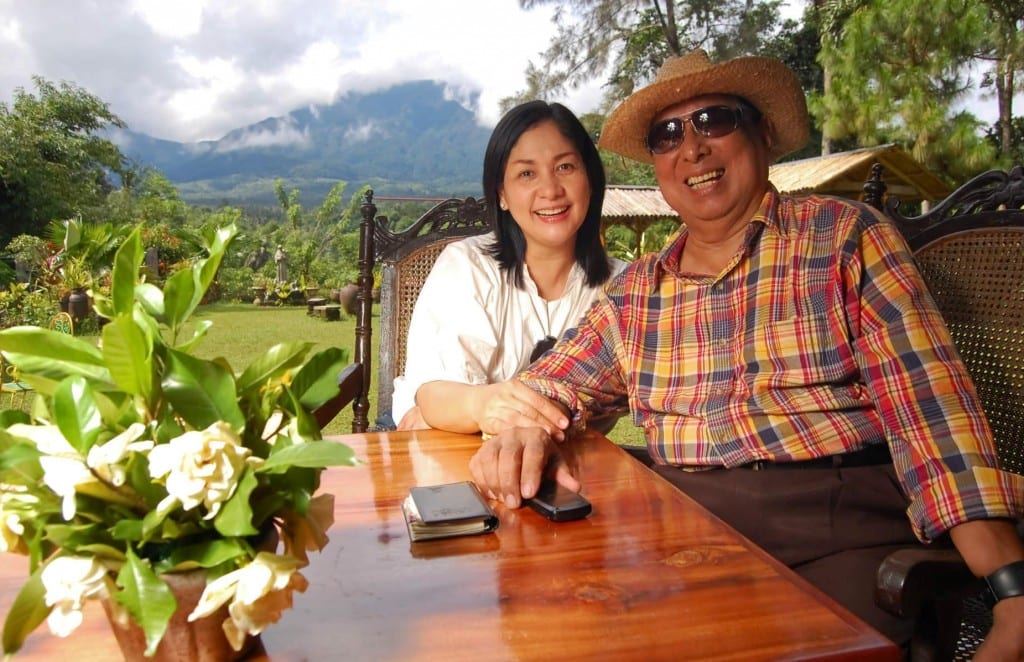 Q1: Before your retirement, you were associated with having mastery of the 'masa' market with strong gut feel but based on consumer pulse. Jollibee, Lucky Me! are just some local brands you handled that grew so big. What traits do you think you have that made you a specialist for the 'masa'?
I am masa. I lived masa. It's my upbringing and habitat. My townmates in the hilltown is masa, including farmers in upland barrios.
In Manila my neighborhood is masa in the bustling streets of Sampaloc and Sta. Cruz districts.
I grew up during World War II and the Huk Communist rebellion. I was exposed to hunger and death. I learned to struggle, to be industrious, to live with one's wit, rural or urban life.
It helps that I was a short story writer with sharp observations and skill to replicate deep emotions and the idioms of the masa. It also helps that my Ateneo studies enriched my vocabulary and flair for imaging.
While confronting brand issues in advertising, I found myself serendipitous in unearthing consumer insights.
I am very personal and experiential when I eyeball with my imagined consumer, usually a living breathing individual, not a generic one.
The details are exclusive. Unique and original.
The advertising creation is unexpected. It's serendipity.
Q2: You were brought up to buy fresh goods at the wet market, with no preconceived menu to cook for the day. You likened this to the advertising process. In your experience, can you share best practices for getting big ideas and how to communicate them across to get home runs no less?
On the process of advertising
There's no big secret in strategies when you're dealing with a creative challenge. It's the cart before the horse.
Market data, to me are bland generalities.
It's when I have simplified brand opportunities in human terms that I embark on a psychological trip in the realm of consumer insight.
Great advertising makes quantum leap. It's doing the unexpected. The big surprise.
Palmolive's "I can feel it" jettisoned an old-fashioned hometown girl into the frenzy of urban hip-hop. Sarsi's "Angat sa iba" an old low-priced soda sold in the periphery was transported in to the chic realm of modern art and beat of fusion music.
"I can feel it" and "Angat sa iba" were our biggest homeruns with incredible turn around in the market in the late 80's. They broke sales records up to the roof.
Q3: From number 34, your former agency, Basic Advertising became number 1 in advertising billing. You have made so many classic campaigns in Philippine advertising. Which ad campaigns are you proudest of and why?
On phenomenal agency growth and classic campaign, it was clear for me from day one that we wanted to be known as the masa agency for masa brands.
Our earliest homeruns were "Lalaking Disente" which saved Three Flowers pomade from being killed. "Tsikletin Mo Baby" for Chiclets grabbed market leadership in Manila away from Juicy Fruit gum.
"Reseta ng Duktor" catapulted Benadryl to number 1 in just two months away from Vicks Formula 44.
We invited our peers in creative to join our bandwagon: Nonoy Gallardo, Telly Bernardo, Albert Grupe, myself and Tony Mercado. We were a powerhouse team and we had momentum.
Our shining star became dazzling with Jollibee's Langhap-Sarap. Getting new accounts became picking apples.
We established Basic Ad School for our recruitment program and we harvested the best and the brightest. We gave our people above standard salaries and the biggest bonus on Christmas.
We were always hitting homeruns: Development Bank of the Philippines' "Palabra de Honor" and "Katapatan". Duty Free's "Babalik ka rin" were big image revamp (DBP) and record breaking sales "Babalik ka rin" for OFW arrival market.
We were unbeatable in winning pitches for new accounts.
We were gutsy too. We resigned good accounts to gain entry into big accounts like San Miguel Brewery and we did.
We dropped our tie-up with Foote, Cone & Belding (FCB) when they lost Palmolive in the U.S. Immediately Publicis Groupe was on the phone proposing a tie-up. We did to get a crack at Nestle. Nestle moved to Publicis Manila through an alignment.
 Q4: What advise can you give to companies with superior products but have really small budget for advertising nowadays?
Real superior products grow by word of mouth. Use your small budget at point of contact or go straight to the consumer or use the internet. Or be like Tony Tan of Jollibee, spend all your income on advertising as soon as you smell blood
Q5: There has been many criticisms of the business model of advertising where revenues mostly come from pushing TV to the detriment of some clients. Where do you see the revenue model trend of marketing communication outfits? Do you see TV networks changing their revenue model as well?
As long as the TV set is in the sala of the masa home to provide daily entertainment, as long as the masa housewife buys her needs in the wet market, as long as the sari-sari store is doing good business in masa neighborhood, TV will continue to do brisk business with commercials.
It can go direct marketing with exclusive brands mostly patented gadgets and utensils.
But only commercial TV can drive mainstream household needs; food and beverage, personal care products and over the counter medicines which are budgeted daily or sold in "tingi".
Q6: How do you repair damaged brand image? What if it's personal 'masa' brands like VP Binay or Secretary Mar Roxas ('Mr. Palengke' before) for the 2016 presidential election?
For repairing damaged brand image, do the honorable thing. Car companies recall defective models and do the repairs for free including the replacement of defective parts.
On damaged things, change the topic. Our PLDT campaign on long distance call to alleviate homesickness did not dwell on PLDT's insufficiency in installing more phones in the 70's, but got good reviews.
DBP's crony bank image was reformed by promoting "Delicadeza" and "Palabra de Honor" as a national transformative vision after Edsa Revolution.
No comment on Binay-Mar issues. The tipping point will partly give the solution.
Q7: You retired as Chairman of the Publicis Group of Companies in the Philippines. What were some hard-to-forget marketing or business failures which you can share to our young readers and what are some lessons you have learned from them?
Lower priced flank brands trying to establish shares for alternate usage or steal market shares from the big market leaders are difficult to swing.
There's always a bias for lower priced brands. The market leader holds the quality satisfaction.
Such was our experience when we handled Asia Breweries' Beer na Beer and before that, Gold Eagle Beer for San Miguel.
We failed to do the magic. The best that flank beer brands can do is to exist sporadically at few odd places, never hitting the mainstream market. It's not a fun job.
Q8: When your name is mentioned, people would describe you as an advertising icon, creative genius, legendary, a rare fusion of one with both ideas & business acumen. What would you like people to remember you as?
Icons (including Napoleon Bonaparte and Alexander the Great) ultimately end up in the dustbin of history.
I'll be happy to be remembered as the promdi who made the biggest "tsamba" in advertising when he wrote "Langhap-Sarap" beneath the Jollibee logo some 40 years ago.