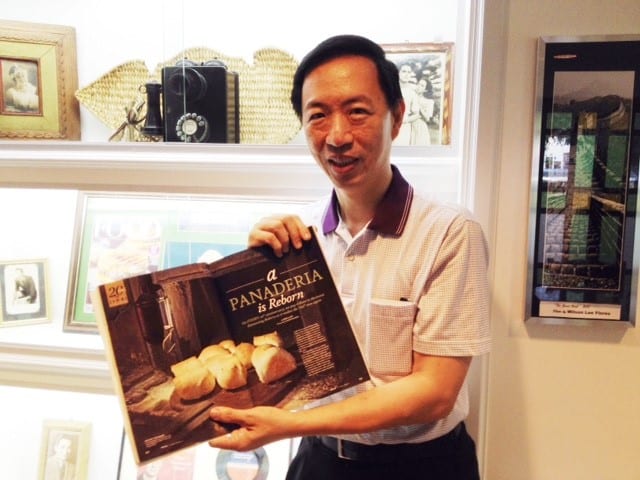 Q1: You are known to be in real estate. How did you get into the bakery business?
A: I started out in real estate sales due to lack of capital, I'm now still in the real estate business both as a licensed broker and now also as realty investor. Yes, it was through a December 2013 real estate deal that I had fortuitously entered into the bakery business. I acquired Kamuning Bakery because I bought the land where it's been located since 1939, and I just decided to resuscitate or revive this old business.
Q2: You mentioned starting out with no capital, how did you go into the real estate business?
A: Although I'm from a family with a long tradition of entrepreneurship in the lumber and sawmill industry since the Spanish colonial era, my father died when I was seven years old and my younger sister was only six years old. Dad was a widower and had another first family when he later remarried our mother, then he passed away. Our side of the family didn't inherit our late dad's business or assets, but I've always been inspired by this tradition of entrepreneurship.
After our hardworking and prayerful teacher mother sustained us through school, she became critically ill for two and a half years and died. When she fell ill, my younger sister Marilou and I decided to use up her life savings (from tutoring rich kids after her classes) for her medical care, so we literally had to start from scratch.
I started work in a real estate firm in the purchasing department. It has always been my dream and eventual goal to be an entrepreneur, inspired by stories of our late dad and his forebears.
In the realty firm, I noticed that the biggest earners were not the top corporate executives and not even the COOs or children of the owners, but the best sales people, so I went to boss and asked to be transferred. The boss was surprised and told me that the sales brokers had no employee benefits, they had no regular monthly salaries, but only given a small monthly allowance on condition that they maintained minimum number of sales.
Despite all these disadvantages and the seeming lack of certainty, I went into realty sales because it was like doing business but without need for capital. I also knew that in sales, the sky's the limit in income potential as long as I persevere and sell well. True enough, I was able to sell a lot, then investing in various real estate on the side either for resale or for rentals.
Q3: How did you get into the real estate deal involving Kamuning Bakery?
A: I've always wanted to go into several business lines, coincidentally one of them was the bakery business because I love to eat cakes and breads very much! In the course of my realty sales in the past, I had once met a top bakery equipment supplier and he remembered distinctly that I had years ago told him that someday I shall open a bakery.
While I was still starting to do well in realty sales, I had invited my younger sister Marilou for us to open a bakery. In fact, I already had a business name called "Magic Cakes", but she got married and had to eventually take care of her new family, so this was shelved.
In September 2013, I was invited by Ateneo MBA professor Eric Soriano to deliver a speech in a family business conference at the Asian Institute of Management (AIM) in Makati City where he was the main speaker. Part of the introduction about my credentials mentioned that I'm a real estate broker.
After my talk, many people from the audience liked my speech and approached me, asking me to help them sell different kinds of properties from houses, condominium units to lands. One of them was a guy in his 70s, Ted Javier, who asked me to help sell their family's old property somewhere in Quezon City. When I heard the address, I asked if it was near the Kamuning Bakery? He said that property was where bakery is located, that their mother the founder Atty. Leticia "Letty" Bonifacio Javier had died two decades before, and nobody in the family wanted to run the old-fashioned bakery. Various members of their second and third generations tried to run the bakery but gave up. He added that he had a special request for whomever shall buy the property, that the buyer shouldn't close down their late mom's bakery.
Q4: Artisinal and pugon-style bakery business is not easy to run, why did you want to revive it?
A: Apart from my great love of foods and pastries (I can eat 10 times a day, serious!), I have a passion for history and culture too. I am also an incorrigible optimist who loves challenges.
It was years ago when I was an Ateneo college student, when I first read about this Kamuning Bakery from the newspaper columns and books of the late top food critic Dr. Doreen G. Fernandez who was also moderator of our "Guidon" college newspaper where I was managing editor and columnist. I recall she even wrote about the late President Cory C. Aquino as one of the regular customers. I had looked for this bakery to buy its good traditional breads.
After being approached to sell this property, I went back to study what had happened to Kamuning Bakery years after the death of its founder. I realized that it had become a smaller operation, with its spaces leased out to a printing press and to a dental clinic, while the back areas became boarding houses for some families and laborers. The bedrooms on the second floor where also leased out to boarders.
I discovered that the bakery was so old-fashioned, its two "pugon" or wood-fired brick ovens were so antiquated in baking processes, the founder's kids and grandkids thought that business was no longer commercially viable and competitive.
The bakery was losing money, had very miniscule daily sales, and it only barely earned money due to the various spaces rented out to others. Only one pugon oven was in use and there were only two bakers left. I was also shocked to see a mountain of unsold breads on top of the two pugon ovens.
In December 2013, I made an offer to buy Kamuning Bakery as a real estate deal, telling the seller that not only will I not close the old bakery, but I plan to revive it. The seller didn't tell me that he was surprised and so happy to hear what I said, he went to his mom's tomb at Manila Memorial Park to tell her this news.
Later on, the seller's eldest sister also visited me and inquired why I was planning to revive such a difficult business. I explained to her what I told his younger brother: First, I love foods, especially the traditional way of producing foods such as "pugon" or wood-fired brick oven baking. Second, I love history with a passion, and I believe that this first bakery in Quezon City is worth saving, that societies do not only remember history through history books and museums, but by the way we prepare and eat our foods too.
Q5: Kamuning Bakery has been in Quezon City for a long time. Can you share what it is known for?
A: Kamuning Bakery started in late 1939, the same year as the creation of Quezon City. It is not only known for its rich history and tradition of excellent baking, it uses two "pugon" ovens to bake old-fashioned, artisinal and no-preservatives bread, cakes and biscuits.
Among the bestsellers include the "Pan de Suelo" bread which is so unique I had it immediately registered with the Intellectual Property Office (IPO). It has many delightful traditional Filipino pastries, some no longer seen in other bakeries.
This bakery is also known for its numerous interesting clientele from all walks of life, from presidents of the republic; intellectuals and activists like the late Dean Armando Malay and the late publisher Chino Roces; many showbiz celebrities of different generations; literary legends like national artists for literature Nick Joaquin and Virgilio Almario, multi-awarded novelist Prof. Butch Dalisay and poet Pete Lacaba; musicians from national artist for music Levi Celerio to rock icons like Pepe Smith and Mike Hanopol; artists like painter Danny Dalena to sculptor Jerry Araos; etc.
The first "suki" or loyal customer of Kamuning Bakery was the pre-war newspaper tycoon and President Manuel Quezon's ally Don Alejandro Roces, it was he who invited the founders of Kamuning Bakery to establish this business in the new Quezon City, and he helped arranged for the sale of government land at 15 centavos per square meter with long deferred payment terms.