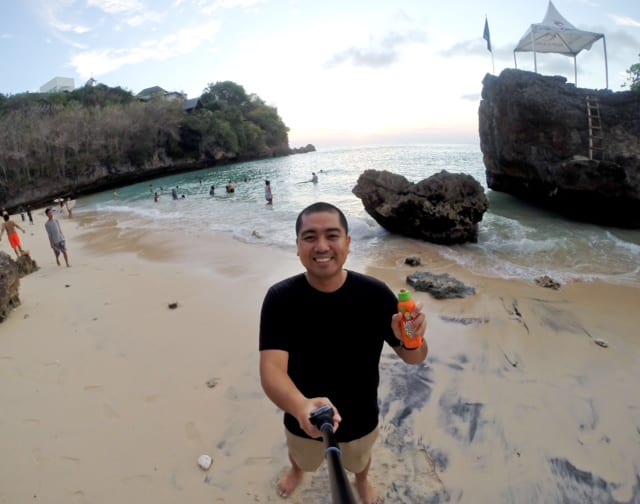 Q1: Why do you use Chief Evangelizing Officer as  your position title in your company? What is your "evangelizing" mission?
Your goal is not simply to make a sale today, you want to invite your customers to join you in your cause… your mission. In our case, more fun in the beach with Beach Hut Sunblock or making sure your babies are not poisoned with cleaning chemicals and their bottles clean with Cradle Baby Bottle Cleanser.
Q2: Your family was in contract manufacturing (Lloyd Laboratories) and now you are taking the business forward in the value chain by launching consumer brands and expanding internationally.  What is your vision and what was your turning point for this major change in direction?
My parents have always instilled an entrepreneurial mindset to us their children. Back in 2006, I felt that the world of International Business was changing and it was the next logical step in expansion. It was at that time that everyone was on email (no more expensive overseas fax messages), Skype was catching on and people were like "Whoa! You can now call for free with no long distance charges!"
Now, video conferencing over the internet is ubiquitous. You can do it over your mobile. Remember, this was not the case 8 years back. It was also at that time that LCC (low cost carrier) airlines were gaining popularity. This means cheaper fares all year round.
I find it too limiting if you look at the Philippine market as the only market available for you. We have to dream bigger. The world awaits. The tools are now available. This gave rise to micro-global companies – you don't have to be a billion-peso corporation to do international business.
Q3: What are some of your best selling products?
Beach Hut Sunblock, Cycles Baby Detergent, Cradle Baby Bottle & Nipple Cleanser among others.
Q4: Of the branches you have outside of the Philippines, which came first? Which countries are you doing well and why? Which are not doing well and why not? Would you have done the same sequence of expanding in each country?
We started with Indonesia and Thailand at the same time. My team and I are very proud of what we've build there. We are opening a new office in Bali this July 2014, our second in Indonesia. Beach Hut Sunblock is available in the beach cities of Phuket, Thailand and Bali, Indonesia. Our baby brands are available in Jakarta for the Indonesian moms.
We previously opened Vietnam and China markets but we put a pause in our expansion there. We find that we were too spread out, too unfocused. Our focus is in growing our current markets in Thailand and Indonesia.
If you look at the world map, you'd see that our country is blessed to be where it is. A lot of countries with tremendous business potential is within three to four hours flight. We have invitations to market in America and in Europe but I think it's better to start in countries which you can regularly visit due to its proximity.
Q5: Can you share some differences or challenges in doing business internationally?  What was the worst experience you had in each country?
Oh there are a lot of things to learn… I think the cuts and bruises are normal as long as it's not too big that it kills your company. And just like in the song… What doesn't kill you makes you stronger.
When we were starting in Thailand, we got a huge order from one the major retail chains in Bangkok. We were all celebrating in the office until we realized that we made a mistake in estimating the release of our registration papers in their local FDA. Papers will be delayed. This means we cannot ship on time for their order. Non-delivery would mean penalties and possibly the door closed permanently for this major retailer. We solved it by hand-carrying it in flights to Bangkok through volunteers in the office. This move made the team closer. We were able to serve around half of the orders until the FDA papers were released.
Shipping to Indonesia can be quite challenging. We once put motorized toy cars as promo materials together with our products in our container bound for Jakarta. The shipping manifesto listed motorized cars and this made us look like we're smuggling cars! We explained that these are toy cars you can carry with one hand, but to no avail. We ended up paying a huge penalty for our shipment to be released. Never again did we ship with multiple items in a container. We try to keep it simple now to avoid unnecessary delays.
Q6: At hindsight, what might have you done differently when you started your consumer business?
I would have focused more.
I guess I was young and restless back then. I now see the penetrating power of Focus. This concept is not a secret, so we may not have learned it well if we haven't gone through a more chaotic, unfocused past.
Being focused means going narrow and deep as opposed to being wide and shallow.
Q7: Can you share some words of wisdom about dealing with various countries for the benefit of our readers?
We now live in a different world. The tools and resources available online to entrepreneurs in the US, Germany and other countries are the same tools and resources available to you. We need to think bigger.
Imagine that our country is connected by land to Hong Kong, Singapore, Indonesia, Thailand and China. That you can drive your car to these countries. Will you think differently of expanding abroad?
Part of the reason why it seems too huge an effort to expand internationally is that the body of ocean surrounding our country scares us. What most don't know is that it is sometimes more expensive to ship products domestically than to ship to another country.