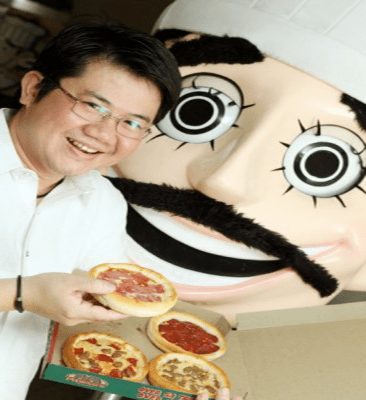 Q1. You have different pizza brands – Jimini Whole Pizza for kids, Pizza Pedricos for sharing with barkada or family, and Santino's Supreme Slice, a grab & go slice pizza brand for the budget-conscious & time-starved individuals. What were the opportunities you saw or the insights you uncovered that led to the development of each of these brands?
We started with the Jimini Whole Pizza brand initially wanting to offer the market with a whole new pizza experience coming from their old and familiar pizza brands.  As we developed the brand further we discovered that the brand have a special affinity with kids from the AB Upper C classes perhaps due to the initial locations we operated, which were in the top grade schools and high schools. The Jimini brand experience enabled these kids to have a pizza brand of their own. Through the years, Jimini Whole Pizza became the brand that kids can identify with as being fun and adventurous not like the pizza brands their parents buy at home.
Pizza Pedricos was born when we saw that most families or barkadas buy the family size pizza for sharing or take home. Buying a family sized pizza however, limits the family to only one flavor which is usually the favorite flavor of the person who buys. Thus, Pizza Pedricos started offering 4 Whole Pizzas in a family-sized box where everyone in the family or barkada can enjoy their paborito flavor while sharing special moments together and it became an instant hit.
As we gain more experience with the category, we started looking at other unserved segments in the market where we can creatively compete in and when we discovered that there was a grab and go segment that wanted a good filling meal without having to wait for the usual pizza to bake, we launched Santinos Supreme Slice, now this segment can just point to their flavor of choice, grab and enjoy!.
Each of our brands cater to segments of the market whom we think will be delighted with a whole new way of enjoying a quality pizza experience not being offered by the usual mainstream brands.
Q2. How did you get the idea for the branding of Jimini Whole Pizza, Pizza Pedricos and Santino's? Who or what does each represent?
We take a lot of time brainstorming on the brands we want to introduce to the market until such time we are fully convinced in our gut that the brands will represent the ideals our target customers want or can relate with….and eventually be loyal to. Jimini Whole Pizza represents fun, adventure and a whole new way of looking at things. Pizza Pedricos is all about celebrating friendship and family time together with their pizza paborito. While Santinos Supreme Slice is about enjoying life in a supreme way that's simply grab and go….who says supreme can't be affordable and luxurious at the same time?
Q3. Why should kids buy Jimini Whole Pizza instead of Shakey's or Yellow Cab? What about Pizza Pedricos vs. say, Greenwich? What about Santino's vs. other grab and go substitutes?
Jimini Whole Pizza represents the kids' every ideal. Its about them enjoying being kids. I guess its all about them having fun with a pizza brand of their own and not of their parents'. It gives them a feeling of empowerment…of being and feeling special.
Pizza Pedricos is every pinoy family's or barkada's everyday pizza paborito. Now they can enjoy our 4 pizza in a box concept with great company everyday and not only during celebrations and special days. Everyday becomes a special day for friends and family!  We were actually the first to introduce this Variety concept which some of our bigger competitors now copy.
Santinos Supreme Slice can now offer our target consumers a better, bigger, delicious, filling and complete grab and go meal alternative to the usual snacks or food items they use to buy because there were just simply very limited options for them before.
Q4. Your company is distribution-driven, banking on your product while major competitors are advertising-driven. Where is the focus of distribution for each brand?
Can you tell us why you chose to be distribution-driven? Will this change soon?
Both the Pizza Pedricos and Santinos Supreme Slice brands are now available for enjoyment across the Philippines making us the first and only pizza cart brands to be made available to our markets across the country.
Jimini Whole Pizza is still predominantly in Metro Manila Supermarkets and high-end stores.  We are distribution-driven because of our Vision of offering a whole new pizza experience for every consumer, everytime in every corner of the world.  To borrow what Mr. Samie Lim, the Father of Franchising, said in one of the articles I read on expanding beyond our borders, he said before we think about being regional or global we should first be strong nationally.  This  I agree with completely. Thus we continue to make our brands available for enjoyment in more corners of the Philippines first and hopefully, God-willing, across ASEAN then the world someday before 2020.
Will this change soon? Perhaps it will evolve as we are now still counting on the world-of-mouth momentum for our brands by our loyal consumers, i think more and more we need to also spread the word through advertising to encourage more of our targets to try us and hopefully, like our current brand loyalists, love us.
Q5. You have been expanding despite not much advertising and promotions –  what do you think are you doing right?
That is a very interesting question but I have to be very honest. We started expanding well when we dedicated the business to God and committed to trust him and his leading in 2009 (we were established in 1999).  After this, the right things start to fall into place.  Secondly, we continue to be fully committed to delighting our consumers.
Before doing the things we do, we always ask ourselves if this will add to delighting our consumers more.  If the answer is NO, its just going to be a waste of time and we don't do it. Thirdly, the team is committed to delivering only excellence.  We are one of the few cart-based companies that guarantees 100% satisfaction or your money back for our products.  Lastly, we continue to be on the look out for creative ways to serve untapped segments of the pizza market with innovative products that will continue to delight our would be consumers with a whole new pizza experience.
Q6. What have been some hard-to-forget mistakes that you made while learning about the pizza retail business?
Do not over expand and over extend yourself beyond your resources or capacity. Always leave room for uncertainties. The Ondoy and Habagat floods virtually wiped us out. Usually, the lure of being in cart-based businesses or any retail business for that matter is the temptation of scale.  I guess there needs to be a healthy balance of growing fast, being profitable and having the right infrastructure and talents to manage and handle such expansion.
Q7. You mentioned to me your company is chaired by the Lord. How does that work in terms of decision making and execution?
We don't make any decisions without praying for the Lord's leading and clearance.  This of course does not mean that you just pray and do nothing. We still go through the discipline of studying and crunching the numbers for the things we want to do and the process is not any different from presenting to the Chairman and CEO of a Multinational company. The difference however lies in trusting God with his wisdom as we go about preparing the things we need and waiting for his final GO signal when all is done and ready.
Its like when we are faced with problems what do we usually do? Do we solve it immediately by ourselves? or do we first ask the Lord for his wisdom then we solve the problem? Its all a matter of perspective and mindset.
Q8. Your company generously agreed to grant Invest To Donate Foundation (ITDF), a group of some 60+ successful businessmen and professionals with a "social enterprise model' , the right to operate some pizza stores without franchise fees and equipment on loan to support calamity victims. What do you see as other possibilities in this direction?  What inspired you to be part of this foundation?
Community responsibility has always been a part of our mission as a company. We believe that businesses are created by the Lord for the purpose of serving and satisfying the needs of the consumers first and as we grow bigger, we should be more purposeful in making a positive impact to more and more people in our communities and the Society at large.  Programs like the ones of ITDF gives us an opportunity to LIVE out this mission with our small contribution and this we will continue to do with you as we see more avenues open up.  Hopefully having this to start with will give other entrepreneurs who want to join in this noble cause an idea or a chance to participate not only with their donations but with their businesses and connections as well.