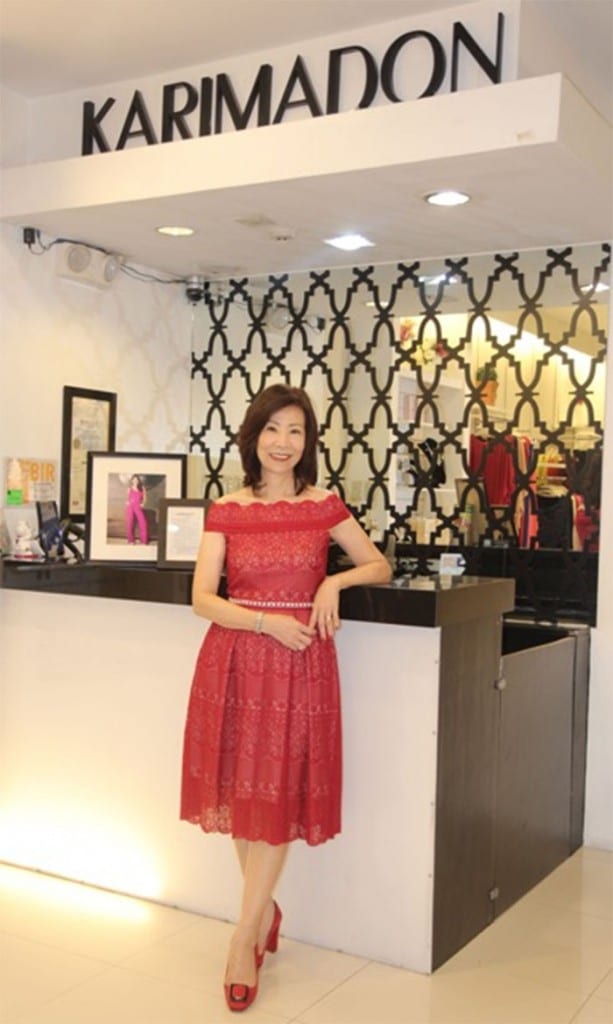 Q1: What was the inspiration behind the Karimadon clothing business? How has the business and the brand transformed through the years?
A: Karimadon started in 1980 as a small store selling PX goods in Virra Mall. Soon, however, people began asking where I got the clothes I was wearing. At that time, most of my clothes were of my own design and I just had the local seamstress make it for me. There wasn't really a huge selection of stores to buy clothes from like there is today, so I thought of starting to manufacture a few of my own designs and got a good feedback on people, and that is how Karimadon began. I started off just doing casual wear and office wear, all locally manufactured in the Philippines. As the business grew, the company transformed with the times. I started to offer a wider selection of items. As technology progressed, it have expanded on social media, online store and even having stores internationally. I am proud to say that our customers have remained loyal to us so in return we provide them with best prices, quality pieces and the customer experience that we are known for. I plan to consistently keep our customers' needs first and I hope we all grow together as we head into the future.
Q2: Karimadon has different lines, including gowns. Which line is giving you the most volume?
A: Currently, most people know Karimadon for our gowns/formal wear. Whenever there is a special occasion, be it a prom, a wedding, or a cocktail party, people usually think of Karimadon as the place to go to for glamorous outfits that fit well and don't break the bank. It actually comes as a surprise to some people that we also carry more casual outfits, and this is something we want more people to be aware of.
Q3: If Karimadon is a best friend, can you describe the Karimadon brand as a person?
A: Karimadon is your oldest friend since childhood. She's been with you through all the important moments of your life and you know you can always depend on her. She's your friend who has perfect taste so you always go to her for advice on what to wear and what to do. She's sophisticated without being intimidating and always has your back.
Q4: Can you describe a typical Karimadon buyer? Is she a yuppie, younger or older woman? What is her personality like?
A: It sounds very trite, but there truly is no typical Karimadon buyer. The Karimadon buyer is not identified by age, but by her love of all things fashionable. She's aware of what's current, but dresses to suit her body type and personal style. She's confident and doesn't follow trends. She dresses for herself and is always classy, not trendy. She looks for quality and value in her life, not just her clothes.
Q5: There are many clothing brands, including international brands, in the market. What is the competitive advantage of Karimadon?
A: Our competitive advantage is our knowledge of the market and our customers' trust in us. Karimadon has been in business for 35 years now and we know what our market prefers. Also, since we manufacture a lot of our own clothes, we have the ability to quickly react to market demands. Our buyers know they can depend on us to have what they want when they want it.
Q6: Karimadon is now available outside the Philippines. Can you share how this opportunity came about? What is your go-to-market strategy for the international market?
A: We were happy to be invited by DTI-CITEM to join the Franchise Expo in Jakarta last year. Through that avenue, we are now in SEIBU at Grand Indonesia Mall and various locations of METRO Dept. Store in Jakarta. In September, we will be in SOGO Jakarta, Surabaya, and Medan. Fortunately, the response to Karimadon has been very positive. Our clothes are selling really well, with several styles selling out immediately. Our marketing strategy has always been to rely on word-of-mouth as we believe there's no better advertisement than a satisfied customer.