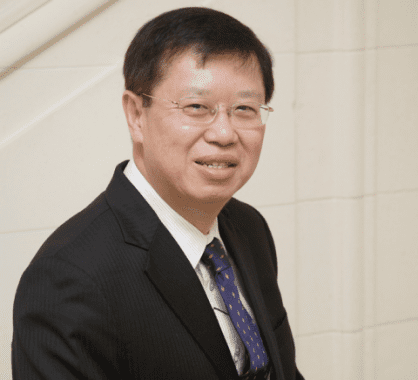 Q1: Congratulations on winning Ernst & Young Entrepreneur of the Year in 2012. Previously, the import duty of chicken products was 30% and it went down even further to only 5% in 2007. This was a major concern of your industry since Thailand has relative cost advantage Tell us about how you arrived at the Chooks-to-Go retail store decision? What other options did you consider?
Why Chooks-to-Go?
First, when competition disturbs our company's direction, it challenges us to search for other opportunities to strengthen our position in the industry. The imminent challenge of cheaper chicken supply from competing imports with the implementation of the ASEAN Free Trade Area (AFTA) Agreement gave birth to Chooks-to-Go.
Second, Bounty Fresh is a broiler integrator; Chooks-to-Go completed the entire integration cycle of our poultry operations – from the farm-to-plate concept. (or from farm-to-the-dinner table concept).
Q2: I understand San Miguel tried opening some two hundred chicken kiosks before you but they did not succeed, and now they are making a comeback as Hungry Juan, what made Chooks-to-Go succeed when a bigger competitor failed?
I'd rather consider sharing what made Chooks-to-Go a success in the roasted chicken industry as a whole; not just comparing it with another player.
The company has a very clear direction from the very start we decided to go into oven-roasted chicken; a well-defined goal of expansion in terms of number of stores and of delivering our promised product quality to the consumers.
Another success factor was product differentiation. Chooks-to-Go is oven-roasted, not charcoal-roasted. The cooking process is cleaner, easy to operate and easy to maintain. Bounty Fresh is the very first and only chicken kiosk to introduce "Masarap kahit walang sauce" roasted-chicken. We know very well that Filipinos love sauce, basta chicken, dapat may sauce. Bounty Fresh succeeded in educating the Filipinos to eat roasted chicken without the messy sauce – which is more convenient to eat – that led to an overwhelming product acceptance from the consumers.
We have our basic principle when creating new products. "We will do it better" – better than what the market or even our company is offering. As they say, if we want a different outcome or a better outcome, we must change either the process or the product or both. For Chooks-to-Go, we changed both: the cooking process, from the traditional charcoal-roasted to oven-roasted; and the product, tastier roasted chicken without sauce.
Q3: The original name of your chicken kiosk was 'My Manok' (manok means chicken in the Tagalog dialect) in its early days. Can you tell us why you felt there was a need to change the name to not just an English name but an Australian slang for chicken? What was the process for shortlisting the brandname?
When we started our roasted chicken in 2007 we used the "My Manok" brand in introducing our roasted chicken. That time we were doing the fine-tuning of the product and processes that took two years of experimentation to come up with the roasted chicken without sauce.
Once we were assured of consistency in product quality, safety and taste, the company re-launched its roasted chicken in 2009 with a new, more relevant brand name with international connotation: Chooks-To-Go, combining the Australian word "chooks" for chicken with "to go" meaning take-out only. The reason for such a name was to create a playful and catchy yet clear word image for our take-out roasted chicken. And since then, the company has been successful in making Chooks-to-Go a household name for roasted chicken.
Q4: I admire your guts to introduce Chooks-to-Go with no sauce when Filipinos like to eat chicken with sauce. What gave you the confidence it will work? Were you banking on lower prices?
Remember our basic principle when creating new products? We will do it better; better than what the market is offering. There are many chicken kiosks offering roasted chicken with sauce. We want to offer a better, improved roasted chicken; thus the concept of roasted chicken without sauce came to be. When we introduced roasted chicken without sauce in different flavors (sweet roast, pepper roast, fried chooks), we were banking on the product itself, having confidence of its taste even without sauce.
Q5: I understand you test marketed the retail concept in Visayas. How did you feel when it initially flopped in eight out of ten sites? Most marketers and businessmen would not have push through with 80% failure rate during test market, but you persisted with Ormoc and Tacloban as the only successful pilot stores. Can you share with us that phase of your history?
In our initial roll out of the product, we identified ten sites in the Visayas for our experimentation stage. The store managers' main job was to identify the taste profile of their customers in their area and if necessary adjust the profile of the marinade to suit customers' preference. It's true there was a phenomenal success in the two areas – Ormoc and Tacloban. Customers were queuing; and they were even willing to pay one day ahead just to make sure they get to buy Chooks-to-Go. We had to go through the process that took two years to perfect the taste profile of Chooks-to-Go and it was not easy. The long wait is worth it! When we launched Chooks-to-Go in 2009, we were ready. We were done with the trials and pilot tests. That is why we were aggressive in setting up one store a day.
Q6: You have innovated with a new business model, expanding from a mere manufacturer and distribution of chicken products to include operating your own retail stores. This came with a risk as it could have antagonized your fast food, supermarket and other chicken kiosk customers, so tell us how were you able to avoid a confrontation with them?
We entered the market niche no one has ever attempted to take the risk – oven-roasted chicken without sauce. We did not touch the turf of existing roasted chicken kiosks because we perceived – and we were right – the market could still absorb a new player offering differential advantages. All the players' cooking technique is charcoal-based; ours is oven-roasted. Theirs have sauce; ours is tastier even without sauce.
Even with the roasted chicken business, we still maintain the consistent supply of chicken to our other customers. Furthermore, we make sure that Chooks-to-Go kiosks are not put up near other roasted chicken stores.
Q7: Many expanded fast via the franchising route, you did not and insisted in owning all your stores, why is this so?
To finance the setting up of kiosks and its expansion do not require big capitalization compared to the developmental cost in setting up fast food chains thus we found no reason to have Chooks-to-Go franchised.
Second, owning the kiosks gave us the freedom to enforce and implement strategies and controls.
Third, we have the organizational structure to manage the business. We are a poultry integrator and we operate more than 19 branches nationwide. That actually is an ideal set up to oversee the Chooks-to-Go outlets. We maximize the structure and harness the existing organizational make up of the company to manage the 1,000 stores.
Consider Bounty – a supply chain management organization – like a train. The railway is already in place, the 19 branches. Having Chooks-to-Go is like adding or attaching another car on the existing train.
Q8: Speed is sometimes more important than perfection, you were opening at least one store a day before, and I recall you were able to open some 1,500 stores in 3-4 years. Now you are going for efficiency and rationalizing some location, What was the thought process behind this move of expanding fast then correcting mistakes subsequently — what have you learned about location and product mix?
The concept of roasted chicken is not new in itself; there's no technology behind it. When we launched Chooks–to-Go, speed was very critical because the concept can be copied easily by the locals. Any integrator can do what we did. Market penetration and expansion were also important in the initial years. Once we were present in one locality, we made sure we expand. Expansion is possible and immediate because we have developed the formula in pricing strategy, supply strategy and operational structure.
We can now concentrate in improving our operation. Rationalizing the store location is critical. Since setting up a store is not that complex, the whole equipment can be easily pulled out and re-installed in a new location.
Product consistency is also important. We now focus on adjusting to market needs and customers' taste preference, thus new product mix may evolve. Managing any corrective measure is easy because our people are there in the area to address concerns.
Catch Tennyson Chen LIVE (rare appearance, rare insight sharing) at the 11th Mansmith Market Masters Conference, happening on March 18, 2020 at Resorts World Manila. Register early (pay in January 2020). Visit www.marketmastersconference.com.