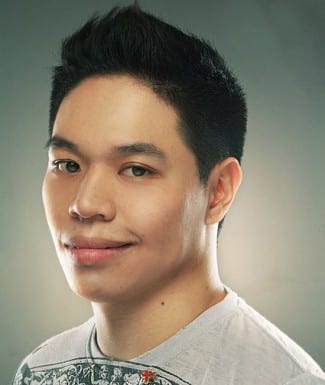 Q1: You spent a few years with the US Navy when you were in your early 20s. What made you enter the navy and what habits did you get there that you continue to practice today?
Pretty much, my life wasn't anything worth talking about after dropping out of high school. I really didn't value education yet back then so I guess I was really still searching for myself. My first ever job was at Burger King in Los Angeles, and I kept in touch with my friends from there. I was already working at the mall then, at Mervyn's, which is like a department store part of the mall, like SM or Robinson's department store. I was doing great and as one of the youngest ones there, at just 17, they already wanted to promote me to manager.
It was around that time when my friends from Burger King told me they decided to join the Navy and were asking me to come with. At first I cussed them out and told them they were going to die! Funny thing was after I got promoted to manager at the mall, I looked at my life and realized I did not want to be a manager at a mall!
So I went ahead with them to just talk to a Navy recruiter with no commitments. Thing is, those Navy recruiters know how to sell things to you! I was a 17 year old with no life experience who dropped out of high school and my recruiter was saying things like "Look at this laptop…. The Navy gave me this! Look at that car outside, it's because of the Navy that I have that! And everywhere we go, GIRLS GIRLS GIRLS! The ladies love sailors!"
I couldn't sign that contract fast enough. So that's how I got in. If I had to do it all over again, I'd definitely still choose the same path because I learned so much in the military. I really got a sense of myself and a better understanding of adulthood and responsibility. I'd like to think I really grew up and became a man while I was serving in the United States military.
​
Q2: You returned to the Philippines in 2010 after your navy stint. How was the adjustment like? What got you started in blogging and what made you decide to make this into a community of over 300 writers/bloggers?
Actually after four years in the military, I went back to college. That's when I went to San Diego State University and majored in Communication with emphasis in Advertising and a minor in Business. It was really after graduating and working a few cubicle jobs that I decided to travel the world again. I guess you can say I was having some sort of quarter life crisis. So I packed my bags and maxed out my credit cards. I traveled to Australia, Thailand, Hong Kong, and a bunch of other places. The Philippines was my last stop as I'm part Filipino and I have family here. I decided to stay here for six months just for fun.
For WhenInMannila.com, it really happened one small step at a time. It started with me wanting to share my stories, and share how cool Manila and the Philippines really is. Slowly, our readership and fan base grew. I still remember the first day I published a blog on the site and how happy I was to see that seven people read it! Today, we get over 2 million views per month on the site alone, not yet including our other outlets like social media. From there, people wanting to share their own stories and students looking to build their writing portfolio or resumes started contacting me to try and write for our site as well because they saw the benefits to it. Looking back though, I feel like I was just at the right place at the right time when I started the site.
Q3: What do you envision WhenInManila.com to be?
WhenInManila.com gets up to and over two million (2,000,000+) views per month, we also have a very active community of over 700,000+ fans on Facebook.com/WhenInManila (that reaches over 40 million people per week) and 100,000+ followers on Twitter.com/WhenInManila along with 30,000+ followers on Instagram.com/WhenInManila (as of July 2014) We were recently ranked within the 200 most viewed sites in the Philippines by Alexa as well as ranked among the top blogs in the "100 Pinoy Blogs that Matter" list. You can see a screenshot of our millions of unique views here.
WhenInManila.com was awarded as the #1 Emerging Influential Blog for 2010 and named one of the Rotary's 10 Tourism Awardees for 2012, an honor shared with the likes of Zobel Ayala, Andrew Tan (chairman of Mega World & owner of Resorts World), Miguel Belmote (CEO of the Philippine Star) and more, for the 2012 batch. Additionally, we were awarded the title of "Ultimate Food Blogger" by Unilever / Sooo Pinoy organization. Furthermore, we were just named the Best Photo Blog and Microblog in the Philippines at the Globe Tatt Awards.
I see it as being the go to website for anything and everything in Manila and the Philippines. A friend of mine once joked that: "if it's not on WhenInManila.com, it probably didn't happen!"
I'd love for us to grow big enough one day, to where anything of significance would be posted on our site and where people from all over the world can come check us out and see all the cool things happening in Manila and the Philippines. Perhaps we can be a hub to help grow our tourism.
Q4; You had a three year stint as radio DJ, how did it help you increase your blog followers?
I'm not really sure. It was such a fun job and I'd like to think it helped out as well. But unfortunately I don't really have the stats to show how much radio helped out.
On the flip side, that's why many advertisers are also going online, because you can track the ads and the ROI from online marketing as compared to traditional media. Our site really took off after I left radio and focused on it full time. It just seems that online media is really the growing medium. At any point I'm pretty sure that there are more people online than there are people listening to the radio.
Q5: Your blog now enjoy over 2 million hits monthly, please share with us what you had to go through to attain that level?
Lots of time and hard work. From learning how to write, to learning Search Engine Optimization (SEO), to finding great mentors, to finding awesome partners, to meeting the right people. It would really take me too much time to thank each and every person who helped me down this path. One thing though that I know helped a lot is having the right attitude and mindset. The saying I live by is "The man that says he can and the man that says he can't are both right. So which one are you?" I live everyday saying I can and I find ways to accomplish things other people can't or won't.
Q6: Your branding is about Manila, are there plans to extend this to When in Cebu, When in San Diego, etc? Can you share these plans?
We'd love to find ways to take WhenInManila.com internationally; perhaps different outlets or branches to the site that function internationally. Also, we're putting together a lot of events like Blogapalooza, which is the biggest "B2B" : Business to Blogger networking event in the country, where we expect over 500-1000 bloggers there to meet and mingle with 50-100 companies. It's happening at SM Aura on Sept 20. We're also putting together a series of talks for young entrepreneurs and online marketers called the "Digital Futures Academy." So just stay tuned for all that.
Q7: From blogging, you created the Blogapalooza annual event. Please tell us what made you launch that and how has the event evolve thru the years?
Blogapalooza (http://blogapalooza.wheninmanila.com) is the biggest B2B: Business to Blogger networking event where you can showcase your brand, products or services to online influencers, top bloggers, Facebook power users, Twitter superstars, Instagram icons as well as to our TV, radio, newspaper and magazines covering the event.
We saw the need in the marketplace for this kind of event as we literally got hundreds of queries and emails every month from businesses asking for help with online marketing. Businesses new and old, big and small, locally and internationally were asking for our help to reach out to other bloggers, to promote their brands online, to do social media management, to help with online marketing and more. From there, we came up with the idea of inviting our blogger friends and our friends from the corporate world to come mingle and meet each other at this one of a kind event.
Q8: How does Blogapalooza create value to the public, your sponsors, your blog community members and yourself? When is this held every year?
We usually hold Blogapalooza towards the later months of the year but it seems like there's a bigger need as we always run out of tickets and booth space. So we might hold it more often. It adds value to the businesses as they are able to learn more about online marketing and the digital market space.
Corporations are also able to meet lots of online influencers and bloggers who can definitely be online brand ambassadors for them to help them promote their services or products to the millions of people online. Blogapalooza also adds value to the bloggers as they are able to meet lots of professionals looking to meet with them and do business with them.
I'd really like to think that Blogapalooza helps the community of bloggers and businesses. It will be happening on Sept 20, 2014 at SM Aura. If you need more information, you can check out our site at http://Blogapalooza.WhenInManila.com or email me Vince@WhenInManila.com
People can also connect with me via Twitter and Instagram @VinceGolangco or @WhenInManila