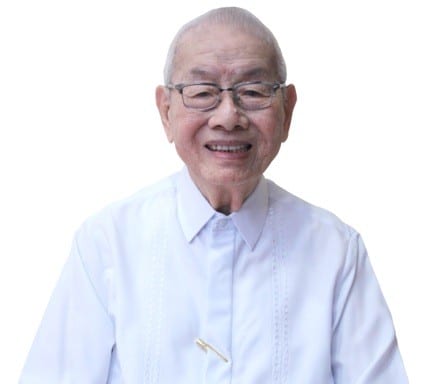 Q1: You introduced two new product categories in the Philippines, Green Cross Rubbing Alcohol in 1952 and Zonrox Bleach in 1954. They are popular products now. What made you think there would be a big market for those products in the 1950s?
Back the 1950s, I knew there would be a big market for alcohol because of my experience at Manila Commercial Company where I had begun working as a bodegero/kusinero and was promoted to salesman and then to treasurer.
As treasurer, I wanted to increase our profitability. I saw stocks of Gray Cross rubbing alcohol languishing in our warehouse on Jabonera Street because our salesmen didn't know how to market the product. I thought we could push it for everyday household use. So I personally introduced rubbing alcohol to retailers, boticas and vendors in Manila. Sales were so brisk that we ran out of stock of the alcohol that we had purchased from Rabin Company of New York. However, because of import controls imposed by the Central Bank, we could not bring in more. That did not deter us. We bought raw materials from La Tondeña and Manila Commercial Company began manufacturing rubbing alcohol. Despite the brisk sales of rubbing alcohol, Manila Commercial Company continued to fail. So that all my efforts in marketing rubbing alcohol would not go to waste, in 1952, I set up Gonzalo Laboratory, a sole proprietorship that I owned 100%. I manufactured and distributed Green Cross Rubbing Alcohol, my first and, at that time, only product. I even registered my trademark with the Bureau of Patents.
I knew my venture would be profitable because I was a very good salesman. I knew the pulse of the market and I dealt with my customers personally. I did not only manufacture and market the products; I delivered my products personally and got to know the major retailers. Largely because of this personal touch, sales of Green Cross Rubbing Alcohol took off and grew steadily. It became the No. 1 brand among locally produced alcohol products.
In two years' time, after expanding Gonzalo Laboratory, I was able to launch my second product. I knew the market could use a bleaching product, not just as a whitener for clothes and beddings but also as a disinfectant to kill infectious organisms in hospitals, dental clinics, commercial establishments, restaurants and home kitchens and bathrooms. The market was vast because the Philippine economy was growing and that was the time when entrepreneurs with good ideas were amply rewarded. So I produced a bleaching product, which I initially called Gonrox. Gon was the first syllable of my name Gonzalo and rox was from Chlorox, an imported product.
Q2: You changed the name Gonrox to Zonrox because a competitor complained that it sounded like his own brand. Why would you do such a thing and not defend your right to use the name Gonrox?
I changed Gonrox to Zonrox when an old Chinese merchant complained that Gonrox sounded like his own brand, Old Rox. I registered Zonrox as my trademark.
When the old merchant came to me, I agreed to change the name without any fuss. He was surprised that I didn't put up a fight. But that's my nature — I'm a peaceful man. I don't like quarreling with anybody. I still remember how the old merchant left my office in smiles. For me, it was no hardship to yield. In retrospect, the change of one letter in my product's name turned out to be providential. Zonrox became so popular that it was more profitable than rubbing alcohol for my company.
Q3: Today, many enterprises are tracing their history and recording them for posterity. How can a company's founder protect its history and legacy? Were you able to do this for your company? Why or why not?
Sadly, no. In fact, published reports have stated erroneously that I was not the founder of the company that I built from scratch.
Back in those days, when I was at the helm of Green Cross, I was concerned about running my company and becoming profitable because I had to support my own family and my father's family. My wife and I had eight children. My parents were ageing and my father was no longer earning as much. My siblings were 20 years younger than I was and still studying. I treated them like they were my own children. I put food on the table and sent them to good schools. Later, I took them into my company. I employed them and provided them with big salaries and generous benefits to give them a leg up in life. I shared my profits with them.
In hindsight, it was a major mistake on my part when I agreed to incorporate my company. In those days, a lot of homegrown enterprises were becoming corporations to avoid 100% liability to creditors in case of grave indebtedness or claims arising from a lawsuit. I let myself be persuaded that it was the right move to make, that it would protect my company from threats. I didn't see that biggest threat was not from outside but from within — from the very people who convinced me to incorporate.
Incorporation eroded my control of the company. I had to name my parents and siblings as incorporators because my own children were too young to be involved. On paper, I assigned shares to my siblings. I did this with implied trust that the shares continued to belong to me and were not actually theirs to own or to wield. Because I loved them and trusted them, I did not foresee a need for another paper that should have said they were assigning the shares back to me or that the shares truly belonged to me. That oversight proved to be a very costly mistake.
Another mistake was the absence of controls. Because I trusted them completely, I let them run the company office while I went out and sold our products. I was a very good salesman and I had rapport with my customers. I loved that part of the business and devoted myself to it. Before I knew it, I had lost control of my business. This happened before my children could join me in my company.
The major lesson here is to document everything. Even agreements of implied trust should be put in writing so the story will not and cannot change. In this digital age, document those agreements with videos, recordings and photographs, as well. Make sure also that you have original signed documents pertaining to incorporation, registration of trademarks and special agreements among parties involved. Have these done at the start when you're still in control and they're willing to go along with you. Any move that could erode your ownership or control should be backed by other documents giving ownership or control back to you.
Document your company's history. Preferably, if you're the founder, tell your story with photos and other evidences. If possible, do this while you're still at the helm. If you intend your children to inherit the company, bring them in early and let them learn the ropes while you are still around and still in control. Protect what would be their inheritance.
It's not enough to be profitable. Whenever possible, your own personal values (for example, integrity, industry, loyalty, truthfulness, moral rectitude and faith in God) should become the corporate culture. But that cannot happen if you do not remain in control of the company. Titular designations should remain only that — titular. No real power should be given to you nominees if you intention is to remain in charge. If your intention is to spread the workload, then it has to be clear that they are working for you and that they are your employees. For your part, even if you trust them completely, look closely at documents that you are being asked to sign. Read the fine print. With diligence, perhaps you can avoid having to take legal action later on.
Q4: Trust is important in business and in relationships. How can you balance trust and the need for controls?
Indeed, trust is important in business and in relationships. But blind trust is not good, as I have learned. Trusting your relatives, colleagues and employees doesn't remove the need for controls. In fact, even with family members and in business relationships where trust operates, controls are still needed as guidelines for actions. The presence of controls does not indicate a lack of trust and should not be taken by relatives as a personal affront. To avoid potential misunderstandings, controls should be instituted at the start of the business relationship. When it is clear that trust has been eroded and the relationship has failed and lawsuits are impending, verbal agreements will no longer suffice — especially if arrived at through intermediaries. Everything should be documented.
This was a painful lesson for me. Through an intermediary, I was asked to drop my case so that my claim for my company and my trademarks could proceed. I did — for the sake of an amicable settlement and amity. But my claim was not processed and I was even asked why I dropped my case. As if they hadn't suggested it in the first place.
Q5: Can there be a win-win solution to this Green Cross controversy that you are embroiled in? If you could write a happy ending to it, what would that be?
That is what I pray for — a happy ending. For me, that would include the history of Green Cross recounted as it really happened, the return of my company and my two trademarks so that my children can have their rightful legacy, and the restoration of a harmonious relationship with my siblings. At 94, I am praying that a win-win resolution will happen in my lifetime. If it does not, then I will importune God for a favorable answer to my other prayer — that we may all be reunited in heaven.