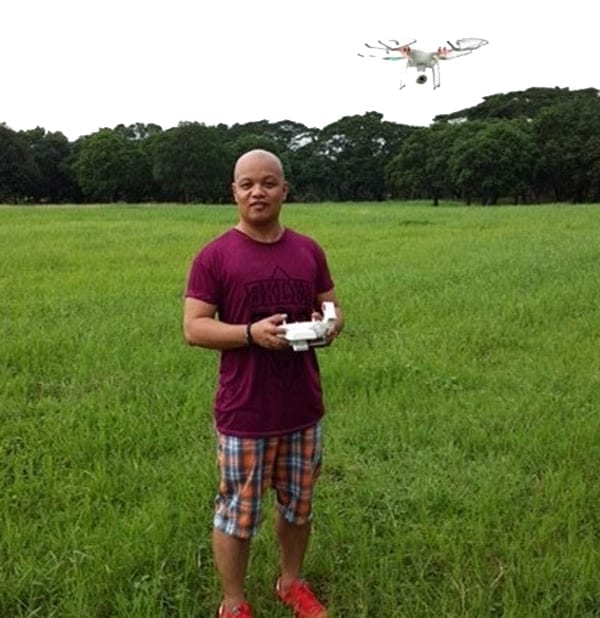 Q1: You have come a long way from being a kid from Guimaras Island who was granted scholarship by the Ateneo de Manila University. Tell us how that changed things in your favor?
A: I have always have big dreams when I was a kid so every chance I get, I try to grab it. Had a scholarship in high school and was lucky enough to also get a full scholarship in AdMU where I got my degree in Chemistry and Computer Engineering. My interest in the internet grew as I was introduced to it while in college. Getting thru college was hard and while I had help from relatives, I also had to do some extracurricular work like doing tutorials, some clerical work, selling MP3 CDs to classmates and doing some other projects like computer assembly/repair, video editing and website design. I was also very active with a lot of school organizations and headed several committees and special projects.
This is where I grew my entrepreneurial spirit which was something I kept looking for even after college and working for startup companies.
In hindsight, I think my years in AdMU exposed me to a lot of opportunities and experiences especially working with like minded people.
Q2: You are one of the pioneers in blogging. Was there anyone who inspired you and helped you become successful in your early years as a blogger? How exactly did they help you?
A: Blogging was something I didn't imagine I would be doing. At earlier years of my career, I was more focused on technical stuff like web programming and web design. My exposure to blogging was due to web projects I created like a lyrics search engine, a commenting system for BlogSpot, a CMS for blogging and a portal.
There were two people who inspired me along the way. First was Anand of AnandTech and the second was Darren Rose of ProBlogger.net. Anand was my inspiration for my passion in tech and Darren guided me with his articles about professional blogging. These are two sites I would follow and read almost every day.
Q3: Your technology review blog Yugatech.com is one of the top 100 sites in the Philippines. Yet you once said you were only a so-so writer when you first started. What traits dominated your ability to launch and succeed as a blogger? Would you say these traits are still valid for new entrants? Or are the odds already against them?
A: People are always amazed when I tell them I wasn't good in writing when I started. I actually barely passed grammar in high school and also flunked the English exam of ACET which required me to take remedial classes in English before proceeding to the regular units.
After college I had this inferiority complex with writing and public speaking so it became some sort of challenge to learn some more. I would read up a lot and learn new words that I can use in my online journal. I would also make sure that I would write even a line or two in my journal each and every day. I think between 2002 and 2010, I could only count with the fingers of one hand the days I missed a blog entry. Those days were either due to a huge typhoon that resulted to citywide blackout or a day were I was totally sick I couldn't get out of bed.
Sipag at tiyaga. Those were the words popularized by former Sen. Manny Villar. Sounds like a cliche but those were the same principles and helped me get to where I am today. I say turn your weakness into a strength. It holds true with whatever field you are into.
These days, it's much easier for new bloggers to succeed. They have technology and access on their side. In my early years I only had one hour of dial up access every day since it was very expensive.
Today, fast internet, mobile access and a wide variety of tools can make blogging so much easier. The vast popularity of social networks like Facebook also enables those who are passionate and talented to gain more followers and readers very quickly. Back then, it will take between 3 to 5 years in order for you to be recognized as a great blogger. Today, you can be successful in less than a year. All you need is passion and determination.
Q4: What was the turning point when your blog followers suddenly spiked up?
A: There wasn't a specific or single turning point but a series of small successes or spikes. I had to earn my visitors one reader at a time. Perhaps the most significant milestone that I can remember was when I wrote the story on "The car that blogging bought" in 2006. This story was one of the most commented back then and it even started a meme where other bloggers also posted about stuff they bought because of blogging. That blog entry also got me a TV feature in Mel and Joey. The story vindicated the idea that blogging can be a serious channel to make a living.
Q5: You now have your column in one of the leading dailies. So are you now a "blogger first and journalist second", or a "journalist first and blogger second"? Were there any changes that you had to do with your blog's advertising policy with your additional role as a journalist?
A: I have always aligned my blogging ethos with journalism since I started. Perhaps the discipline has rubbed into me since I was helping other journalists maintain their blogs back then. The likes of Manuel Quezon III, Ellen Tordesillas and the members of PCIJ as well as the team from Newsbreak, JV Rufino and Malou Mangahas. These were the people I looked up to which is why I always think of myself as a citizen journalist that uses a blog as a platform. Some of my stories were also syndicated by other sites like GMA News and Interaksyon so I had to continue to pursue that direction that aligns with them.
This is the reason why my editorial policy did not really change since I have always been aligned with them from the very start. In our VMO, the very first line of statement is "Our readers are our conscience" so I always tell my team to consider "Readers first, advertisers second." I am glad that our advertisers respect this blogging code.
Q6: How successful is your brand extension to Yugadeals? Tell us a bit about it.
A: YugaDeals was some sort of experiment with ecommerce. I have always been wondering how much brand equity YugaTech has and how much influence we drive to our readers buying decision. We have a huge spike of success and our partner dealers and distributors can attest to this but ultimately, it became very hard to balance between serving the interest of your readers and the interest of the business. I learned a lot about the ecommerce industry and it gave me a better insight that I could share with my readers. It was a great experience that is akin to taking a masteral course or an MBA.
Q7: What is your vision and future plans for Yugatech.com?
A: The plan used to be really simple — do what you love doing, share the passion and make a good living out of it. Now our vision is to make the brand a household name and touch the lives of as many people as we can. The plan to expand to other verticals and go regional has been in the drawing board for some time and we're slowly working towards that goal.