Martha Sazon is the President and CEO of GCash, the leading finance app in the Philippines with over 60 million registered users nationwide todate and still growing. Under her leadership, the number of GCash users tripled in two years, cementing it as the leading online wallet of Filipinos nationwide.
Martha Sazon is the recipient of the 2nd Mansmith Innovation Awards. In this interview, she shares what innovation means inside GCash.
Q1: What is the innovation philosophy of GCash?
A1: At GCash, our purpose is Making Filipinos' Everyday Lives Better. Everything we do is powered by that purpose – including our innovation philosophy.
Innovation for GCash is rooted in innovation for good.
The most effective innovation is innovation that addresses a real need, something that offers a solution to an existing problem.
The innovation process should not start just because "everyone else is doing it", or because you think you're expected to do something.
It should always begin with your customers in mind. Let your customers' needs and your purpose guide you.
That's the kind of innovation we commit to at GCash. Innovation not just for innovation's sake, but Innovation for Good.
Q2: GCash has already profiled 44 different distinct customer segments. How are you doing your multi-segments marketing strategy?
A2: We built a rich CRM that uses captured data to map out our users' customer profiles. Through profiling, we know which products and promos would benefit them the most and which advertising they should see.
Some of the customer profiles we have identified are:
Online Shoppers: who use GCash to shop (from Shopee, and Lazada)
Foodies: who transact and top-up with food delivery apps.
and even KFans: who use GCash for k-exchange
Our goal is to communicate the right messages in the right manner and language, through the right channels.
Q3: Beyond basic money transfer to the bottom of the pyramid, GCash has attracted traditional banking users as well. The E-wallet platform has since been transformed into a personal finance and lifestyle super-app selling various financial products like insurance, investment, and savings, among others. How is the acceptance of these new services?
A3: By creating products that revolve around solving customer pain points, we've made a lot of progress in demystifying financial services for the Filipino public. Our goal is to let people know that these services are not just for the privileged, but for everyone:
1. GSave
With GSave, we encourage Filipinos, especially the unbanked, to open a digital savings account. GSave now has around 20% Penetration in the number of Banked Adults in the country as we provide them with one of the best savings interest rates in the country.
2. GInvest
Our Investment Marketplace, GInvest, has democratized investment for our users to help them grow their wealth by providing easy access to famous local and global funds for as little as 1 USD or 20 USD, respectively. We now have around 77% market share of the total UITF accounts in the country.
3. GInsure
Lastly, our GInsure Marketplace helps protect Filipinos and their families from breaking the bank in times of emergency. Now, around one-third of new Life and non-VUL insurance policies in the country are conducted through our platform.
And the same goes for the Lending space — our priority segment for the year ahead. Powered by our in-house trust platform, GScore, we are able to create 3 relevant products that give Filipinos the opportunity to have money whenever they need it — especially during emergencies.
4. GCredit is our first foray into digital lending, GCredit has already provided 29B worth of credit line to qualified users since its launch in 2018.
5. Next, we have GLoan, our quick cash loans offering with affordable & fair rates.
6. Our most recent launch is GGives, our Buy Now, Pay Later proposition with accessible installment options.
Q4: To what success factors do you account for the continuous innovation of GCash?
A4: Key Success Factor #1 User Base: Even with our growing user base (60M Filipinos as of Q1 2022, the fact remains that there are still a lot of unbanked and underserved Filipinos who we are eager to serve and empower.
Key Success Factor #2 Engagement: Beyond user growth, we need to ensure that we have an
engaging platform with products and services that are relevant and useful to our target audience. And this seems to be the case for GCash right now, as our use case diversity is more than 2.5 use cases.
At GCash, we believe that as long as there's friction, there's always an opportunity for us to do more for our customers. We spend a lot of time looking at our customers' drivers. We always ask ourselves "Why" — Why is this their behavior or why is this the trend? From there, we can already see the frictions experienced by our customers which influence and guide us in innovating on our products.
We measure our customer obsession & engagement through NPS (Net Promoter Score). GCash's world class NPS, a standard that is used globally to measure customer loyalty, is at 79.9%. This puts us in the same range as major trailblazers such as Starbucks and Costco.
Q5: What is GCash's future going to be like under Martha Sazon? What innovation should be expected?
A5: We will continue to innovate for good – in order to answer the real needs of more Filipinos.
This year, we are doubling down on lending and wealth management. We aim to provide fair access and widest reach of affordable loans, to give customers a better alternative to loan sharks. Through our wealth management portfolio (Investments, Insurance, and Savings) we
allow Filipinos to grow their wealth at the pace they want.
Just as we were there for the Filipinos when the economy closed down, we are also there for them as it opens up again. We have more innovations lined up in travel , online-offline space, and even market expansion to capture new segments.
*****
Josiah Go is chair and chief innovation strategist of Mansmith and Fielders Inc.
–
Come and join us at the 3rd Mansmith Innovation Awards happening on November 17, 2023, at The Podium Hall, 1:00 PM-6:00 PM. For more information, please visit www.mansmithinnovation.com.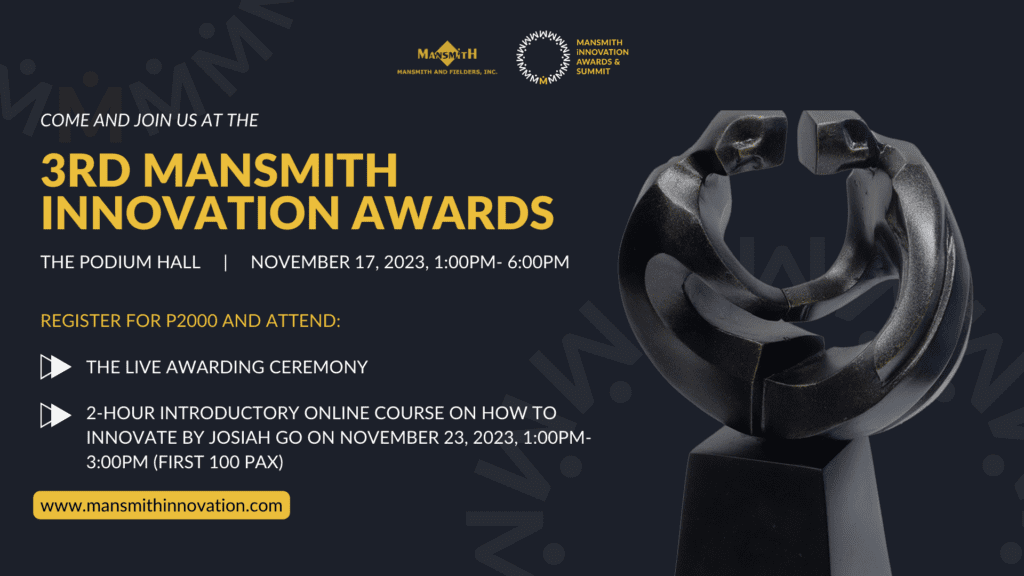 *****
See more articles on Innovation.