On Dec 1, 2020, at 10:08am, I will finally be launching my 55-video Business Model Course, the first in the Philippines, and the first in Asia. All of it will be in 4K Netflix-level video quality. I would like to extend to you this Zoom invite in case you want to witness this milestone, and get a chance to preview one of the 55 videos during the launch.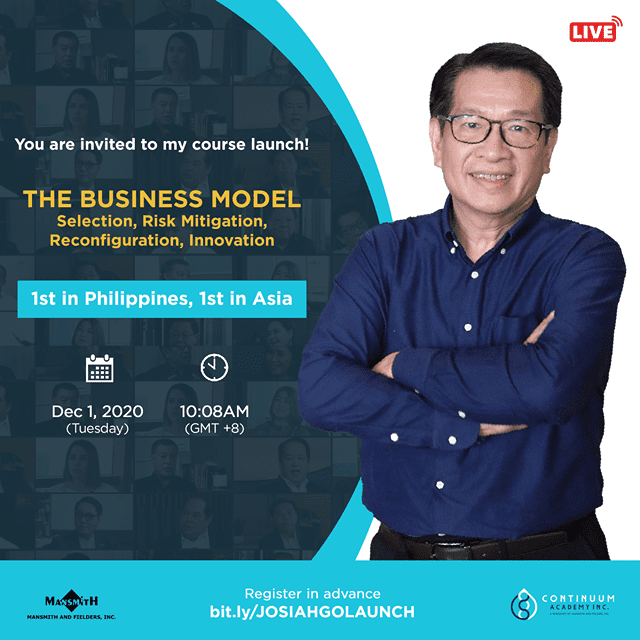 During the early part of our country's Enhanced Community Quarantine, I studied 45 companies from 17 different countries, with many of these companies being categorized as providing non-essential products and services. I discovered that it was the business model they pivoted which restored their balance and retained or re-employed their people. They served as inspirations to me.
Union Bank President and CEO Edwin Bautista said it best at the recently-concluded Mansmith Marketing Masters Conference: "Marketing can no longer be divorced from the business model. Disruption can hit you anytime," reinforcing my belief that marketing, operations, or finance can no longer be analyzed and separated from the business model. Instead they all need to be aligned in a unified business model.
I first launched my Business Model Innovation course in June of 2010, as a spin off of my Market-Driving Strategy Course (launched in 2009). It was so well-received, I had to change the venue to a bigger hotel ballroom. With the video version, I am able to reach a greater market 24 x 7, thanks to the generous support given by 10 major companies who saw the wisdom of sharing their own business model, as well as going in-depth into them in a separate interview. I am grateful to these companies who made me wiser with what they shared.
Acrotrans (computerized trucking)
Bayad Center (payment platform)
BPI-Philam Life (bancassurance)
Chooks to Go (chicken)
Cignal TV (pay TV service)
Concepcion Industrial (appliances, building solutions, technology solutions)
Converge ICT (fiber)
Fila iSport (shoes, retail)
Mega Global (sardines, and other canned products)
Union Bank (banking)
As to what the differentiations of my Business Model Course are?
There are 11 building blocks, not 9, compared to a popular business model framework. The two extra building blocks are the value chain, popularized by Harvard Professor Michael Porter, and reconfiguration for innovation, inspired from the Blue Ocean Strategy of Kim Chan and Renee Mauborgne. Together, they strengthen a business model.
Deep dives into each of the 11 building blocks (Offering model – target market, value proposition, channel, customer bonding strategy. Operating model – value chain, key processes, key resources, complementors, reconfiguration. Financial model – revenue model and cost)
Each building block discussion has the recommended selection criteria, risks to be mitigated and a key guide question to answer.
A major section on how to do business model innovation in 4 steps.
Except for one video that I have added to reflect the situation of the COVID-19 pandemic, all videos feature Philippine companies.
The option to choose between either access to all videos or a full seminar, including live sessions with me.
Each video was professionally produced and in 4K (Netflix quality).
The intent is to introduce this to the Philippine business community before launching it internationally.
I dream that instead of preferring foreign materials, the Philippines will be able to adopt the business model map as a common language.
I dream that instead of being a recipient of foreign materials, the Philippines will be able to contribute to international literature as well.
Come dream with me on my launch. Here is the Zoom link. I shall also be raffling off access to the full Business Model Course to some lucky winners during the event.