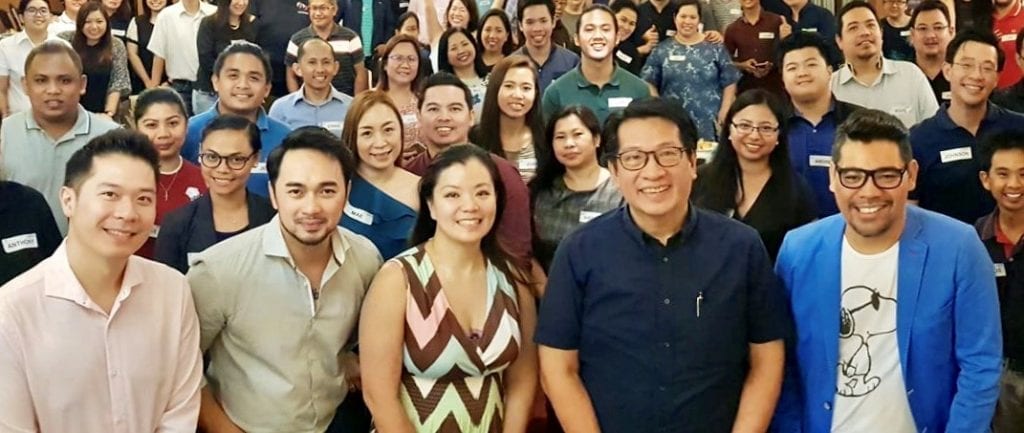 I have always believed in the potentials of Filipino entrepreneurs in achieving greater things. Going back in 2010, I co-founded the social enterprise Day 8 Business Academy, with the purpose of helping Small and Medium Enterprises by providing them training and guidance as they build and grow their businesses. Last October 2018, Day 8 held an Entrepreneurship Conference with four award-winning entrepreneurs as speakers. I served as the conference moderator. I am sharing to you the lessons from four entrepreneurs who have successfully established their names in their respective industries.
Euclid Cezar is a first-generation entrepreneur who founded the Famous Belgian Waffles. Today, Famous Belgian Waffles is one of the fastest growing food-cart franchise in the Philippines, with more than 500 outlets here and abroad in 6 years. It was awarded as Outstanding Food Franchise by DTI and Philippine Franchise Association in 2017. These are the key points I have noted from his talk:
Be Market-driving – Find an unserved or underserved market instead of competing head-on with market leaders. Never outshine the master (the market leader).
Determine the Job-to-be-Done (JTBD) – Consumers have specific needs. They "hire" a company to satisfy these needs. In the case of famous Belgian Waffle, there were not much new categories for grab-and-go snacks ("pantawid-gutom"), so Euclid provided something new and unique. He understands that his customers are those who are in a rush between meals, so he made sandwich-type waffles which they can eat even while walking.
Compelling value proposition, compelling marketing – A well-designed product needs to be matched with a well-thought-out pricing to create a compelling value proposition — a pre-requisite to achieving targeted cost that customers consider "sulit". But entrepreneurs and marketers must not stop with a good product, they need to convert their product advantage into a market advantage.
Know the size of the prize – There is low customer loyalty in the food business. Each person consumes 90 to 150 meals a month from different suppliers, so location becomes important to determine the capture rate of customers based on his target customer profile.
Vision – Activities will vary depending on the company's vision. Famous Belgian Waffles made use of franchising as a quick expansion program to be one of the biggest in the food industry.
Darlyn Sandra Ty is one of the youngest Agora Awardees for Entrepreneurship in the Small Scale category in 2012, and also the Mansmith Young Market Masters Awardee for Entrepreneurship in 2010. She launched her planner business from her personal frustration of not finding the planner she wanted. The Belle de Jour brand started with only a 4,000-peso capital, with the mission of helping people figure out their dreams. Her immediate goal was to have at least 1,000 loyal fans among all her customers. This is how she built a powerful brand:
Build a team – Don't be a superman or a superwoman, but build a super team! Each member has unique strengths to contribute to the team.
Build value – From planners, Belle De Jour takes it to online and even on-ground experiences to be relevant and desirable. Ensure that your customers will be willing to pay for what you are offering them.
Build a community – Belle de Jour has over 90,000 members in their community called "Bellas". These Bellas, who are 27 years old in average, are kept involved with regular activities. They are getting not just the functional benefits of a planner, but the emotional benefit of support and network.
Build experiments – There will always be better ways. Test to validate effectiveness. Learn fast.
Build connections – Be bold. Be brave. Do not be afraid to connect.
Alvin Kingson Tan was one of Go Negosyo's 10 Most Inspiring Young Entrepreneurs in 2009. He transformed Chinoy TV from a niche player into a multi-platform business—from digital to print and events. Having multiple income streams at the moment, TV is now only 20% of his business. These are what I learned from his talk:
Do not focus on beating the competition – He realized that prioritizing to be better than their competitors was a mistake during their early years of operation. First things first, you should be relevant to your target customers.
Stop being scared – Dream big and act big! See the bigger picture — the customers' needs aligned with the owners' vision.
Turn fixed mindset to learning mindset – Investigate various needs of customers. In the case of Chinoy TV, they expanded to production, learning events, workshop for confidence-building, and beauty pageants.
There is always a way, even if you lack resources – Investing in a good network or having good connections matters when you don't need them yet. When Chinoy TV was ready to expand, they were able to tap into the network they have built for support.
Serious people work with serious people – Create high standards and better branding. Chinoy TV transferred to a bigger network even if it costs 2-3 times higher than their previous network. They hired celebrity hosts like Chris Tiu, Janeena Chan, and Gretchen Ho. They have now attracted big advertisers offering a value proposition, instead of asking advertising favors.
Paolo Tibig is the President of VCargo Worlwide, one of the fastest growing express and logistics players in the Philippines. Among his awards are being one of the Top Ten Entrepreneurs of Entrepreneur Magazine in 2005, and the AGORA Awards in 2014. Here are the lessons he shared:
Spot window of opportunities – Convert crisis to cash. Spot pain points of customers and find solutions that customers would be willing to pay for.
Differentiate – With hundreds of players in the logistics service industry, VCargo's uniqueness is the fusion of logistics and marketing services, like audit, trade marketing, distribution and even disposal of products. Their business is to be a total solution-provider for their clients.
Process-orientation – Document processes in order to keep improving on execution.
Culture – Develop the company's blueprint. Integrity, customer service and continuous improvement are necessary to define the DNA of a company.
Exit strategy – A growth plan is not enough. Also consider how you can exit your company as your legitimate entrepreneurial goal.
I closed the conference with my own presentation on Business Model Innovation. I shared the Business Model Map to show the areas where businesses can improve. Keep in mind that value creation is a continuous process. Think beyond product change and stay updated with trends. To innovate, you need to identify what you need to stop doing and what you need to start doing.
Day 8 Business Academy for SMEs offer free seminars to entrepreneurs who have been operating unprofitably. It is also an angel investors to growth companies who are interested to have minority and mentoring partners. Visit www.day8.org for more information about the programs.