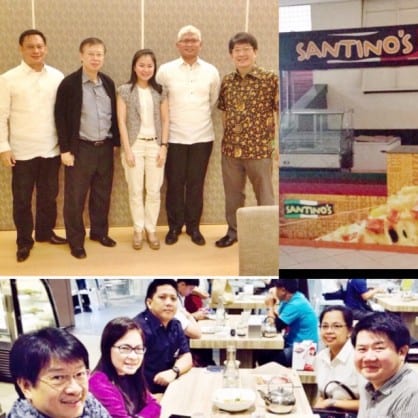 At the height of typhoon Yolanda a year ago (2013), I was sick and immobilized at home but I felt I had to do something to help those affected by the storm. Having initiated fund raising campaigns in the past for Zamboanga Fund for Little Kids (original name was Yellow Boat of Hope Foundation) and the Godparents Program of Markprof Marketing Leadership Bootcamp via Facebook, I started a one-week Facebook campaign for donation from my sick bed, reinforced with some text messages to those without Facebook (or not regularly visiting Facebook). Some P3.6 million was raised from some 68 business leaders and professionals with afew pending receivables.
I wondered aloud if people would be willing to invest in a social enterprise where 100% of the profit will go to future disaster victims and asked if my friends were willing to donate at least P50,000 each (then about US$1,200) without expecting any return of capital and dividend. The first two who committed totally surprised me – Darlyn Ty, founder of Belle de Jour Planner, graduated from college less than a decade ago, and who just got a loan for her business expansion, and Atty. Fred Mison, the Commissioner of Immigration, living with the meager salary of a public servant. I knew then that there was something special that was going to happen.  I had not expected young people in their 20's and early 30's to be so generous — people like Lester Estrada of P&G Japan, Atty. Gillaine Sytingco-Lorenzo of E&Y Australia, Gladys Co-Chan of TV5, Nikko Lim from Mariposa Rice Mills Tarlac, teacher Audrey Lim Tan who rallied the school staff to donate their entire Christmas gift and party budget, as well as style/travel blogger Tricia Gosingtian, where the latter two donated another P100,000.00 each on top of their P50,000.
The board of Invest To Donate Foundation (ITDF) is composed of six volunteers with me as Chairman. Multi-awarded franchise expert Jose Magsaysay Jr. of Potato Corner is the Managing Director of ITDF. He was largely responsible for conceptualizing how ITDF can make money for the benefit of the victims with small or even no cash out. He also pinpointed schools as the entry point.
Board Adviser and Director Commissioner Fred Mison turned out to be the former legal counsel of the University of the East and got not just space but a lot of rent discount for ITDF. Adviser and Director Tennyson Chen, CEO of Bounty Fresh Group and an Ernst & Young Entrepreneur of the Year awardee gave indispensable insight about the ins and outs of the retail kiosk business since his Chooks-To-Go business has over a thousand stores nationwide.
I met Kerwin Tansekiao about a decade ago when he attended my marketing seminar. Little did I realize that he is a devout Christian with a big heart because he kept saying YES to all my requests –imagine giving a yes when requested to waive franchise fee for his Santino's Pizza, giving a yes when requested to provide equipment on loan, giving a yes to run and manage the business, giving a yes to allow ITDF credit line and giving a big yes when requested to allow ITDF to keep more than a majority of the profit. God bless people like Kerwin a thousandfold.
While Kerwin makes the money, socio-civic leader Sharon Tan as Treasurer was tasked to "spend" the money via setting up the criteria and beneficiaries to recommend to the board. Criteria that has been adopted are trust, experience, ability to execute,and wide network. The first two beneficiaries were the Philippine Red Cross and the Department of Social Welfare and Development (DSWD) for victims of typhoon Ruby.
The ITDF Board approved proven franchise concept for Phase 1 of its operation. Soonest profits are raised and more funds come in, Phase 2 will involve a more inspiring original concept. A list of donors is indicated below: 50 men and 18 women so far. How many do you know? You can still join us. Email me at josiah@mansmith.net.
(Thanks to BusinessWorld for featuring this article)
Exhibit 1: ITDF Donors
1. Josiah Go (Chairman of Waters Philippines)
2. Darlyn Ty (President of Viviamo Inc)
3. Fred Mison (Commissioner of Immigration)
4. Daniel Lim (Architect of Far East Associates Davao)
5. Johnny Sy (President of DLSU Alumni Assn)
6. Lester Estrada (Country Marketing Manager of P&G Japan)
7. Manuel Wong (General Manager of Acer)
8. Gillaine Sytingco (Lawyer of E&Y Australia)
9. Roy Chua (President of Daily Supermarket)
10. Chiqui Escareal-Go (CEO of Mansmith and Fielders Inc)
11. George Siy (President of Marie France / Facial Care Center)
12. Reginald Yu (President of Times Paint)
13. Richard Yang (President of Catalyxt Inc)
14. Robert So (President of Ecosystem)
15. Dicky Puyod (Vice President of Philfresh Davao)
16. Marie Young (General Manager of RFM)
17. Mariano Ang (President of Microdata)
18. Josie Go (President of Karimadon)
19. Edwin To (Chairman of Budgetwise Zamboanga)
20. Gladys Co-Chan (EA to the CEO of TV5)
21. Wilson Lee-Flores (Owner of Red Apple Properties & award-winning business columnist of Philippine Star)
22. Howell Cu (President of Centerpoint)
23. Bernard Go (President of Brady Pharma)
24. Raymund Magdaluyo (President of Red Crab Group)
25. Reynaldo Go (President of Columbia Candy)
26. Joey Concepcion (Founder of Go Negosyo)
27. Ramon Lopez (Exec Director of Go Negosyo)
28. Fem Paguio (President of Guaranteed Marketing Services)
29. Florante Co (President of Wellington Group)
30. Ray Canilao (President of Global Executive)
31. Melvin Lim (Partner of Gamot Publikoi)
32. Kerwin Tansekiao (Managing Director of Pizza Pedrico)
33. Peter Mangasing (President of Unicon)
34. Jose Magsaysay Jr (President of Potato Corner)
35. Charlie Fernando (President of ClixLogic)
36. Rufino Tiam-Lee (Regional VP of Monde Nissin)
37. Johnson Tiu (General Manager of Casco Auto)
38. Rosanna Llenado (Founder of Ahead Tutorials)
39. Dulce Punzalan (President of Crea8)
40. Joel Santos (Director of Entrepreneur School of Asia)
41. Irving Sy (President of Gilbert Emerson)
42. Stefan Tong (President of Keppel Group)
43. Jerome Ong (President of CDO)
44. Dr. Anton Lim (Coordinator of Tzu Chi)
45. Jeffrey Ng (President of Cathay Metals / Astoria Hotel Chain)
46. Sharon Tan
47. Tennyson Chen (CEO of Bounty Fresh)
48. Jojo Montinola (Chairman of Fiesta One Inc)
49. Glenn Yu (President of Seaoil)
50. Winnie Salumbides (Principal of ABS Law)
51. Sam Liuson (President of Concept One Wheels)
52. Mary Uy (President of Marketreach)
53. Jane Basas (SVP of TV5)
54. Audrey Lim Tan (Partner of Staplers / Kumon Tarlac)
55. Agnes Fidelino (Manager of Meralco)
56. Nikko Lim (Partner of Mariposa Ricemill Tarlac)
57. Carson Tan (President of Aquabest)
58. RJ David (Founder of Sulit.com, now OLX)
59. Calvin Tan (President of IX-XI Hardware Tarlac)
60. Oliver Ong (Owner of Petron Zamboanga)
61. Pinky Yee (New Business Director of Goldilocks)
62. Jojo Maloles (President of OneAccessBillion)
63. Betty Aw (President of BIG)
64. Mars Aaron (President of Villa Socorro Agri-Eco Village)
65. Yvette Pardo-Orbeta (Chairman of Philippine Franchise Association)
66. Tricia Gosingtian (Style author & founder of blog.triciagosingtian.com)
67. Hiren Mirchandani (Managing Director of Ramesh Trading)
68. Alexander Lee (President of Innovatrade Ingredients)