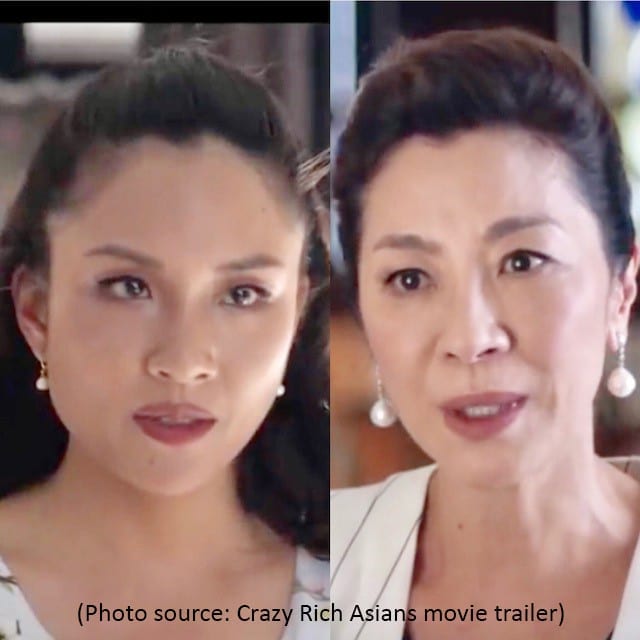 Spoiler Alert: Read only after watching the movie. Note that my ideas here are based on the movie and not the book, which I have not read.
Game Theory
Game theory is the science of logical decision-making with a payoff matrix used to understand or map out the situation. Three of the most popular games in game theory are
1. Battle of the sexes (what to do when a woman wants to watch a movie vs. when a man wants to watch basketball for a date; Note: Not intending to stereotype, it is possible that it is the other way around)
2. Prisoner's dilemma (both prisoners will win if they both don't confess vs. one will win while the other will lose if one of them will confess) and
3. Chicken game (to swerve or go head-on collision)
The chicken game was mentioned in the movie 'Crazy Rich Asians' where Eleonor Young was playing a psychological 'chicken game' with her son's girl friend, Rachel Chu. Eleanor was obsessed with the idea that her son Nick deserved an equal – from a rich, prestigious and traditional Chinese family, and definitely not a middle-class, American-born Chinese intellectual working as an economics and game theory professor at New York University. She had to do something to ensure that Nick will return home to fulfill his family duty and take over the business empire, and Rachel was definitely the antagonist in her mind that will prevent this from happening.
Chicken Game
The chicken game is a competitive game of conflict between two players in game theory. To win a race, one of the 'drivers' must swerve (a win-lose or lose-win outcome) to avoid a head-on collision, a lose-lose outcome. The driver who decides to swerve is known as the chicken (another name for coward), or the losing driver.
Payoff Matrix
In the movie 'Crazy Rich Asians', four potential outcomes were implied (exhibit 1)
1. Eleanor wins, Rachel loses – one-sided outcome favoring Eleanor
2. Eleanor loses, Rachel wins – one-sided outcome favoring Rachel
3. Eleanor and Rachel on a collision course, a lose – lose to both, the worst outcome
4. Eleanor swerves, Rachel swerves – a win – win favoring both, the best outcome
Exhibit 1
Payoff Matrix of Eleonor vs. Rachel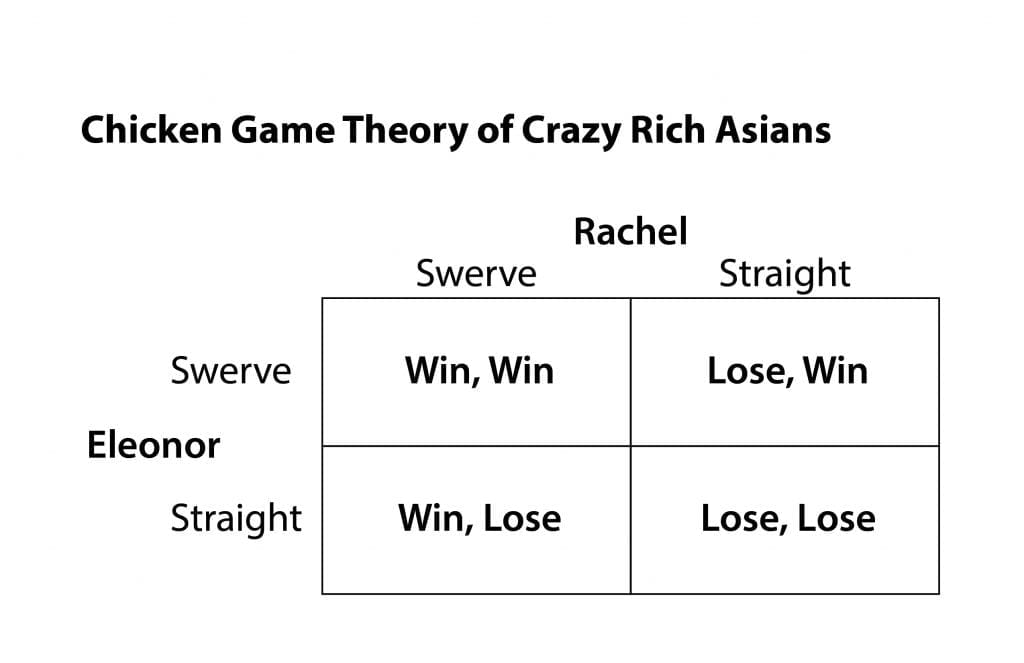 Eleanor 'removed the steering wheel':
Eleonor has made it known from the beginning and in many instances, that family duty is paramount, with happiness as just an illusion. For her, the more important outcome for a family is to build things that last, an Eastern perspective, no matter what the cost. She has in fact shown her own commitment to family duty by giving up her own education in Cambridge when she married her husband, Nick's dad, and expects her (future) daughter-in-law to do the same.
Furthermore, Eleonor has been respectful of her own mother-in-law and had to win her approval for many years, sometimes even doubting if she will ever win her favor at all. In the movie, viewers will notice a very Asian trait of not answering back to one's mother-in-law in at least three instances:
1. When Eleanor was publicly criticized for losing her touch in making good dumplings, a family tradition
2. When Nick did not return home the year before (implied), and
3. When Eleanor was immediately blamed (despite the fact that Nick was actually raised by his grandmother) when Nick decided to run after Rachel, after they showed evidence from a private investigator they hired, that Rachel's dad was not actually dead but is still alive.
Of the four 'game theory' options, the most likely scenario is that Eleonor would not swerve, so options 2 and 4 are out of the question. This leaves Rachel with only two options – – option 1 which is to allow Eleonor to win, or option 3 which is to go head-on collision with none of them winning.
The famous mahjong scene of the movie version revealed Rachel adopted option 1 but not without telling Eleonor she was no chicken as she allowed Eleonor to win in order for Nick to win. Rachel needed Eleanor to know that Nick proposed to her, promised to leave his family duty behind and start married life with Rachel in America (where Rachel has the distinction of being the youngest Economics professor in New York University). Rachel may have lost Nick but at least she gets to keep her integrity intact.
Having rejected Nick's proposal, might Rachel have known that option 3 (a head on collision or the worst outcome) can happen if despite her sacrifice, Nick decides to still abandon his family duty and leave Singapore, a scenario that can happen if Nick so resents Eleanor's insistence to win her son at all costs?
Win – Win:
In the Asian context, it is almost unthinkable to go against parents' wishes. I wonder how (or at what point) Eleonor was eventually accepted by her own mother-in-law, as she did admit to Rachel that she was neither the first nor the second choice as a daughter-in-law. The only thing we know is that Eleonor allowed Nick to be raised by his Amah, her way of gaining favor, sacrificing her own happiness to give Nick a chance to be his grandmother's favorite – her 'foot-at-the-door' game plan.
It is interesting to imagine that beyond emotions, might Rachel be like any other think-on-your-feet professors who are used to the case study method of analyzing situations from a third party perspective, that she may have her own foot-at-the-door game plan too? After all, she could have just flown back to New York without having one last conversation with Eleanor in Singapore.
Did Professor Rachel spend days healing a broken heart in the house of her Singaporean friend Peik Lin, or did she use some of those moments anticipating potential scenarios, including the possibility of bringing back a 'souvenir' (referring to an engagement ring) that her mother jokingly mentioned to her before visiting Singapore?
The Mahjong Meeting:
Eleonor must have been curious what the final move of Rachel was, accepting Rachel's invitation to meet in a mahjong house.
Was Eleonor anticipating the worst of Rachel, if only to confirm her bias against the American-born Chinese? Might she have been willing to grant any 'request' of Rachel who might be bargaining for something, after all, Rachel's friend Peik Lin did mention how the crazy rich would be willing to write a check as large as $10 million to let a major headache go away?
From how the mahjong movie scene was played out (it was not part of the book), Rachel must have considered another kind of winning – that of gaining the respect of Eleanor, hence, her starting conversation about 'negotiation, strategy and cooperation' that her mother taught her about mahjong. A closer analysis at Rachel's payoff strategy is that she may have adopted option 1 only as a 'decoy' in order to attain the real payoff she wanted- – option 4, her real preference, turning a temporary loss into a 'solid win'.
Reflections:
Three concepts of Chinese negotiations culture come to mind that could have potentially influenced Rachel's perspective to use a decoy strategy – – a mix of her mother's Chinese cultural influence, her game theory specialization, and her teaching conceptual – analytical competencies combined.
1. 'Wei Chi' or turning crisis into opportunity
2. One Step Ahead or anticipating scenarios then taking one step ahead versus all others.
3. One Step Backward – Two Steps Forward or allowing a temporary setback to happen but anticipating that the subsequent gain will be much more than the allowed setback.
Eleonor must have seen her younger self in Rachel immediately when Rachel revealed her mahjong tiles before she left, in fact, a smarter version of herself. That scene was important in triggering another side of her without looking contrived, just as an earlier scene of a bible study session with her relatives could support this turnaround or how she could have mellowed over time. Eleonor must have realized they actually have much more commonalities than differences.
Game Theory Prequel?
Perhaps a prequel book and movie can show the dynamics of Eleonor and her mom-in-law in their early days. What took Eleanor years to win her mom-in-law over, Rachel achieved only after a short mahjong game. In giving her own special engagement ring for Nick's second proposal, Eleanor gave Rachel her stamp of approval while maintaining her dignity, and definitely her son's love and respect.
It would be interesting to know how to win mothers- in-law over and how to screen daughter-in-law candidates all over again, this time, maybe using the battle of the sexes game theory, oh I mean 'Battle of the in-laws!'
(Read related article 'Gambits of Eleonor and Rachel)