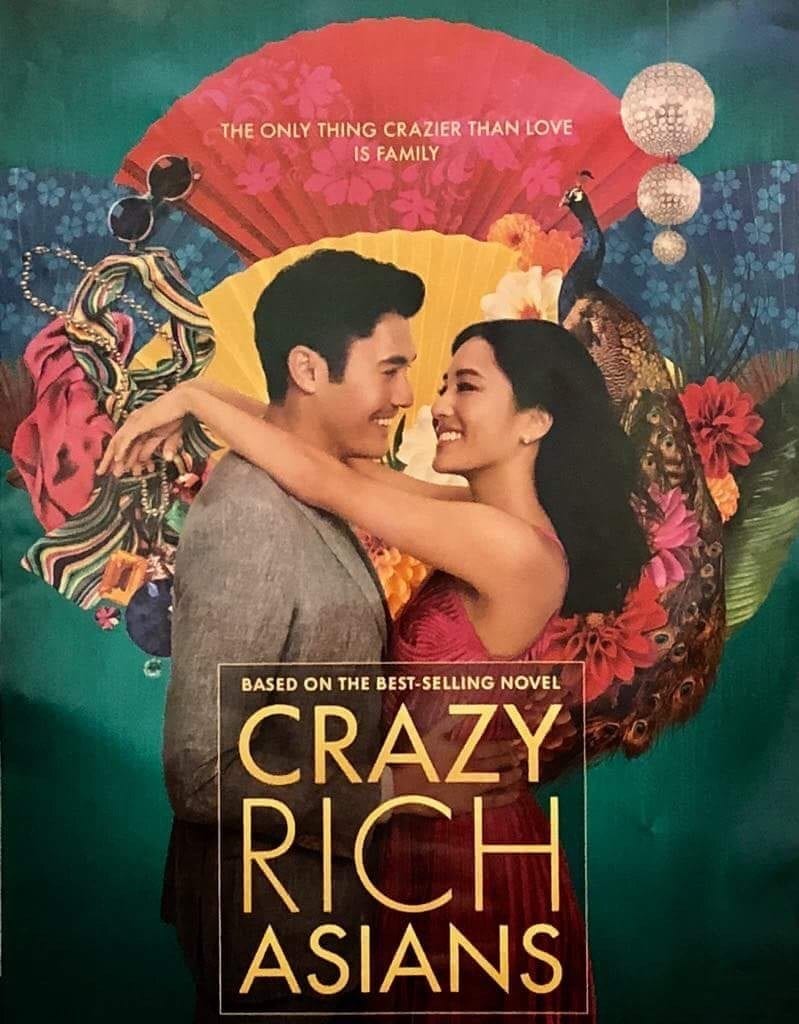 Spoiler Alert: Read only after watching the movie. Note that my ideas here are based on the movie and not the book, which I have not read.
'Kai Ki Lang'
I remember my conversation with my late father in 1983. Word finally reached him that I had a Filipina girlfriend and he wanted to talk to me about it. I was warned he may confront me why I did not pick 'Kai Ki Lang' (in Hookien, 'one of our our kind' as expressed by Eleanor Young, the character of Michelle Yeoh in 'Crazy Rich Asians'), but none of that happened. It was a pleasant conversation between father and son, where I felt his love, as he respected and trusted my decision, and already gave me his blessings in case I planned to get married in the near future. We did get married a year later, when Chiqui and I were just both 22 in 1984, and today we're happy to say the marriage is still thriving. Chiqui is the most understanding person I know, especially when it comes to how I spend my time away from work. You see, I spend a lot of time with my mother who lives with us – eat breakfast with her daily and bring her to mass (and then lunch) every Sunday. That means Chiqui and I have different schedules on those times as we try to integrate our personal and professional lives. I could not do many things without Chiqui's support.
The Plot:
Michelle Yeoh in her Eleanor Young character has a strong opinion of who her son Nicolas (Nick) should marry to carry their blood line. After all, Nick is not just Singapore's most sought after, eligible bachelor, he is also heir to their vast real estate empire. The Youngs are one of Singapore's old rich families with a house and garden as big as a subdivision, definitely worth a fortune in Singapore's limited real estate space.
Determined to discourage her son from pursuing his own plans, Eleanor decided to run a background check on Nick's girlfriend Rachel Chu, an American-born Chinese working as an economics professor in New York University, whom Nick brought home to Singapore to meet his family and to attend his best friend's wedding.
Perspective and Culture:
Perspective is important, and is culture based. Eastern and Western cultures are different, so perspective will naturally be different.
To Eleanor, her suspicions on Rachel may be deemed justified among crazy rich owners of Eastern family businesses, so as to ensure that what their family built will last, that Rachel will not interrupt the plan for Nick to take over the reins of the family business some day, that their family legacy will be preserved without controversy. After all, what if hypothetically, a son dies, the daughter-in-law takes over the business, then decides to remarry — what happens then to the business? What happens to the family fortune? What happens to the goodwill with banks and suppliers? In modern society, many family business experts suggest a pre-marital agreement to explicitly separate business assets owned by a future spouse as part of ensuring family business stability and continuity that can avoid unnecessary business crisis.
Eleanor's biases against Rachel may arise from stereotyping Rachel as being American-born – which means not Chinese enough for a traditional conservative Chinese family valuing family duty and loyalty over western's pursuit of passion and happiness over everything else.
To an elite family used to a lifestyle of luxury, Rachel may also be perceived as average, with a family background that is nothing worth mentioning so it was convenient to think she is a gold digger, undeserving to be part of the family, and was to be blamed to be the one barrier preventing Nick from returning to Singapore. This perspective was emphasized by Nick's cousin Eddie asking bluntly (about Rachel) 'What is she bringing to the table?'
The Important Role of the Mother:
Aside from succession planning, Eleonor may have her personal reasons as a mother. Her role as the traditional family gatekeeper will be passed on to Nick's wife in the future and at some point, she will have to share her family's role and power with Rachel, so better to choose someone she can get along with and maybe even, control (either by personal position or by cultural practices).
The Process of Pre-Screening:
As Rachel Chu struggled to be accepted, her confidence was constantly being tested from all sides by both envious high society wannabes and family members. Eleonor kept making her feel small and not measuring up enough, again Eleanor's way to ensure that if she were to lose her son to his wife, she better ensure the woman chosen is the right one – coming from a deep woundedness of previously having to give up her son to be raised by his grandmother to gain favor as a daughter-in-law. (Eleanor's mother in law did not also approve of Eleanor before – another cultural dimension on the powerful role of mother in laws.)
On the other hand, Rachel's mom is a working class, single mother while her dad was a factory worker before he passed away. Family background is important to the Chinese, as can be gleaned from Eleanor's telling Rachel her famous line "You will never be enough!", even if Rachel was already introduced as the youngest faculty member of NYU, in economics and game theory at that.
Cutting off Rachel from Nick became Eleanor's goal. This was more prudent than trying to convince Nick not to fly back to New York with Rachel, as perhaps Eleanor already knew of the kinds of decisions two young people in love make, more romanticized with this "you and me against the world" backdrop. After all, if a king gave up a crown to be with the woman he loved, how much easier should it be for Nick, a business royalty, to give up a business empire, totally disregarding risks to business, of potential divorce or damage to reputation, all important to the Chinese.
The result of the background check Eleanor gained from hired investigators gave her the ammunition to turn Nick against Rachel, or at least, to make Nick reconsider (to help save the family's face against a possible scandal). Even Ah-Ma, the family matriarch, and the grandmother of Nick who raised him, was so upset to learn that the father of Rachel was is in fact still alive, and that Rachel was a result of her mother's affair with another man – too scandalous for the Young family to manage.
Turning Point:
Eleanor agreed to meet Rachel one last time, in a mahjong house, very symbolic of the decision that must now be made in a big game called life. The economics professor in Rachel must have wanted to get some answers why Eleanor was biased against her from the start. Rachel was transparent – she didn't even know the real story about her father, and she just turned down a marriage proposal from Nick. She was willing to walk away of what could be hers if she was simply pursuing her personal happiness without considering the big picture – – she could accept the proposal and be happy with Nick, who will have to turn his back on his own family and his responsibilities to the family business – a win-lose proposition. On the other hand, rejecting the proposal meant Nick will lose Rachel, stay in Singapore and who knows the misery and resentment that can further strain Nick and Eleonor's relationship.
To save Nick from the painful decision and out of love, Rachel decided for him. It was not difficult for the economics professor to practice the game theory in a symbolic game of mahjong. Instead of winning by making others lose, Rachel's strategy was to make Eleonor win in order to make Nick win, a zero sum game that leaves herself empty handed, except for a psychological win, with her integrity and pride intact.
Eleanor recognized the important self-sacrificing trait she had been looking for in Rachel and realized she was wrong to assume about the traits of American-born Chinese. Eleanor also realized the wisdom of Rachel's high stake decision and saw the good relationship between Rachel and her mother ready to protect each other out of love, in contrast to her protecting Nick out of fear.
Rachel preserved her self-worth despite the intimidating presence of Eleonor. She earned the respect of Eleanor, just as Eleanor admitted she had to earn the respect of her own mother-in-law for years. Eleanor came to terms and told her son Nick what just happened . But will it be too late for Rachel to reconsider?
Unconventional:
I found the controlling role of Eleanor as a mother understandable. I can understand why she had to go through running a background check, and even emotionally bullying Rachel to drive her out of Nick's life, which inadvertently led her to discover the real Rachel in a moment of crisis. It may be that she did things out of fear of loss, rather than love. Her style is not without risk, as her American-educated son maybe more alienated to her. She played her part as any mother would with a risk of losing a son.
'Crazy Rich Asians' the movie can well be subtitled 'How to be a daughter-in-law' (or a son-in-law). Know that everything is like a rehearsal for the future and you are possibly just being tested.
This movie brought back memories and conversations with mom about my late father and his family, who had little credentials before he married my mother. My father's father (my ankong) was jailed for ten months during the Japanese occupation and became physically frail afterwards, making him unable to work to fend for his family. It was my father's mother (my ah-ma) who worked and sewed made-to-order Chinese cheongsams. My father was a sidewalk vendor at age 11 and an uncle was his financial backer. Despite the struggles, my father was a student leader and became an accomplished community leader later on.
Uncommon Sense:
I asked my mother why she picked a poor man when she belonged to a well-to-do family. I remember her story on how it was like staying in a hospital ward which was all they can afford at that time when she gave birth to her eldest child; choosing to hold her head high when her family visited, and honoring the little they had at that moment. She replied: 'Don't look at wealth that may not last tomorrow, look for traits like leadership, vision, integrity, and communication skills that will ensure the family's growth and progress for the future. Your father had all that, even if we didn't have the money when we started.'
My mother was proud when she said those words to me. My father passed the test. In the end, it is not all wealth that matters, people in love should be given a chance and will succeed because of that love, even if they are not "Kai Ki Lang".
Chiqui and I are blessed with a marriage that has lasted almost 35 years. Thanks to the courage and openness of mom and dad. Dad and Mom knew and showed how love makes things possible – despite the differences in race and social class.
(Read related article- The Chicken Game Theory of 'Crazy Rich Asians')