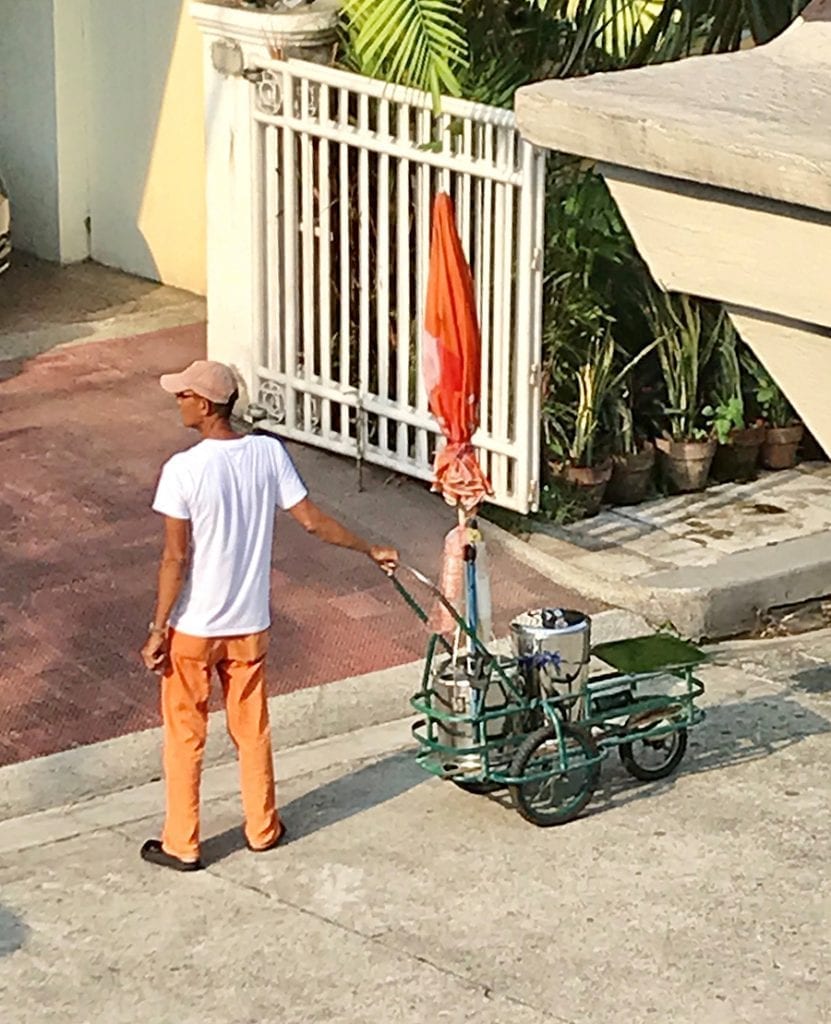 Jun took over his father's job as a taho vendor twenty years ago when his father became too weak to carry the 25-kilo, twin aluminum buckets of taho (silken tofu), sago pearls and syrup.
As a second generation micro-entrepreneur, he typically wakes up at 3 AM every day, prepares the taho with his supplier, then takes a public jeepney ride from his Cubao base to an upscale subdivision about three kilometers away.
In this upscale subdivision of over 400 or so residential houses, he sells an average of P1,500 a day with a 40% margin grossing him P600 daily income for a sold out 25-kilogram inventory. He sells a combined average of 50 big cups of taho at P20 each, and 50 small cups at P10 each. His taho would typically be sold out by 11 AM. And to be selling an average of a hundred cups targeting a 25% consumption rate is not bad. Of course, some households buy more than one cup so it's likely in the 15% household penetration range based on personal "guesstimate".
Beyond his amiable personality, smiling face and thin build, Jun tries to find ways to improve his business. This means increasing his customer base, as well as mastering his business processes.
He develops his customer base by doing the following seven strategies.
1. Target Market. Instead of targeting the lower income population in other areas, Jun repositioned his taho as a familiar comfort food for the rich.
2. Networking. A politician living inside the upscale subdivision introduced him to some officers of the homeowners association.
3. Persuasion. To allow easier approval from the homeowners association, he asked and got approval that he be allowed to enter and sell within the closely guarded subdivision only on weekends.
4. Reputation Building. Initially, Jun was not allowed to peddle in the different streets of the subdivision, except in the children's park area for a year. He decided to stick with the arrangement even if he made only an average of P50 a day limited to those visiting the park.
5. Delivery Creativity. While his taho was located in the children's park area, it did not stop Jun to take risk by filling up ten cups of taho and then walk a block to sell to the people inside the sports center of the subdivision.
6. Patience. After one year, he was finally allowed to roam around the subdivision on weekends.
7. Foot-in-the-door. After getting approval to hawk his taho during weekends, he soon expanded his request and got permission to also enter the subdivision on weekdays even if he knew that his 25-kilogram supply of taho may not be sold out if he delivers to the same market daily.
He refines his processes by doing the following:
1. Positive Thinking – He calls his taho business "Selling with Exercise" having to carry a bulky 25-kilo container to the jeepney station and then to the upscale subdivision. He takes sweating as a good sign he will be healthy.
2. Innovation – Ten years after he started selling taho, he was able to save enough to buy a push cart for P3500.
3. Relationship Building – The trust and relationship with officers and employees of the subdivision allowed him to store his push cart inside the subdivision daily.
Below is a list of what Jun likes and dislikes about his taho-selling business.
Dislikes
A. Waking up at 3 AM daily.
B. Cooking taho himself as the factory owner allowed him to cook the taho to his liking.
C. On some days, house helps do not tell their wards who are Jun's "suki" or regular customers that he has arrived in their homes.
Likes
A. Consignment basis without investment for his inventory.
B. By selling taho, he is able to support two kids (one in senior high school and another, a sophomore in college) by selling taho.
C. Maintaining a good relationship with subdivision officers and employees.
Wishlist
Add a bike to his cart so he can be faster in area coverage.
You will find Jun as a street smart micro-entrepreneur as I have. Many micro-entrepreneurs work very hard and just needs to be given breaks such as access to capital or inventory consignment, access to target market, access to training, and access to productivity tools in order to improve their revenue and income base sooner than later.