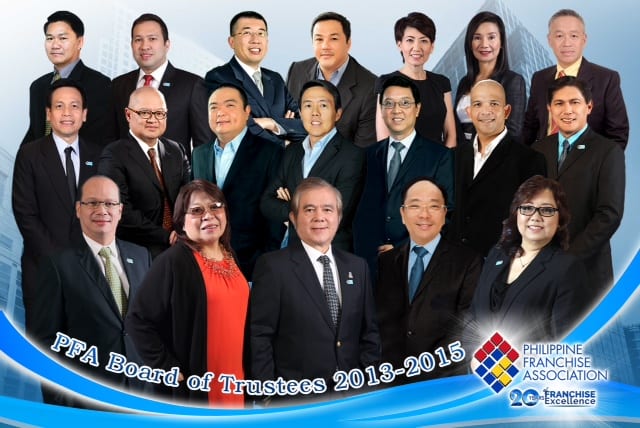 Q14: What are commonalities franchisors look for in franchisees other than having the money to franchise?
Potato Corner CEO Jose Magsaysay: For new franchisees and partners, we look for a connection.  Every communication is an evaluation or a test of how we connect to them.  From an email to the first meeting, we probe and if there is a connection we look further such as checking the proposed location of the franchisee if this is good for the brand, good for business and if there are no conflicts (another Potato Corner nearby that it might affect sales in a bad way). Finally, we do a back ground check.  If no negative flags appear, we normally approve the application.
For existing franchisees who are trying to open a second Potato Corner and future partners we will go into a new business with, we look at their values.  If they match ours, we most likely say yes unless there are conflicts in the proposed location or if it is a bad location.  Our franchisees and/or partners who have been with us for more than 5 years are easy to tell, the mere fact that they've been with us that long means we share the same values.  And because we share the same values, we arrive a commonality that is beyond face value.
These values or traits are: hard-working, honest, easy to talk to, respectful, hands-on, fair, has initiative, no problem attitude, thinks positive, a good follower and a good leader to his/her own crews.
Q15: Some irritants of franchisees are lack of stocks and different franchisees cannibalizing each other's stores. How are these resolved? 
Waffle Time President Johnny Que: This can be prevented by having a clear guideline on franchise territory. Franchisors usually give exclusive territory to a franchisee but this is dependent on the size of the market and not the geographical area. An area with a market big enough for more than one store may still accommodate additional stores provided that the existing franchisee is given the first offer to open the additional store or stores.
Should there be more than one franchisee operating in a specific area serving a big market, the franchisor should make it clear to the competing franchisees of the paramount need to serve the market as a way of sustaining the relevance of the brand in the said area. If not competing brands will come in and take away your brand's market share.
The franchisor should also see to it that his franchisees are performing well and all their needs and concerns are addressed. Underperforming franchisees should be given the needed support and be provided the right solutions. The objectives here are to maintain or even increase the brand's market share while maintaining a harmonious and mutually beneficial franchisor-franchisee relationship.
Q16: What are the best practices for minor conflict that does not involve termination of relationship?
Bibingkinitan President Richard Sanz: For smaller franchisors, the best way to handle a minor conflict is to attend to it immediately and to be hands-on about it. It matters much to a franchisee if the franchisor himself is the one attending to his concerns. Of course, bigger franchisors with more layered organizations may have an officer-in-charge for this situations but it is still advisable that the franchisor is informed of the situation and should feel free to address it.
But before handling a conflict with your franchisee, it is very important to first refer to your franchise agreement, which will tell you how to handle and resolve conflicts with franchisees.
While it is good to use the personal approach in handling conflicts, it is also important to put things in record. At the very least, it should be clear between the franchisor and franchisee what the dispute is all about and what the solution to the dispute should be.
Q17: What is the remedy if there is a breach of the franchise agreement – either by the franchisor or franchisee?
PFA Director for Legal, Governance & Ethical Standards Atty. Leo Dominguez: 
A typical franchise agreement includes a "curing" clause, which provides that where one of the parties (whether the franchisee or franchisor) is alleged to have breached the franchise agreement, the offended party should notify the offending party in writing, and give the offending party an opportunity to  "cure" the breach, if curable.  In this case, the offending party is given a period specified under the franchise agreement (e.g., 60 calendar days) within which to "cure" or remedy the breach, before the offended party could terminate the franchise agreement based on such ground.  An example of a curable breach is when the franchisee commits a financial breach/violation of the franchise agreement (e.g., fails to pay franchise fees/royalties to the franchisor, etc.).  In this case, the franchisee would be given 60 calendar days to pay the relevant franchise fees/royalties to the franchisor.  If the curing period lapses and the franchisee has not remedied the breach to the satisfaction of the franchisor, then the franchisor may terminate the franchise agreement based on such ground.  Thereafter, the franchisor may pursue all other remedies specified under the franchise agreement, and relevant laws and regulations (such as, but not limited to, the filing of an arbitration case, or a collection suit in connection with the breach, damages, etc.)
However, a breach may go into the essence of the relationship between the franchisor and franchisee, and would therefore be considered as incurable.  One example of an incurable breach is if the franchisee establishes a business that competes with that of the franchisor.  Thus, if the breach is on its face incurable as in this case, the offended party should notify the offending party in writing about such incurable breach, and may immediately terminate the franchise agreement, without giving the offending party an opportunity to "cure" the breach, due to its nature.  In this example, the franchisor may then avail of all other remedies specified under the franchise agreement, and relevant laws and regulations (such as, but not limited to, the filing of an arbitration case, or damages suit in connection with the breach, application for a cease and desist order, temporary restraining order/preliminary injunction, etc.).
The foregoing discussion assumes that the typical "cure" clause is found in the franchise agreement. A franchise agreement may provide for other remedies or procedures in case of breach.
Q18: In the US, the number of teenagers visiting retail stores has declined from 38 times in 2007 to 29 times a year (source: Piper Jaffray survey).  Do you see the same trend happening in Asia? What about the Philippines? Will this affect franchising?
Islands Souvenirs President Jay Aldeguer:  In that same survey, while it is true that a growing number of American teen-agers prefer to shop on-line, it also said that US teens still prefer online shopping sites that have physical locations. In the case of the Philippines, I believe that online shopping will continue to grow considering that Filipinos – particularly the youth – are internet savvy. In fact, I believe that other non-traditional distribution channels like weekend markets will continue to flourish. These will not, however, diminish the importance of traditional retail stores.
Let us remember that Philippine retailers are now found in malls and malls – more than just a place for shopping – have become the public plazas today. These have become places for socializing and for relaxation. And since we are a tropical country, malls, with its controlled environment, will continue to be the preferred place for shopping and recreation.
If this is the case for the Philippines, this will also be the case for other tropical countries across the globe.
Q19: How will franchising change with the ASEAN integration?
Jollibee President Ernesto Tanmantiong: There will definitely be greater competition as the regional economy opens and as the Philippine economy continues to improve. Of course, Philippine franchises will also be given the opportunity to expand to other ASEAN countries and should, in fact, be part of the expansion plans of Philippine franchise brands. In effect, Philippine franchises should develop a wider or more expansive perspective in their growth plans.
But more than just thinking big, Philippine franchises should also work to becoming globally competitive. As a matter of fact, one of the main reasons for the establishment of the ASEAN Economic Community (AEC) is so that the regional economy will become integrated with the global economy. Global competitiveness is one of the main agenda of the ASEAN economic integration. Becoming globally competitive is the key to succeeding in the AEC.
Q20: Moving forward, what more should PFA do to make franchising an attractive entrepreneurial option?
Goldilocks VP and PFA President Franklin Go:  The Association is now on its 20th year and it remains committed to its mission to promote franchising as a tool to create thousands of businesses and millions of jobs; more so that inclusive growth has become an important agenda that cuts across various organizations or agencies in both government and private sectors. Commitment to this mission also compels us to protect the good reputation of franchising as an investment option.
In order to do this, we will intensify efforts to help raise the global competitiveness of Philippine franchising as well as help open expansion opportunities locally and internationally. We will also continue on our information-education-communication (IEC) activities to educate the public on wise franchise investment. Very closely linked to this are our on-going efforts to make our members compliant with the Fair Franchising Standards (FFS), which is the Association's code of ethics.
We will also continue to organize venues for opportunities exploration and business matching through our franchise seminars and exhibits.
Our theme this year is "Opportunities and Challenges in an Integrated Global Economy", which underscores the PFA's determination to make the Philippine franchising sector a key player in regional and global franchising. We are pleased to announce that PFA has been appointed Secretariat of the Asia Pacific Franchise Confederation (APFC). Moreover, PFA has been elected to be part of the working committee of the World Franchise Council (WFC) which has been tasked to craft activities that will foster the continued growth and development of global franchising.
With these positive developments, we hope to open more business and growth opportunities for Philippine franchising both within and beyond our borders.
(JOSIAH GO is the chair of marketing training company Mansmith and Fielders Inc. For complete interview as well as interview with other thought leaders, follow him at www.josiahgo.com. Franchise Asia Philippines Expo 2015, which is Asia's biggest franchise show and one of the country's most awaited trade expo is scheduled on 12-14 June 2015 at the SMX Convention Center-Manila)