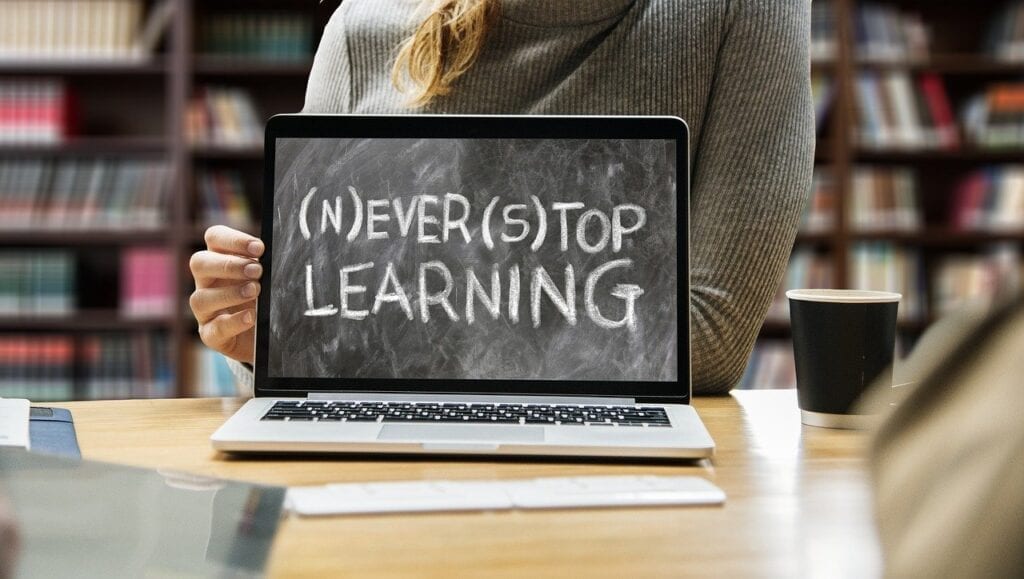 A continuum is something that keeps on going, changing slowly over time, like the continuum of the four seasons. (Source: vocabulary.com)
In 2019, the excom of Mansmith and Fielders Inc. planned to launch Continuum Academy in May 2020, as one of the many ways to celebrate its 30th anniversary. What happens next is ECQ and the company suddenly had to launch 2 months ahead. Thanks to the Plan B of IT head Rommel Arizala, Mansmith quickly pivoted and Continuum offered its first online course on March 19, 2020, just 2 days after ECQ lockdown.
Mansmith also pivoted to short courses, ranging from 1 to 3 hours, instead of their usual 16 hours full workshop, while also postponing the launch of multi-week longer courses.
Thanks to Quennie Cua, Mansmith's Chief Marketing Strategist, who later drafted the positioning statement of Continuum Academy.
Positioning Statement
"For Individuals interested to succeed in Business, Sales, and Marketing,
CONTINUUM is the online knowledge marketplace that gives you expert insights at your fingertips so you can learn at your own pace because each module is locally relevant, concise, and cost-efficient."
Thanks also to Malu Dybuncio, Mansmith's Chief Business Development Strategist, who led the virtual discussion among speakers on the vision and mission of Continuum Academy.
Vision and Mission Statement
"CONTINUUM ACADEMY strives to inspire and mentor our students by providing easy to understand, relevant, practical core principles and learnings in a clear, concise manner.
Our courses will be built on a foundation of strong fundamentals, stimulate creativity and innovation to drive business growth and profit as well as personal and team development.
Continuum Academy. Learning at your own pace. In your own time. In your own space."
Mansmith is extremely blessed with an agile team, with quick decision making and experimentation. No wonder CEO Chiqui Escareal-Go calls Mansmith a 30-year old "start up".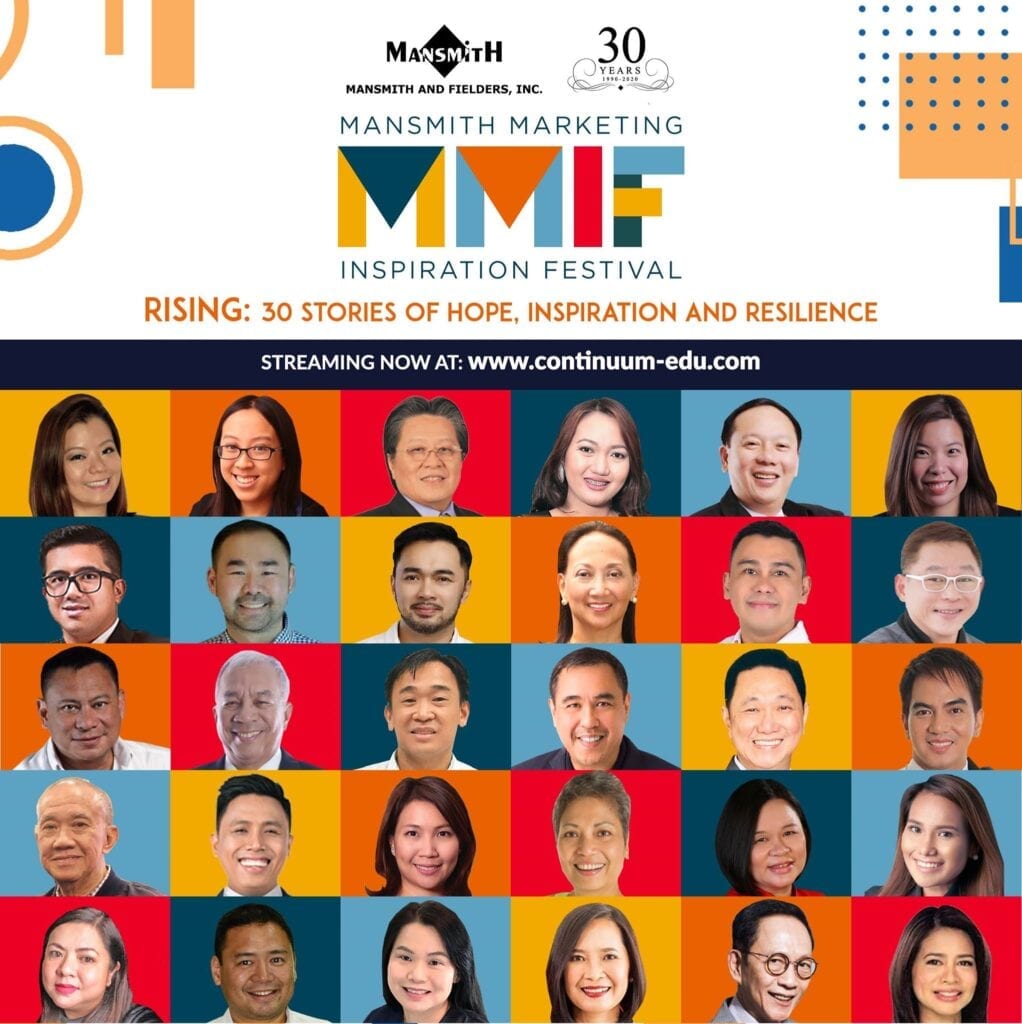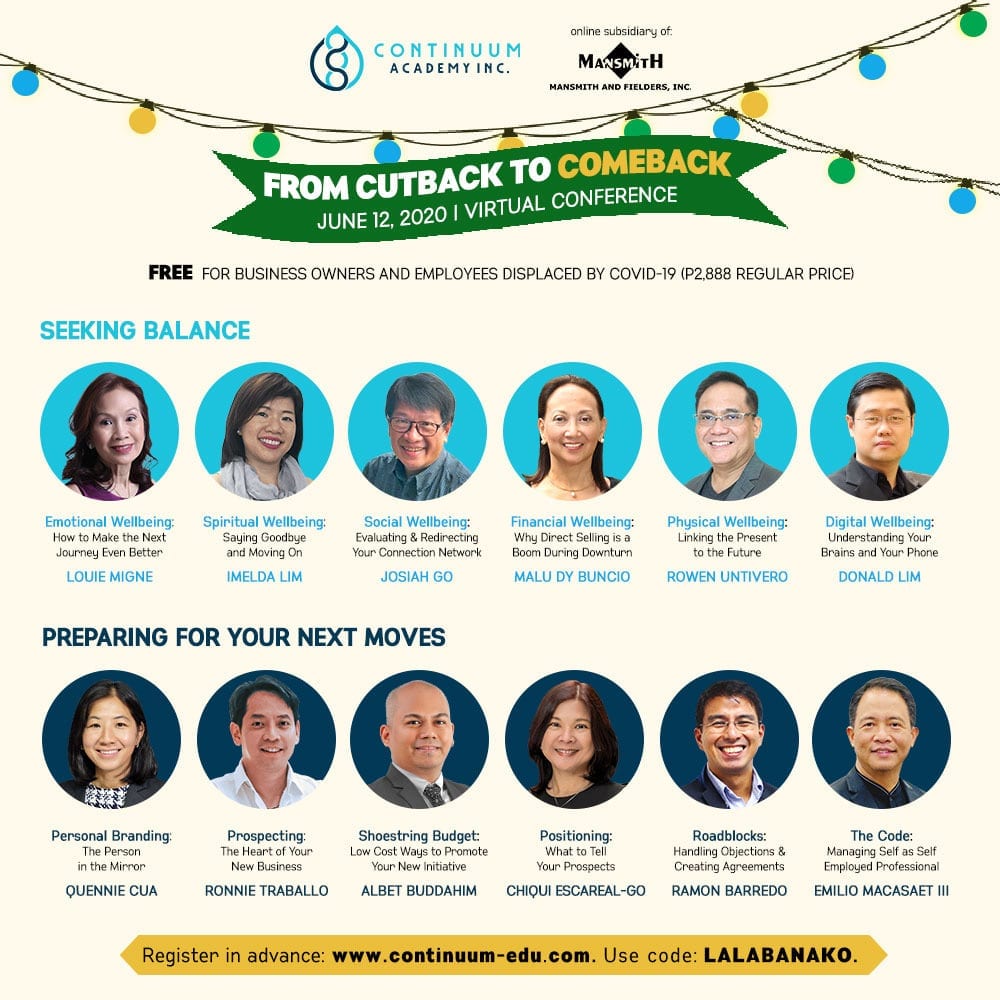 During the ECQ, Mansmith launched the Mansmith Marketing Inspiration Festival (MMIF) featuring 30 inspiring marketers who survived crises and challenges in the past. During the GCQ, anticipating high unemployment rate (17.7% of 44 million unemployed as of April 2020), it launched the Continuum Conference: From Cutback to Comeback, the first dedicated conference to help displaced workers and entrepreneurs find balance, teaching them how to have a fresh start. Both are offered for free and available at www.continuum-edu.com/events-and-conferences. It also has 6 business courses offered for fre, and two entrepreneurship courses priced at only P168 (instead of regular price of P3,500), with 20% of short courses either absolutely free or at token prices.
Like most others, Mansmith strives to survive in the unprecedented COVID19 pandemic. Thank you to the first 10,000 people who enrolled in Continuum Academy during its first 3 months.