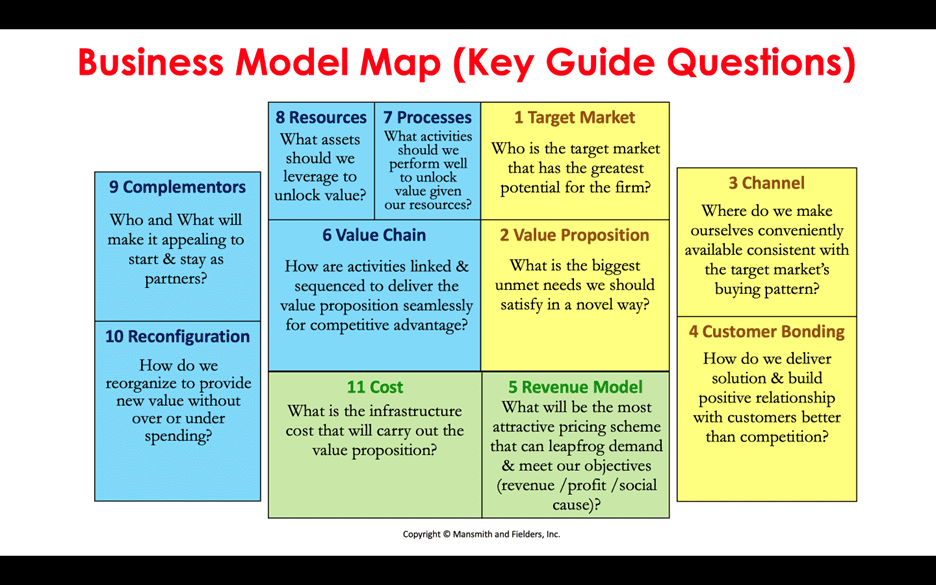 A business model is a document that outlines how a company creates, captures, and delivers value to its customers and consumers in line with its vision. This concise one-page document can replace a lengthy 100-page business plan. Think of a business model as a way to see the big picture of how your business is designed.
To help create a business model, use a business model map. In June 2010, Mansmith and Fielders Inc. introduced their version, which is a framework that helps business succeed. You can find a free template for this map on Continuum Academy website (www.continuum-edu.com).
The business model map has two main parts: the Offering Model on the right and the Operating Model on the left. The Offering Model consists of 5 building blocks, and the Operating Model has 6 building blocks. These blocks come together in the Financial Model at the bottom.
The Offering Model starts by identifying the Target Market and then creating a Value Proposition. The Channel connects the Value proposition to the Target Market, while the Customer Bonding Strategy converts the Value Proposition into Revenue Model, a way to earn money.
Remember that your business model supports your company's opportunity and vision. Before finalizing your model, consider why you started the business and what you want it to become in the future.
The Operating Model starts with the Value Chain, the internal steps needed to deliver the Value Proposition externally. Processes and Resources are necessary to ensure consistent value and quality. Complementors are partners who help deliver value, and Reconfiguration for Innovation helps explore new ways of doing things. All of these building blocks have cost associated with them.
If you change the Offering model, you'll also need to adjust the Operating Model.
Moving to the Financial Model. Profit is what remains when you subtract Costs from Revenue. To increase Profit, you can either increase revenue, lower Costs, or do both. Adjust the Offering Model for Revenue and the Operating Model for costs. The numbers on the map guide you in filling out the model correctly.
The Continuum Curve emphasizes how the building blocks relate to each other. It's not a perfect loop and does not stay the same forever because no business model remains the same forever. Changing one block affects others.
Here are key questions to consider for each building block:
A. Offering Model
Target Market: Who is the target market that has the greatest potential for the firm?
Value Proposition: What is the biggest unmet needs we should satisfy in a novel way?
Channel: Where do we make ourselves conveniently available consistent with the target market's buying pattern?
Customer Bonding Strategy: How do we deliver solution & build positive relationship with customers better than competition?
Revenue Model: What will be the most attractive pricing scheme that can leapfrog demand & meet our objectives (revenue /profit /social cause)?
B. Operating Model
Value Chain: How are activities linked & sequenced to deliver the value proposition seamlessly for competitive advantage?
Key Processes: What activities should we perform well to unlock value given our resources?
Key Resources: What assets should we leverage to unlock value?
Complementors: Who and what will make it appealing to start & stay as partners?
ReConfiguration for Innovation: How do we reorganize to provide new value without over or under spending?
Cost: What is the infrastructure cost that will carry out the value proposition?
Mansmith's Business Model Map highlights Value Chain (which enables the value proposition) and ReConfiguration for Innovation (from challenging industry's assumptions) as key components. These aspects are essential for both short-term and long-term success. They were popularized by Harvard professor Michael Porter, author of the book Competitive Advantage, and INSEAD's professor Kim Chan and Renee Mauborgne, authors of Blue Ocean Strategy, to have strategic conversations in the boardroom.
By addressing all 11 building blocks, businesses gain a comprehensive view of their market, value, operations, finances, and more. The benefits of a business model map include creating a common understanding, being easy to explain, shows what matters most to the company, can be built systematically and providing a holistic view of a company.
Do you now have a better idea of how to create your business model?
*****
Josiah Go is chairman and chief innovation strategist of Mansmith and Fielders Inc.. He is also the author of a comprehensive 55-video Business Model Course in Continuum Academy Inc. and is hosting a seminar on Business Model Innovation for Corporate Transformation on Oct. 3-5, 2023 (3-5:45pm). Attend the 3rd Business Model Forum for free on Sept. 15, 2023. For details, kindly email info@mansmith.net