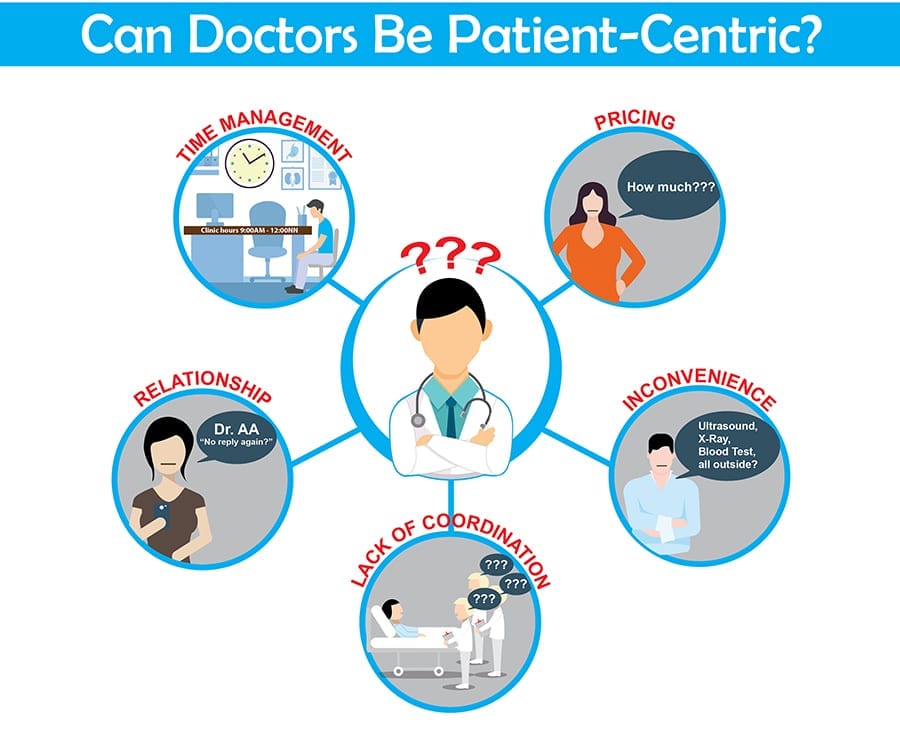 Medical doctors play an important role in one's health and well being, providing solutions to discomfort or illnesses felt by patients. Many times, however, people not feeling well postpone a visit to their doctors. Gary de Ocampo, CEO of Kantar Philippines, mentioned that 40% self-medicate, while 50% simply endure the sickness ('tiis') hoping it will go away on its own. He adds: 'Doctor consultation remains at a maximum of 20%'.
How can doctors encourage more patients to visit? For starters, understanding and providing solutions to complaints of patients about doctors. Below are 17 complaints compiled about medical doctors. These 17 complaints are clustered under 5 headings. They are presented not as a critique but for doctors to be more aware that patients' expectations extend beyond their health issues. After all, the allied experience is as important as the core service of healing. Even hospitals have confirmed their desire for their doctors to be more patient-centric with various slogans posted on their premises centering on 'Patient's First' and similar themes.
A) Time management
3 complaints are clustered under time management: Doctors' tardiness during their promised clinic hours, unmindful that physical pain of their patients is sometimes extended to emotional pain when doctors are insensitive and make patients wait. Second is the long queue during visit especially important to working individuals. Lastly, the inability to talk to doctors for longer time during consultation hours.
B) Pricing
4 issues are associated with pricing: First is usually a guessing game for first time patients as nothing related to professional fee is posted in the clinic. Second, some doctors would charge a higher initial visit fee, unmindful of the pledge they made to their profession. Third, some doctors accredited by HMOs try to charge extra money to make up for the much lower 'wholesale' professional fee paid to them by health maintenance outfits, waiving it only when card-carrying patients protested. Finally, in the digital era, patients have ample access to information online before visiting the doctor's clinic. The waiting time in the doctor's clinic, in fact, encourages patients to search on their smartphones about the pain they feel. It would be sad if doctors would tell them exactly what they have read online, immediately triggering patients to wonder about the relevance and value of needing a doctor on their next visit. After all, the patients were made to wait in queue then pay for information they already know.
C) Relationship
5 areas of dissatisfaction in the relationship cluster: The lack of rapport building skill of doctors is first as some patients are intimidated by the doctor's lack of EQ. The lack of empathy to patients' situation is another as patients become embarrassed when blamed for their disease. Third, the lost of trust as doctors exploit a patient's visit by trying to sell food supplements on top of paying their professional fee. Then there is lack of follow through or caring attitude, not even a simple telephone or text message if patients are fully complying with doctor's orders. Surprisingly, even unfriendly receptionists may discourage some patients from returning to the same doctor/clinic. This is especially highlighted in clinics with long queues where receptionists insist all patients to simply wait and stand outside the doctor's clinic, refusing the suggestion of texting the patients when their turn is near.
D) Inconvenience
3 complaints in the inconvenience cluster are associated with exerting additional effort and time. For one, some doctors insist that blood test be done in another hospital not in the hospital where they hold clinic. Second, the hassle associated with passing on medical records from one doctor to another. And third, multiple medicines prescribed are not thoroughly explained, leaving patients to research them on their own.
E) Lack of Coordination
2 issues in this cluster are not just irritants but are sometimes annoyances. Among patients admitted in hospitals, different doctors repetitively ask the same patient to tell them the list of medicines they have been taking instead of reading the list already written on the hospital registry form. Another is the lack of coordination as one doctor would not allow water to be consumed before a procedure while another would require medicines to be taken which necessitate hydration.
One of the most interesting business models of medical clinic is that of Minute Clinic's, now part of CVS drugstore chain in the United States. They are open daily (including Sundays) with average queuing time of 15 minutes only. Prices are posted and are much cheaper than both emergency rooms of hospitals and medical clinics- focusing on regular family diseases that do not require specialization such as treating cancer or heart diseases. They are manned by nurse practitioners, a notch higher than regular nurses, much better trained than the patients' relatives where opinions are normally sought. While Minute Clinic is part of CVS drugstore chain, interestingly, the number one complain from their patients is not being given a prescription.
As to why western-trained medical doctors hold clinics to treat sick patients instead of prioritizing a preventive mindset for the patients and his or her family is often a topic for debate. Medical doctors also do not practice charging a monthly retainer fee like lawyers and consultants, they charge patients only when patients are sick and visit them in their medical clinic. It is possible the two questions above as well as some of the complaints mentioned are inter-related, thus medical doctors continue to practice their profession the way the previous generations of doctors have been practicing, unmindful of disruptive technologies that make patients less motivated to be absent from their work, less tolerant of doctors' tardiness, less patient to fall in line, more mindful of access to information, more conscious of memorable experience, and more aware of their options.
Perhaps, it is time for doctors to evaluate and redirect their practices, challenging themselves to be more innovative in their doctor-patient relationship model.