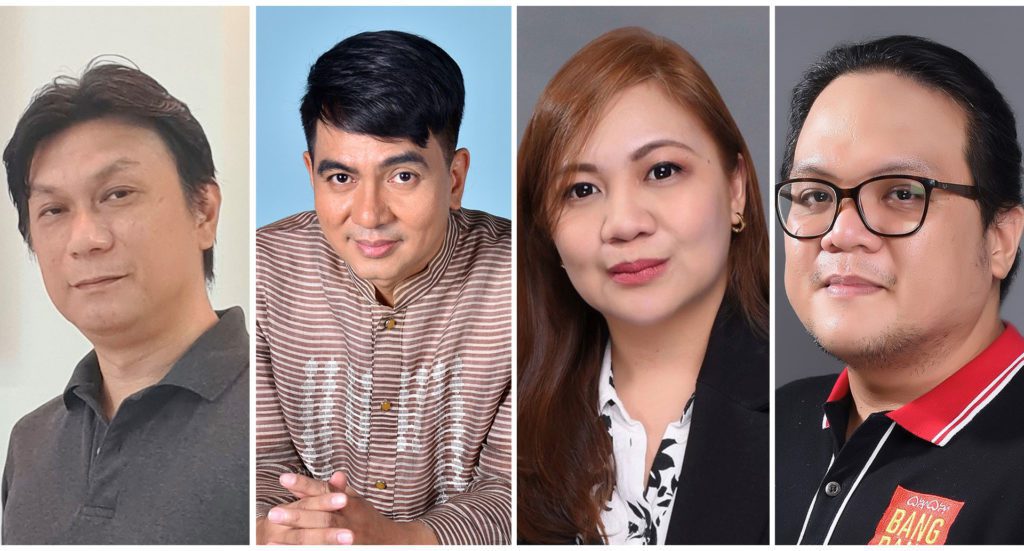 (From left to right: Jojo Liao, Dr Carl Balita, Lucci Canlas and Mike Canlas)
It's Alert Level 3 restriction again in this Covid pandemic that started two years ago in 2020. Many businesses were affected in previous levels 3 and 4, while a few thrived. Let me cite three successful business cases worth emulating.
Jojo Liao is CEO of CoreProc, an IT company that helps companies with their digital transformation efforts. Early in the Pandemic, CoreProc decided to launch "drybrush", an advocacy ecommerce that helped artists sell their paintings, sculptures and related artworks online while galleries inside malls were not active. While they were able to help hundreds of Filipino artists continue their livelihood, they have also redefined their revenue source to include regular ecommerce commissions instead of just continuous customization efforts needed in software work, adding a B2C effort from their existing B2B business model.
Dr. Carl Balita is the founder of Carl Balita Review Center or CBRC, the leading review center in the Philippines. His multi-awarded business was greatly affected when board examinations were cancelled in 2020. He launched CBRC VICE, an acronym for virtual interactions, conferences, and events, to help companies conduct their major virtual events, thanks to their experiences gained conducting online classes, even before the pandemic. They have zoomed in on a process they have done well in the past while the current business cannot be executed face to face. When vaccination began, he consolidated his employees and nursing graduates to help the government organize and administer the shots to some one million people to date, creating a B2B business with local government units (LGUs) instead of being limited to their usual B2C business model. By the time multiple lockdowns were done, CBRC was able to launch 500% more review courses ready to help more reviewers, exploiting their knowledge in R&D and course creation during the lockdown period.
Mike and Lucci Canlas are husband-and-wife team working together. Mike was a videographer and Lucci, a graphic artist. Together, they built an event and video production business prior to the pandemic. When lockdown was imposed, customers cancelled pending proposals one by one. One day while eating bangus in a restaurant, they thought of starting a takeout crispy bangus business with multiple flavors in a pizza box. Today, Bang Bang Special Crispy Bangus has over 40 branches in a year's time and plan to open several hundred more through franchising in the next few years. Their new business enables them to have dual businesses in the future while exploiting their skills in video production to do their own marketing videos.
I have invited Jojo Liao, Dr Carl Balita, Mike and Lucci Canlas to share their transformational experience in-depth in the 2nd Mansmith Business Model Forum this Feb 8-11, 2022. They also readily consented to share their business models to the public, specifically the eleven building blocks of each of their business model. Jojo Liao will share two business models — CoreProc's customized IT service, as well as drybrush's ecommerce business. Dr. Carl Balita will share four business models — review center, franchising, online event service, and B2B vaccination service. Finally, Mike and Lucci will share the business model of their take-out food business. The session will be recorded so those unavailable can watch at night or another day. They have also agreed to answer your questions about their business model and strategy as a group, live via Zoom, on the afternoon of Feb 11, 2022.
Best of all, the forum is organized as a free public service to existing and aspiring entrepreneurs by Mansmith and Fielders Inc., courtesy of corporate sponsors Acer, Bounty Agro, JS Unitrade, UnionBank, Abenson, Waters Philippines and Inquirer. The free registration can be done in the next two weeks through Continuum Academy at www.continuum-edu.com.
The eleven building blocks template, along with the definition of terms, can be downloaded on the website, also for free. They are composed of two parts, the offering model (target market, value proposition, channel, customer bonding strategy, revenue model) and the operating model (value chain, key processes, key resources, complementors, reconfiguring for innovation, and cost). Having the right business model framework allows one to evaluate the soundness of their business strategy, the prerequisite of any functional strategy in marketing, operations, and finance. In the Mansmith business model map, two distinct building blocks have been added – reconfiguration for innovation, as well as value chain, incorporating indispensable lessons from Blue Ocean Strategy's Kim Chan and Renee Mauborgne on the former, and Harvard's Michael Porter's classic Value Chain on the latter. All three cited cases have innovated from their original business model, hence, thriving during the pandemic. All three have also used their knowledge to pivot their value chain towards fulfillment of their new value proposition; truly entrepreneurs worth emulating.
*****
Josiah Go is Chairman and Chief Innovation Strategist of Mansmith and Fielders Inc.
See more articles on Business Model.