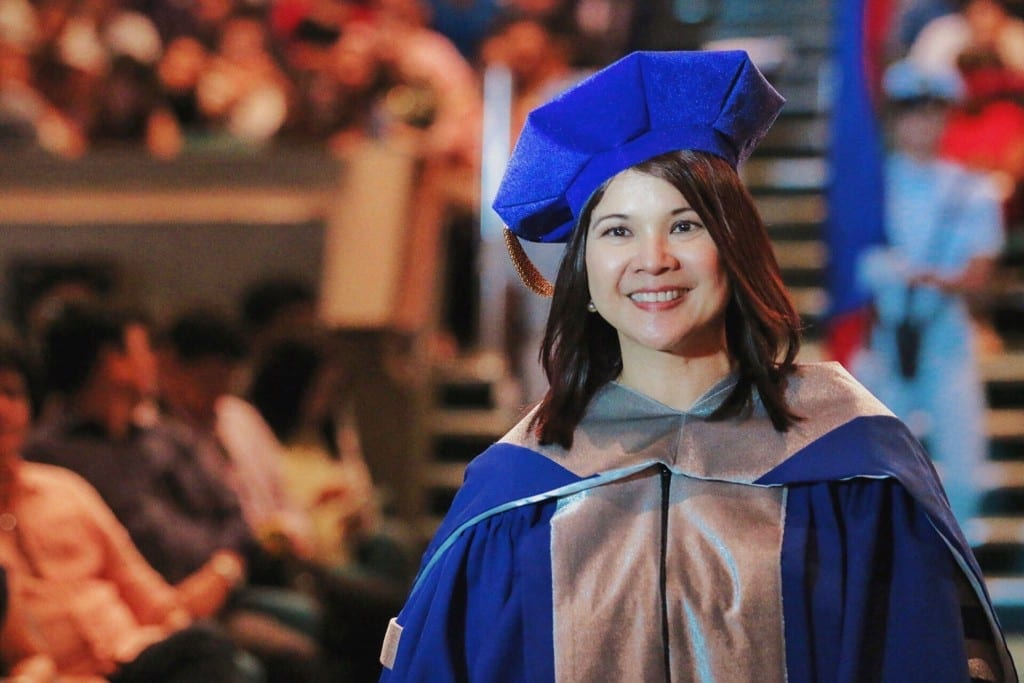 Today is the birthday of my better half, Chiqui Escareal-Go who always makes me "want to be a better man". I am sharing the speech she delivered during the 13th Commencement Exercises of Malayan Colleges Laguna, May 24, 2017 at the Philippine International Convention Center, Manila. What she shared here is really how she lives her life and how she continues to touch mine and those who have been blessed by her good works.
'I am honored to have been invited to your commencement exercises, thank you to the team who recommended me. Honestly, I had been thinking about what to tell you today since I got the invitation – I wanted to be sure I'd share something you all would remember, even if the only thing you remember is that your speaker was not "too" boring.
So I tried to put myself in your shoes… what could I say that would make a graduating student listen or remember? I am sure there are as many answers as the 461 of you here today. But I can guess your one wish – that I would keep this short so we can all get out of here and start the celebration.
And that's where I want to start – by asking all of you– what are you really celebrating? Yung pagtatapos (sa araw na ito) o yung abangan ang susunod na kabanata (which starts at the very moment you leave this hall)?
Each one of you is a prospective member of the workforce. Do you think there are 461 jobs out there waiting for each one of you? Actually, yes….I would like to think there are as many jobs out there as you can imagine.
So maybe the next series of questions to ask are– 1) ano bang trabaho ang gusto mo? And 2) gusto ka ba ng trabahong gusto mo? I leave it up to you to create your own hashtag when you answer those questions. (sana hindi #malupitangkatotohanan)
These are questions that I thought I had very clear answers to when I graduated 35 years ago. (There goes my age…)
And I will share with you 5 life lessons in my personal journey from when I graduated back in 1983, when times were…interesting.
(To give you an idea of what that year was like, here are some highlights…)
In March 1983, Michael Jackson popularized the "Moonwalk".
In May of that year, the much awaited Episode 6 of Star Wars Return of the Jedi came out.
And if I may include a trivia of personal interest (because of my gender advocacy): in 1983 Sally Ride became the first American woman in space.
A lot of firsts also happened in Microsoft in 1983 – that year they introduced MS DOS 2.0, the first word processing program called Word for MS DOS, and the Microsoft Mouse. (These are wow discoveries for me because we did our reports then using the typewriter.)
We didn't know these things were happening and since we didn't have Google Search that time, our thesis then which was an industry study of the telecommunications industry did not include these items.
Would you believe that in that thesis of ours, the biggest thing that was going to be launched, and was being eagerly anticipated – was the fax machine? While the transmission of images over wires has been around since the 1800s, it was only in the 1980s that fax transmission became an international form of communication. Since then, as we already know, technology has been evolving ceaselessly, shaping our lives and our future in ways we never imagined before. And surely enough, our thesis on the telecommunications industry practically became obsolete overnight. Young as we were then, we merely shrugged our shoulders about the uselessness of our thesis and moved on.
Lesson no. 1: When things change or become obsolete too quickly, all the more you must keep moving forward. Sometimes, we don't even have time to grieve, or say "sayang naman". That's the advantage of youth. You can keep moving, because you have energy and time as your assets. Things will become obsolete whether we like it or not, so we must always be ready and resilient, lest we become obsolete ourselves. You must keep re-inventing.
But how does one keep moving and to where, when we don't even know what the next big thing is?
Keep learning (yes, even after graduation, this is also why graduation is also called commencement exercises – commencement means beginning – your learning is just beginning), invest in yourself by continuously upgrading your skills. You have so much resources online – people can learn how to code, get consumer insights and understanding from history, philosophy, poetry or music (am obviously pitching for the humanities here), set up a business, or play the ukulele (like me) by following instructions on YouTube.
But you must be willing to focus, commit and accept what needs to change. As things change, so must your skills, capabilities, behavior and self-awareness. That takes courage.
I guess my environment back in 1983 shaped me into not being afraid of change.
Because the biggest event to shape our lives and our very destinies as fresh graduates back in 1983, happened when Ninoy Aquino was assassinated in August that year.
We did not have social media to keep us updated, we relied on TV, newspapers and magazines, on phone conversations that bordered on gossip (or alternative facts) and radio stations with announcers who dared speak out.
I remember taking our final exams at La Salle (we were already on trimester system then) and we still had that carefree attitude about what was going to happen next, not even thinking about jobs (or the economy) after graduation. Honestly, I didn't think that that important event in our history would impact my life at all.
Clearly, I was a bit arrogant… At that time, I had amassed quite an impressive list of leadership accomplishments for my job resume – I will share them here, not to boast but to make myself as a case study, so please indulge me– I was the batch president of the College of Liberal Arts Seniors in the DLSU Student Council, editor-in-chief of the Green and White yearbook, organizer, scriptwriter and director of socio-cultural events under the Council of Student Organizations which was in charge of Bb. La Salle, the Crossroads newsletter, Concert at the Park and similar events, etc. I was a consistent dean's lister and I belonged to the honors' / accelerated class finishing with a double degree in Communication Arts and Marketing Management.
I was so sure I was going to get a prestigious job as a brand person in one of those multinational companies (which was my idea of a plan).
And then the Aquino assassination happened – the economy was in shambles: massive capital flight, freeze hiring, power outages… The idealistic and proud graduate in me still walked down the sidewalks of Ayala handing out my CVs to a few companies still hiring – like Electrolux Knock on Your Door and Encyclopedia Britannica direct sales.
I realized early on that my intense resume was not intense enough, as it was unable to withstand the external forces that were beyond what I thought were impressive credentials.
I found out later on that in my graduating batch of 1983, only 1% of all graduates in the entire country was absorbed by industry… let me repeat that, 1% of ALL graduates of the entire Philippines was absorbed by industry.
What did we do? Some of my batchmates chose to take further studies -some took up law, or computer science… some got married, many went abroad… yet, still most stayed and chose the entrepreneurship path. (I did, after getting married and having kids, I became an entrepreneur.)
We all survived that because we kept moving forward and for some of us, we took matters into our own hands by doing something (like set up our own businesses) with what we were given by fate, meaning we took whatever job opportunities were available or we upgraded our skills while waiting for that dream job or the economy to improve. Some took a while to find what was meaningful to them but we kept looking and doing, being and becoming, a trademark of our generation.
Lesson no. 2 : Always keep moving and doing – because the inspiration will be shaped by the process of doing and not the other way around. To be clear, some people wait for the inspiration to come before doing something or use the lack of stimulation as reason for not being able to move forward. Some blame the economy or the government for lack of opportunities. Remember that your college education has already provided you with tools, network and resources. So keep moving and make things happen for yourselves and the inspiration will come.
Of course, as we now look back, my batch survived that and 35 years later, I am here finally being able to pull out my college CV and make it matter in a commencement exercise – even if to use it as an example of either uselessness or resilience.
I am sharing this not to scare you but to let you know that you are lucky to graduate at a time when the Philippine economy is growing by 6.4% in the first quarter of 2017. That there are jobs available out there.
But you need to move, walk down the sidewalks of business districts. Start building networks, start investing in new skills, start saving for tomorrow. That requires a plan, determination and discipline. You must know it and want it.
I have some students or mentees who get confused or get demotivated. And I have to remind them to have a plan, and in that plan – to have a clear personal purpose.
There are 3 things you should ask yourself when making a plan– do you know what you want? Can that job give you what you want? Do you pray for guidance? (These three questions can help guide you in all your major decisions – including choosing a spouse, accepting a job or moving to another place.)
That sense of purpose may just be what will keep you in track, help you cope or re-focus when there are distractions, or differentiate you in the real world out there.
So if I may share a personal tip which I always tell young people who need a little push, as you move or as you try to find your momentum or sense of purpose – find something to do to help others or do something good for others ….. (including your mothers by the way). There is nothing like purpose and meaning to make you move.
When you find yourself asking why you're not in Boracay with your friends who are posting their groupfies or selfies in social media, it may be time to do some volunteer work that forces you to focus less on yourself, and more on others.
Imagine waking up early on Saturdays because orphaned kids are waiting for you to tell them a story. Can you imagine the feeling of making those kids happy – even for just an hour? Do you think after that you would even bother to check other people's social feed? Or would you rather have that selfie with that kid with the cutest, toothless smile?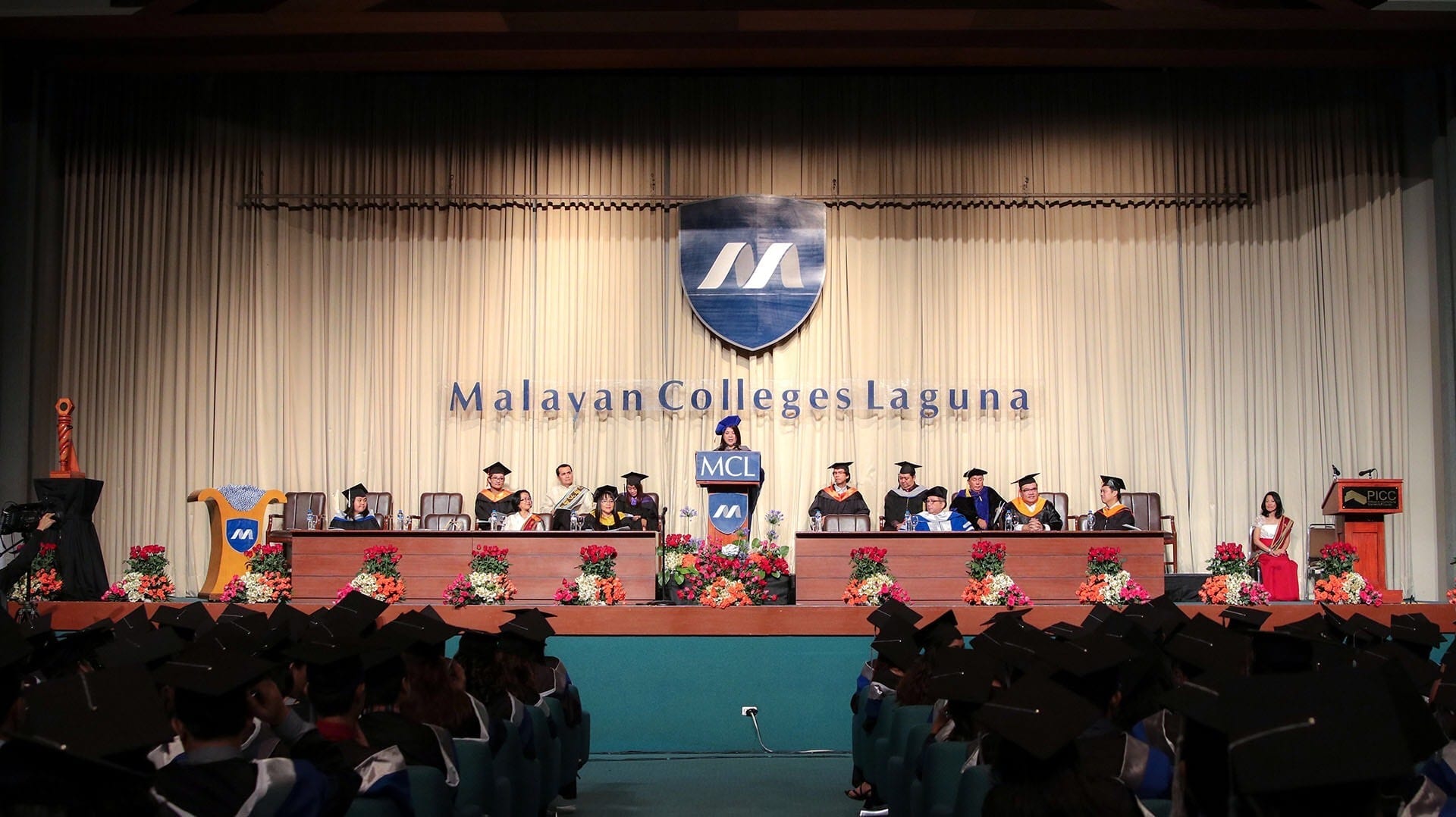 Lesson No. 3: Move beyond your social media feed, go outside that air-conditioned coffee shop and find that meaning outside that tall or grande cup that bears your name. Give time, talent and treasure in service to others and believe me, you will never find your cup empty.
Now I find that I am always at my best and with my cup full, when I do things out of love – love for productive and charitable work, love for family, love for alma mater, love for country.
It is with love that I am braver to do new things that scare me. It is love that makes me work hard toward excellence because it is a personal standard shaped by my mentors whom I do not want to disappoint and whom I love dearly. It is love that keeps me moving because something or someone is waiting to receive that love.
I find that I can work well with others who also love what they're doing and with whom I find common ground in helping others or in fighting causes.
Lesson No. 4 : Find and do what you love and you will keep moving in powerful ways you never knew before. It is love that makes us strong. Give love and you will find love. Choose your friends and partners well.
(And that includes your future spouse. One of the most important decisions you will make is your choice of a partner or spouse. As a woman, I am a wife and a mother before I am the boss of my business or president of my organization. I could not be all of these, if I did not have a husband who always treated me as an equal.)
So what do you do when you are still stuck in a hole (and you still can't move on or get out)?
While I can tell you to do some deep self-reflection honestly and humbly, … as a mother, I also know that for most children, you don't really want to "hear" what your parents have to say, so let me just tell you a story, just like when you were small.
This is a short narrative entitled My Life in 5 Chapters (apologies, can't trace the author) that summarizes most of our journeys and it goes:
Chapter 1 : I walk down the street, I did not see the hole. I fall into the hole. It takes me a long time to get out.
Chapter 2: I walk down the street. I see the hole. I fall into the hole. It takes me a long time to get out.
Chapter 3 : I walk down the street. I see the hole. I fall into it. I get out quickly.
Chapter 4: I walk down the street. I see the hole. I walk around the hole.
Chapter 5: I walk down another street
Not exactly a bedtime story but I am sure you know what chapter you are in.
So I enjoin you dear graduates to reflect on the path you are taking and the battles you have chosen – going down another street and choosing to stay or move out of the hole slowly or quickly, are completely up to you.
Lesson No. 5 : Your life is how you choose to move.
Before I end, I hope you have thanked all the people who made today possible, especially your parents or guardians – you know who they are, never forget for they are your blessings.
You must also recognize those who made it difficult for you to get here (hopefully not your thesis mates or significant others) – you may want to forget who they are but still, they are life's lessons to you, and I hope you remember the lessons in less painful ways, and that you do not forget the lesson, lest you repeat the mistakes.
Everything that happens is either a blessing or a lesson. I pray all of us will be blessings to each other. Keep moving toward making a positive impact on our country (and that includes taking care of the environment and voting wisely) — for your very own quality of life and for the sake of future generations.
And always be kind … believe me, our world will grow and move forward positively, and painlessly – when we move with kindness and love.
So to summarize those 5 lessons in facing the next chapters of your lives:
LESSON no. 1: Things become obsolete quickly more than ever before – so expect this and learn to keep moving.
LESSON no. 2: You have to first move and do things and then the inspiration and the motivation will come.
LESSON no. 3: Move out of your comfort zone and find your meaning by giving time, talent and treasure in service to others.
LESSON no. 4: When you do what you love, you will keep moving in powerful ways you never knew before. (Choose your friends and partners well.)
LESSON no. 5: Your life is how you choose to move – you could always get out of that hole, walk around that hole or take another street.
Congratulations once again and aabangan ko ng buong galak ang mga susunod na kabanata ng mga graduates ng Malayan Colleges Laguna 2017.
Maraming salamat po.'